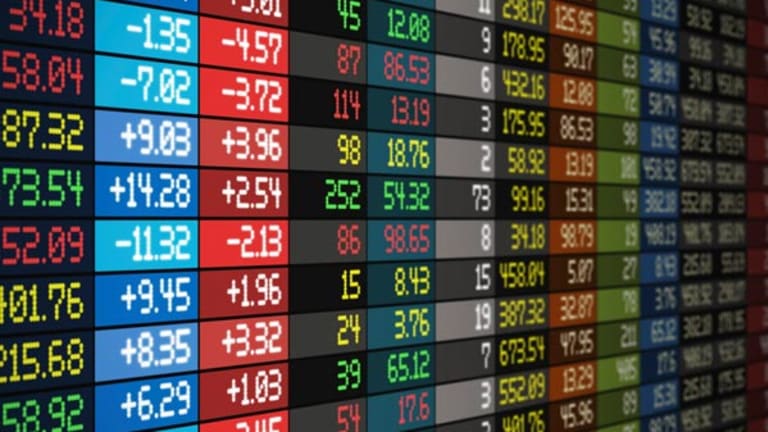 Stocks End Volatile Day With Modest Gains
The major indices shake off a wobbly start to end in the green. Lehman's new plans dominate investor interest. See Frank Curzio's take in The Real Story (above).
Updated from 2:43 p.m. EDT
Stocks in the U.S. closed modestly higher Wednesday after
( LEH) outlined plans to bolster its capital levels as it deals with increasing losses related to the credit crisis.
However, the major indices ended the session well below their best levels. The
Dow Jones Industrial Average
gained 38.19 points, or 0.3%, at 11,268.92, and the
S&P 500
added 7.53 points, or 0.6%, to 1232.04. The
Nasdaq
climbed 18.89 points, or 0.9%, to 2228.70.
Taking center stage early Wednesday,
to sell a majority stake in its investment-management division and likely report a third-quarter loss of $3.9 billion. Lehman also said it plans to spin off its commercial real-estate assets into a new company and slash its annual dividend to 5 cents a share from 68 cents.
The Real Story: Sept. 10
var config = new Array(); config<BRACKET>"videoId"</BRACKET> = 1785334429; config<BRACKET>"playerTag"</BRACKET> = "TSCM Embedded Video Player"; config<BRACKET>"autoStart"</BRACKET> = false; config<BRACKET>"preloadBackColor"</BRACKET> = "#FFFFFF"; config<BRACKET>"useOverlayMenu"</BRACKET> = "false"; config<BRACKET>"width"</BRACKET> = 265; config<BRACKET>"height"</BRACKET> = 255; config<BRACKET>"playerId"</BRACKET> = 1243645856; createExperience(config, 8);
Separately, Korea Development Bank, which had been considering buying a stake in the New York firm, ended talks to purchase an interest. Shares of Lehman, which lost some 45% in Tuesday's session, closed Wednesday down 54 cents, or 6.9% at $7.25.
Elsewhere, Standard & Poor's said it would remove
Fannie Mae
( FNM) and
Freddie Mac
( FRE) from the S&P 500 index after the close of trading. The government over the weekend announced plans to seize the two mortgage giants, whose exposure to the credit and housing crises threatened the U.S. financial system. After taking catastrophic hits on Monday, Fannie and Freddie shares both ended Wednesday down 25% at 74 cents and 66 cents, respectively.
Further indicating worries, Keefe Bruyette launched a salvo of ratings downgrades at nine banks, including
(BBT) - Get BB&T Corporation Report
,
(BAC) - Get Bank of America Corp Report
and
(FITB) - Get Fifth Third Bancorp Report
. BB&T finished down 1.8% at $31.43, BofA slipped 0.4% to $32.40 and Fifth Third dropped 6.8% to $14.85.
Kansas Bankers Surety
, a subsidiary of
( BRKA), also stopped insuring bank deposits that exceed levels guaranteed by the government.
Shares of Washington Mutual
dropped 30% to $2.32 as credit concerns mounted
and a
Bloomberg
report indicated that changes to accounting rules may have hindered its chances to merge.
"The market is still very skeptical, very cautious with respect to the goings-on in the financial sector. In some ways, that can be good if we actually get a reaction, news that's better than expected," said Richard Sparks, senior equities analyst at Schaeffer's Investment Research.
Sparks said most of the recent volatility has been to the downside, as the market has given back strong opens in recent weeks. "Until we know more about until we see some positive things come out of the financial arena ... it's going to be a very bumpy ride," he said.
"Because we're in such a volatile market that has no sustained trends, the short term trends ... tend to be magnified. And I think that's the market trying to chase trends in any way they can," said Sparks. He added that until the market offers a more stable trend, volatility and quick short-term trades will continue to prevail in the market.
Outside the financials, shipping firm
(FDX) - Get FedEx Corporation Report
said its fiscal first-quarter profit would exceed estimates while reaffirming its yearly earnings guidance. Shares climbed 3.7% to $87.86.
The Wall Street Journal
also reported that the Pentagon canceled its air-tanker competition. The Pentagon said it couldn't decide to award a contract to
(BA) - Get Boeing Company Report
or
(NOC) - Get Northrop Grumman Corporation Report
and
European Aeronautic Defense Systems
, the
Journal
said. Boeing lost 3.6% to $61.71, and Northrop Grumman shed 1.1% to $69.99.
Meanwhile, chipmaker
(TXN) - Get Texas Instruments Incorporated Report
raised the low end of its earnings guidance for the third quarter.
( RIMM) unveiled its
, a flip or "clamshell" version of its popular Blackberry Pearl smartphone to be released in the fall. Texas Instruments added 0.6% to $21.85, and RIM gained 5.4% to $104.61.
In the biotech space,
(IMCL)
announced it
that trumped a $60-per-share bid from
(BMY) - Get Bristol-Myers Squibb Company Report
. ImClone did not name the buyer. ImClone shares rose 6.7% to $67.94, while Bristol Myers gave back 1.7% to $21.67.
Switching to commodities, crude oil ended down 68 cents to $102.58 a barrel. OPEC announced it was reducing oil production by 520,000 barrels a day in response to what it said was an over-supplied market.
The Energy Information Administration reported that crude oil inventories for the week ended Sept. 6 declined by 5.9 million barrels, a greater decline than expected by analysts. Gasoline inventories fell by 6.5 million barrels.
Longer-dated U.S. Treasury notes were falling in price. The 10-year was down 15/32 to yield 3.62%, and the 30-year lost 26/32, yielding 4.22%. The dollar was gathering strength vs. the euro, yen and pound. Gold lost $19.50 to settle at 762.50.
Foreign markets such as the FTSE in London, and the Dax in Frankfurt were trading lower. The Nikkei in Japan and the Hang Seng in Hong Kong ended the trading day in Asia lower.