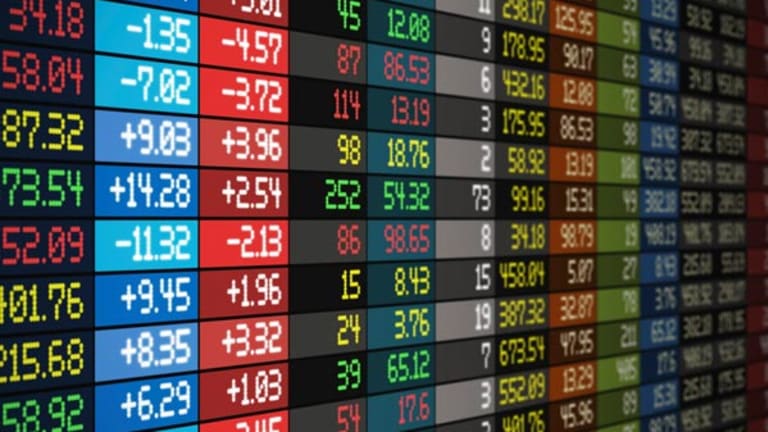 Stocks End Slightly Lower as Banks Slide
Financials contributed to a lower close for the stock market Tuesday despite a better-than-expected report on consumer confidence and a mild rebound in some of the industries hurt by the swine flu earlier in the week.
Updated from 2:19 p.m. EDT
Financials contributed to a lower close for the stock market Tuesday despite a better-than-expected report on consumer confidence and a mild rebound in some of the industries hurt by the swine flu earlier in the week.
The
Dow Jones Industrial Average
lost 8.05 points, or 0.1%, to 8016.95, while the
lost 2.35 points, or 0.3%, to 855.16. The
Nasdaq
gave up 5.6 points, or 0.3%, to 1673.81.
General Motors
(GM)
was the worst performer on the Dow, losing 11.3%, followed by
Bank of America
(BAC)
and
Citigroup
(C)
, which lost 8.6% and 5.9%, respectively.
BofA and Citigroup
were alerted by the government that they may need to raise more capital following the preliminary results of the so-called stress tests,
The Wall Street Journal
reported. BofA came up billions of dollars short, and both banks plan to contest the findings, according to the report.
Bank of America's
annual shareholder meeting
will take place on Wednesday. The California Public Employees' Retirement System, or Calpers, said it will vote against re-electing all 18 board members, including CEO Ken Lewis.
An unexpected rise in consumer confidence helped to offset bank capital concerns for the better part of the day. Confidence rose to 39.2 in April from 26.0 in March, while analysts were looking for an uptick to 29.7. The turn higher coincided with a recovery in the stock market, which hit a 12-year low March 9 before rebounding.
Since then, the Dow has climbed more than 20%. Consumer spending is crucial to the economy's growth, and any signs that confidence is on the mend would be welcome on Wall Street. Ultimately, however, the gains wouldn't hold.
"A large part of this is indirectly related to the rally, as they feed upon one another," says Doug Roberts, chief investment strategist at ChannelCapitalResearch.com, noting that as for what comes first, "it's a question of the chicken and the egg."
However, confidence is still low, even if it has improved, he says. The University of Michigan consumer sentiment index is due out Friday, and if the two reports correlate, it could prop up the market, he says. "At the same time, you're going to have to see where the other leading indicators are, as well."
In Washington, the
Federal Reserve's
monetary policymaking committee began its third meeting of the year. Investors will be watching Wednesday afternoon for any changes in the committee's statement regarding its outlook or intentions.
Meanwhile, the
swine flu
continued to make headlines and upset markets around the world.
As many as 150 deaths in Mexico are now attributed to the flu, and the first cases were confirmed in the Middle East and the Asia-Pacific regions on Tuesday. The World Health Organization raised the alert level to phase 4, meaning there is sustained human-to-human transmission of the virus causing outbreaks in at least one country. The flu has not been deemed a pandemic, which would be a phase 6 alert level.
Some of the airlines, hotels and tourism-related areas recovered somewhat from swine flu-related selling on Monday.
Southwest Airlines
(LUV)
gained 1%, and
Royal Caribbean Cruises
(RCL)
rose 3.3% after losing 16% a day earlier.
Continental Airlines
(CAL)
lost 4.6%, however, after being positive earlier in the day.
Pharmaceutical and biotech companies involved in vaccines, such as
GlaxoSmithKline
(GSK)
and
Gilead Sciences
(GILD)
, were some of the early beneficiaries. Glaxo gave back 3.1% on Tuesday, while Gilead rose 0.2%.
Back on the data front, a Standard & Poor's/Case-Shiller home price index showed that prices of U.S. single-family homes fell 18.6% in February from a year earlier, slightly improved from a 19% decline in January and relatively in line with expectations.
First-quarter results continued with
Pfizer
(PFE)
, which
topped first-quarter estimates
but lowered its full-year guidance. Its shares fell 0.7%.
U.S. Steel
(X)
shares dropped 5.6% after the company reported its first quarterly loss in more than five years on reduced demand for the metal. The company said it is planning to cut costs and raise capital.
BP's
(BP)
fell 64%, but it beat analysts' forecasts as oil prices recovered modestly and refining margins improved. Shares rose 1.7% to $42.62.
Oil prices continued a two-day decline on Tuesday, as commodities also felt the effects of the swine flu. Oil lost 22 cents to settle at $49.92 a barrel, while gold dropped $14.60 to $893.60 an ounce.
The dollar was recently weaker vs. the yen, pound and euro. Longer-dated Treasuries were declining. The 10-year was falling 29/32, yielding 3%, while the 30-year was falling 2-13/32, yielding 4%.
The Treasury held a $35 billion auction of 5-year notes on Tuesday, and it will sell $26 billion of 7-year notes on Wednesday.