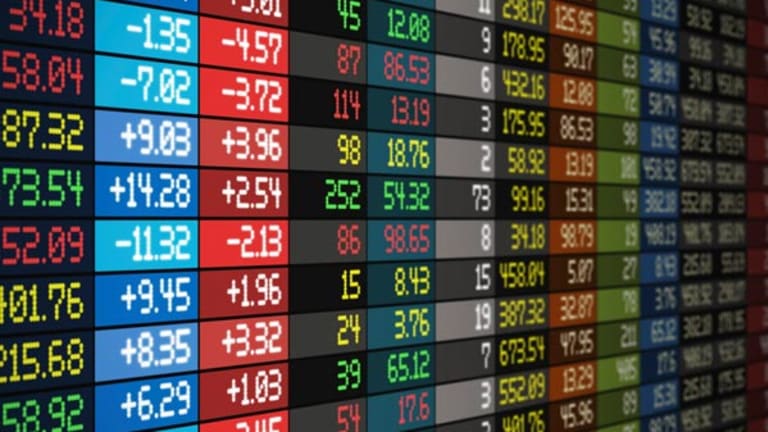 Stocks End Quarter With Moderate Advance
The major averages on Wall Street rise Tuesday after selling off in the first session of the week.
The major averages on Wall Street rise Tuesday after selling off in the first session of the week.
Updated from 4:34 p.m. EDT
Stocks in New York rebounded a bit on the last day of the first quarter, closing out a positive month, with banks and tech leading the way.
The
Dow Jones Industrial Average
climbed 86.90 points, or 1.2%, to 7608.92, and the
S&P 500
gained 10.34 points, or 1.3%, to 797.87. The
Nasdaq Composite
rose 26.79, or 1.8%, to 1528.59. All three indices ended well below their session highs.
However, for the month just ended, the Dow rose 7.7%, the S&P added 8.5%, and the Nasdaq gained 10.9%. For the year, they are still off by 13.3%, 11.7%, and 3.1%, respectively.
Bank of America
(BAC) - Get Report
and
Citigroup
(C) - Get Report
, which declined sharply on Monday, rallied. BofA rose 13.1% to $6.82, and Citi was up 9.5% to $2.83.
Intel
(INTC) - Get Report
and
IBM
(IBM) - Get Report
shares were up 2.1% and 2.5%, while
Microsoft
(MSFT) - Get Report
added 5.1% to $18.37.
Some of the volatility still suggests the market is seeing a bear market rally, says Jim Holtzman, a financial adviser with Legend Financial, adding that many analysts believe the latest run-up has been largely dictated by short-covering.
"There's no real way to quantify if it's what's happening, but that again would be indicative of a bear market rally and we don't see it being sustainable in terms of what's happened so far," he says.
"If the recent advance we had is to be more than an oversold-short-covering bounce, the market will have to be able to overcome confusion and bad news," writes Vince Farrell, chief investment officer at Soleil Securities and a
RealMoney.com
contributor, in recent commentary. "Markets that go up in the face of bad news are markets that have some length to them."
Equities were rising despite a slate of underwhelming economic data. Consumer confidence rose just slightly to 26 from 25.3, but undercut expectations by two points. The Chicago purchasing managers' index fell to 31.4 from 34.2, also disappointing expectations.
The S&P Case-Shiller Home Price Index showed continued broad declines in the prices of existing single family homes across the U.S. with record rates of annual decline in 13 of the 20 metro areas. The 10-City and 20-City Composites also set new records, with annual declines of 19.4% and 19.0%, according to the report.
"There are very few bright spots that one can see in the data," said David M. Blitzer, chairman of the index committee at S&P. "Most of the nation appears to remain on a downward path, with all of the 20 metro areas reporting annual declines, and nine of the MSA's falling more than 20% in the last year."
Meanwhile, news in the autos industry continued, with reports that
Toyota
(TM) - Get Report
will cut its
annual dividend
for the first time in 14 years to better deal with the economic downturn.
News that the restructuring of U.S. auto companies isn't progressing as hoped contributed to a 3% drop in the major indices in New York during the previous session. Having failed to formulate a viability plan that the government would approve, struggling automakers
Chrysler
and
GM
(GM) - Get Report
now have just a few weeks to prove they merit more taxpayer aid. GM shares fell another 28.2% to $1.94 on Tuesday.
Qualifying for government help has been an important variable for certain companies lately. Standard & Poor's on Tuesday reiterated that
(EFTC)
and its bank subsidiary remain on "CreditWatch Developing," ahead of the government's decision on an application originally submitted in December for as much as $800 million in Troubled Asset Relief Program funds.
Earlier in the week, life insurer
Lincoln National
(LNC) - Get Report
plunged nearly 40% after withdrawing its application for funding guarantees from the U.S. government, saying it believed it didn't qualify under certain provisions of the Temporary Liquidity Guarantee Program. Lincoln shares were up 4.4% at $6.69 Tuesday.
In bank news, London's
Barclays
(BCS) - Get Report
is reportedly in exclusive talks to sell its
exchange-traded funds
business iShares to private equity firm CVC Capital Partners for around 3 billion pounds. Shares of the bank gained 2.9% to $8.50.
Stocks in Europe were largely higher. The FTSE in London and the DAX in Frankfurt rose 4.3% and 2.4%, respectively. Stocks in Asia were mixed. Japan's Nikkei lost 1.5%, but the Hang Seng in Hong Kong gained 0.9%.
The dollar was slightly weaker against the yen, and stronger vs. the pound and euro. In commodities, oil rose $1.25 to settle at $49.66 a barrel, while gold climbed $7.30 to $925 an ounce.
Longer-dated Treasuries were rising. The 10-year note was adding 9/32 to yield 2.7%, and the 30-year was gaining 30/32, yielding 3.6%.