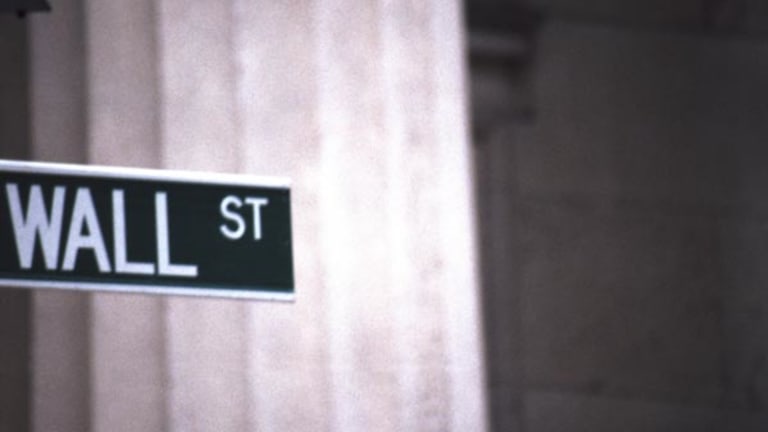 Stocks End Mixed in Bouncy Session
A terror-free weekend keeps oil prices under control, but investors tread cautiously.
A terror-free weekend keeps oil prices under control, but investors tread cautiously.
Updated from 4:02 p.m. EDT
Stocks closed mostly lower Monday, as a weak sales outlook from
Wal-Mart
(WMT) - Get Report
stole the spotlight from falling oil prices.
The
Dow Jones Industrial Average
finished down 37.09 points, or 0.37%, to 10,073.05 after going as high as 10,110 earlier. The
S&P 500
ended down 2.67 points, or 0.25%, to 1095.68, while the
Nasdaq
ended the session virtually unchanged, up 0.68 point, or 0.04%, at 1838.70. The major indices have gained in five of the past six sessions.
The 10-year Treasury note was off 12/32 in price and the yield was up to 4.28%, while the dollar was lower against the yen and euro.
Volume was light, with just under 1 billion shares changing hands on the
New York Stock Exchange
, where decliners beat advancers roughly 6 to 4. On the Nasdaq, 1.1 billion shares were traded, with decliners beating advancers by about 5 to 4.
"We're at a critical juncture in the markets here, to see whether or not we'll be able to keep this rally going or whether it's going fade back like it did at the end of July," said Bill Livsey, senior market analyst at CyberTrader. "It's a little bit of a struggle to wait and see which way the market breaks here.
"We're running into resistance from the high that was put in back in early August," Livsey added. "And we're above the 20-day moving average, which is good, and if keeps bouncing off the upside, I've got to think we'll take that resistance out. If it doesn't, we've got to start worrying again."
The benchmark crude futures contract, which rolled over to October delivery Monday morning, ended 67 cents lower at $46.05 a barrel, held in check by word that Iraq exports were again flowing from the country's northern and southern facilities.
"I think that what we're seeing here is a continuation of momentum that was built last week, especially in the technology sector," said Peter Cardillo, chief market analyst at S.W. Bach & Co. "I think the market is preparing itself for economic news later in the week," he added. "This is basically what is cushioning the market at this time."
Existing-home sales are due out ay 10 a.m. EDT Tuesday, followed by new-home sales and durable goods orders on Wednesday. On Friday, the government will report revised GDP figures for the second quarter, after the first reading came in unexpectedly weak at 3.1% growth, and the University of Michigan releases its final reading on consumer sentiment in August.
On the political front, fighting intensified in Najaf, Iraq, over the last two days as U.S. troops stepped up military operations against insurgent Shiites loyal to cleric Muqtada al-Sadr.
"I think for the balance of the next few weeks, especially this week, oil is going to be the key. Is oil going to be a real speed bump to growth in the economy?" said Jay Suskind, head of institutional equity trading at Ryan Beck & Co. "The volumes are light because it is the dog days of August."
Early strength in the Nasdaq was underpinned by gains in
Cisco
(CSCO) - Get Report
, which along with
Intel
(INTC) - Get Report
held steady through the day. Shares of Cisco and Intel ended up 1.6% and 1.3% respectively, in heavy trading volume.
Shares of
Monster Worldwide
(MNST) - Get Report
jumped 4.1% to close at $20.22 after the online job-finder was the subject of a bullish
Barron's
cover story.
Google
(GOOG) - Get Report
finished up $1.09, or 1%, to $109.40, building on the 27% run-up that occurred in the two days since its IPO was priced at $85 a share.
Meanwhile, Wal-Mart lowered its sales expectations for the month of August, citing lower-than-expected back-to-school demand as well as the closure of 75 stores as a result of Florida hurricanes.
The company expects sales in stores to be flat to 2% higher compared with an increase of 6.9% last August. Shares of Wal-Mart dropped 1.5% to $53.81.
In earnings news,
FedEx
(FDX) - Get Report
raised its guidance for first-quarter and full-year earnings, sending shares upward. The company cited strong demand in forecasting first-quarter earnings of $1 to $1.10 a share, up from 90 cents to a dollar and above the consensus estimate of 95 cents a share, according to Thomson First Call. Shares of FedEx added $1.65, or 2%, to $80.95.
In other news,
Kmart
(KMRT)
announced that the June 4 transaction it announced with
Home Depot
(HD) - Get Report
looks likely to close this month. Kmart will sell 18 stores to Home Depot for $271 million. That's one less store than initially projected but it still represents a minor coup for Kmart controlling investor Ed Lampert, who has succeeded in wringing cash out of the company's real estate holdings.
Overseas stocks were higher, with London's FTSE 100 up 1% to 4412 and Germany's Xetra DAX adding 1.7% to 3777. In Asia, Japan's Nikkei rose 0.7% overnight to 10,961, while Hong Kong's Hang Seng added 0.4% to 12,432.