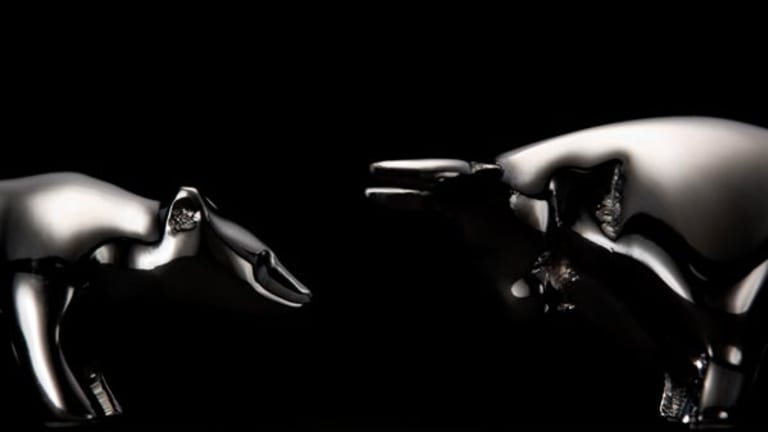 Stocks End Mixed as Rally Fades
The Nasdaq posts its third straight decline.
Updated from 4:06 p.m. EST
A morning rally wilted and stocks closed mixed Monday, as a fall in the price of oil and mildly positive economic data couldn't hold investors' interest.
The
Dow Jones Industrial Average
added 11.68 points to 10,661.60, having traded within 2 points of its Feb. 11 closing high of 10,737 early in the session. The
S&P 500
closed 0.46 points up at 1194.66, while the
Nasdaq
lost 7.35 points to 2127.85, after being up about 1% in the morning. It was the third straight session that the Nasdaq has posted a loss.
Volume on the
NYSE
was 1.42 billion shares, with advancers and decliners even. Volume on the Nasdaq was 1.99 billion shares, with decliners beating advancers by a ratio of about 2 to 1.
In other markets, the 10-year Treasury bond was up 3/32 in price to yield 4.19%, while the dollar fell against the yen and euro.
Oil closed 64 cents lower at $45.64 a barrel, giving back some of last week's 15% gain despite bitter cold in the northeastern U.S. On Sunday, the winner of the auction for the Russian oil company
Yukos
was not Russian gas company
Gazprom
but a little-known company called
Baikal Finance Group
. The sale, for more than $9 billion, leaves Yukos' fate in limbo as the company struggles to climb out from under a $28 billion tax bill.
In economic news, the Conference Board said its index of leading economic indicators for November increased 0.2%, rising for the first time in six months. Economists had expected a 0.1% increase compared with a 0.3% decline in the previous month.
"The market is moving higher due to the fact that oil prices are lower and the leading indicators came in slightly better than expected," said Peter Cardillo, chief market analyst with S.W. Bach & Co. "It's an abbreviated week with major economic news coming out over the next few days. The market sentiment remains positive and should hopefully carry into the new year."
Intel
(INTC) - Get Report
shares fell despite an upgrade from J.P. Morgan Securities. The firm cited increased expectations for Intel's fourth-quarter sales. The chipmaker lost 7 cents, or 0.3%, to $22.70. The Philadelphia Semiconductor Index ended lower as well, finishing down 1.03%.
"The Nasdaq and the Philadelphia Semiconductor Index have been fighting to get through some technical levels," said Larry Perruzi, equity trader with Boston Company Asset Management. "For most of last week, they were attempting to break through, and it looks like we're seeing a similar pattern today. A lot of the Nasdaq strength was due to Intel this morning, but it just ran out of steam. We're seeing some selling of it now."
Stocks were strong despite more mixed indications on holiday retail results.
Wal-Mart
(WMT) - Get Report
said Saturday that it still expects December same-store sales to rise 1% to 3% from a year ago, repeating an earlier forecast. But nervousness was spreading after the National Retail Federation said 37.5 million people -- mostly men -- had yet to start shopping as of last week. Wal-Mart finished up 18 cents, or 0.4%, to $52.20.
Pfizer
(PFE) - Get Report
fell after saying Sunday that it would stop advertising Celebrex after a study linked the painkiller to an increased risk of heart attacks. Shares dropped $1.46 to $24.29, a 5.7% loss after falling more than 11% on Friday.
Biotech company
Pharmos
(PARS)
said that results of a phase III trial of Dexanabinol used to treat severe traumatic brain injury showed no effectiveness. The disappointing news caused shares to plummet, dropping $2.32, or 66.3%, to end at $1.18.
ATI Technologies
(ATYT)
could see activity after its shares were upgraded to neutral from sell at Merrill. The brokerage expects ATI to report a solid quarter tomorrow and argued the graphics chipmaker has a better chance of success in the burgeoning handset market than competitor
Nvidia
(NVDA) - Get Report
. Merrill boosted its 2005 earnings estimate to $1.10 a share from $1 a share. ATI shares rose 33 cents, or 1.7%, to $20.21.
Pepsi Bottling
(PBG)
reaffirmed its earnings forecast for 2004 of $1.71 to $1.74 a share, vs. the Thomson First Call consensus estimate of $1.73. The company expects 2005 earnings, excluding special items, at $1.76 to $1.84 a share, below the First Call consensus estimate of $1.86 a share. Pepsi expects 2005 volume to rise 2% to 3%. Shares dipped 33 cents, or 1.2%, to $27.00.
Exelon Corp.
(EXC) - Get Report
said it has agreed to acquire
Public Service Enterprise Group
(PEG) - Get Report
, for about $13 billion in a deal that will create a gas and electricity supplier with combined revenue of $27 billion. Exelon shares gained $1.19, or 2.8%, to $43.05.
Sprint
(FON)
said it expects 2004 revenue to meet analysts' forecasts, thanks to strength in its wireless business offsetting weakness in its long distance service. Shares finished up 17 cents, or 0.7%, to $24.84.
Bear Stearns cut its earning estimates for
Alcoa
(AA) - Get Report
, citing the rise in raw material costs, soft automotive and housing markets and the decline of the U.S. dollar. The firm kept its rating for Alcoa as outperform, but lowered its stock target price to $37 from $41. The aluminum producer shrugged off the news and rose 11 cents, or 0.4%, to $30.86.
Honda Motor
(HMC) - Get Report
said that it expects an 8% rise in global sales to 3.4 million vehicles in 2005. Honda shares gained 4 cents, or 0.2%, to $25.23.
Overseas markets closed higher, with London's FTSE 100 finishing up 0.7% to 4731 and Germany's Xetra DAX gaining 0.7% to 4211. In Asia, Japan's Nikkei rose 0.2% to 11,103, while Hong Kong's Hang Seng soared 1.6% to 14,214.