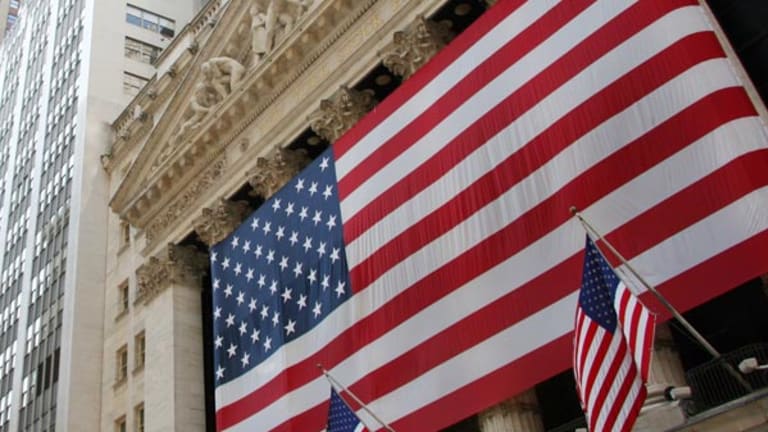 Stocks End Mixed Amid Weak Retail News
Investors also mull news of a big Citigroup charge.
Updated from 4:07 p.m. EST
Stocks ended mixed Monday in thin preholiday trading, reacting to weak retail sales, Iraq worries and news that
Citigroup
(C)
will take a $1.5 billion charge to account for Friday's conflict-of-interest settlement.
The
Dow Jones Industrial Average
ended down 18 points, or 0.2%, at 8493.29, while the
Nasdaq
finished up 18 points, or 1.4%, at 1381.68. The
inched up 2 points, or 0.2%, to 1381.68. Volume on the New York Stock Exchange and the Nasdaq was very thin, and all three indices stayed in a tight trading range.
Financial services giant
Citigroup
(C)
, a Dow component, said it will take a fourth-quarter charge to reflect the equity research settlement and the negative impact bankrupt energy trader
Enron.
. On Friday, a number of Wall Street brokerages agreed to pay $1.4 billion to settle charges that they intentionally misled investors in order to secure sweeter investment-banking deals.
"The settlement-in-principle, once finalized, will bring to a close a difficult chapter in our history," said Sanford Weill, Citigroup's chairman and chief executive, in a prepared statement. Citigroup fell 1.2% to $37.68.
Elsewhere in financials,
Bank of America
(BAC)
said it will take a $1.2 billion charge in the fourth quarter for loan losses and net charge-offs, much higher than in previous quarters. The charges come because of the bank's exposure to the
US Airways
and
UAL
bankruptcies and the weak utilities market. Bank of America shares dropped 0.3% at $70.11.
Technology stocks drew a measure of strength from an acquisition in the Internet space. On Monday,
Yahoo!
(YHOO)
announced that it bought
Inktomi
(INKT)
for $235 million in cash and debt, or $1.65 a share, which is a more than 40% premium from where Inktomi closed on Friday. Yahoo rose 3.8% to $17.73, while Inktomi added 36.8% to $1.60.
Meanwhile,
Wal-Mart
(WMT)
, the world's largest retailer, said December same-store sales are tracking at the low end of its 3% to 5% growth range. The company remains confident, however, that last-minute shoppers will come out of the woodwork to bridge the gap. Wal-Mart dropped 2.4% to $49.59.
Federated Department Stores
, which operates Macy's and Bloomingdale's, also warned that holiday sales would likely not meet expectations of flat to 2.5% growth for the period ending Jan. 4. Federated dropped 3.5% to $27.91.
Consumer electronics retailer
Tweeter Home Entertainment
(TWTR)
warned that first-quarter earnings would fall well short of analysts' expectations, citing weaker-than-expected holiday sales. The company said it expects to earn 20 cents to 25 cents a share in the period ending Dec. 31, while Wall Street was looking for a net profit of 58 cents, according to Thomson Financial/First Call. Tweeter's shares fell 33% to $5.35.
Rivals were feeling the heat, with
Circuit City
(CC)
off 4.5% to $7.18 and
Best Buy
(BBY)
down 3.2% to $23.97.
Energizer
(ENR)
announced that first-quarter earnings would come in between 89 cents and 92 cents a share excluding all items, which is slightly above Wall Street consensus of 90 cents a share. Energizer stock, which was spun off from Ralston Purina in 2000, rose 8% to $27.25.
On the political front, Sen. Bill Frist of Tennessee was named Senate Majority leader, replacing Sen. Trent Lott, who resigned the post after making positive comments about Strom Thurmond's 1948 platform, which included segregation.
In economic news, the Commerce Department said personal income rose 0.3% in November compared with a 0.3% rise in October, slightly ahead of the consensus of a 0.2% gain. Meanwhile, spending climbed 0.5% in November, matching economists' expectations
Technology continued to be weak, with
Cypress Semiconductor
(CY)
warning that fourth-quarter revenue will come in around $174 million, which is below the $187 million analyst target. The company blamed the revenue miss on slow December sales, which haven't picked up during the holidays. Nonetheless, Cypress gained 5.7% to $5.60.
ExxonMobil
(XOM)
, also a member of the Dow, announced that the Alabama Supreme Court reversed a $3.5 billion decision against Exxon Mobil in a dispute over Mobile Bay royalties, pushing the lawsuit down to a lower court for retrial. ExxonMobil gained 0.1% to $35.75 on the news.
Fast-food restaurant chain
McDonald's
(MCD)
was dealt another blow after Moody's Investors Service said after the close Friday it may cut the company's debt rating following its latest profit warning. McDonald's fell 1.3% to $15.55.
Elsewhere, airplane manufacturer
Boeing
(BA)
said on Friday it expects the number of jet deliveries in 2004 to come in flat with 2003 as the company continues to struggle amid an industry-wide slowdown in demand. Boeing, which has been pressured due to airline bankruptcies and labor woes, gained 0.2% to $32.76.
The trouble in the videogame space continues, with
THQ
(THQI)
announcing that it sees fourth-quarter earnings coming in between 40 cents and 43 cents a share, whiffing Wall Street consensus of 92 cents a share. Revenue will come in between $215 million and $220 million, short of the $262 million target, yet another sign of weak retail sales. THQ dropped 0.6% to $12.22.
Utility concern
CMS Energy
(CMS)
said over the weekend that it plans to sell its natural gas pipeline business to
Southern Union
(SUG)
and an investment fund for $662 million and the assumption of $1.17 billion in debt. CMS rose 2.6% to $8.83, while Southern Union gained 4% to $16.02.
On the research front, Lehman Brothers lowered its investment rating on
Duke Energy
(DUK)
to underweight from equal-weight citing its negative earnings outlook and credit concerns. Duke slid 1.6% to $19.76.
In the drug sector,
Abbott Laboratories
(ABT)
received regulatory approval for its epilepsy drug Depakote ER, a once-daily pill designed to treat epileptic seizures. Abbott fell 1.5% to $38.13.
U.S. Treasury issues ended lower, with the 10-year note off 2/32, yielding 3.96%. The 30-year bond was off 4/32 to yield 4.90%.
Overseas markets were mixed, with London's FTSE 100 ending up 1.2% to 3937 and Germany's Xetra DAX closing down 0.8% at 3001. Japan's Nikkei 225 rose 0.2% to 8406, while the Hang Seng closed up 0.6% to 9570.
On Friday, the Dow closed up 147 points, or 1.8%, to 8512, while the Nasdaq gained 10 points, or 0.7%, to 1363. The S&P 500 added 12 points, or 1.3%, to 895.