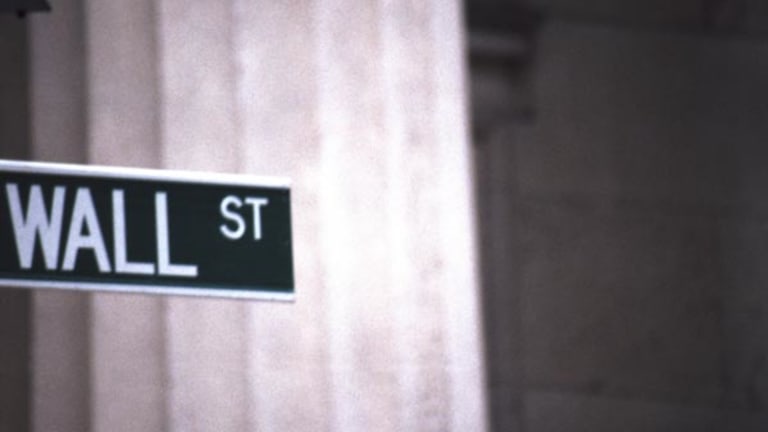 Stocks End Mixed
Investors shake off losses triggered by weak economic data, but the Dow fails to recover.
Updated from 4:04 p.m. EST
Stocks closed slightly higher Thursday, despite some disappointing economic news, one day after the major indices snapped a five-day losing streak.
The
Dow
lost 21.48 points to 10,580.14, as a 3% slide in
Boeing
(BA) - Get Boeing Company Report
weighed on the industrial average. The
S&P 500
added 1.24 points to 1144.92 and the
Nasdaq
rose about 9.59 points to 2032.58, as both indices rose for the second straight day.
Volume on the
New York Stock Exchange
was 1.5 billion shares, and despite today's losses, advancers beat decliners 2 to 1. Some 1.7 billion shares changed hands on the Nasdaq, where advancers topped decliners by 3 to 2.
"It's not a great rally, but it beats the alternative," said Tom Schrader, a trader at Legg Mason. "I am not really bullish at these levels. We've had a great run since the bull market started, but I think prudent investors would be taking a little bit off the table here. From a technical standpoint, we're overbought, we're overvalued, and I think you need to be looking at some more conservative investments."
Barry Berman, a managing director of equity trading at Robert W. Baird, was more optimistic. "There's a decent chance that this little turnaround can hold if the general market holds up and gets going here," he said, noting the mixed bag of economic data that seems to be keeping things moving sideways. "I think if we got a bit of strong, good news, whether it's economic or whatever, the market would really start to pick up again."
The 10-year Treasury bond lost 8/32 to yield 4.04%. The dollar gained, buying 109.64 yen, a three-month high, while the euro was buying $1.2435. Traders continued to worry about market intervention amid growing concern about the enormous appreciation of the European common currency.
Initial jobless claims in the week ended Feb. 21 rose by 6,000, to 350,000, according to the Labor Department. That figure was higher than Wall Street estimates. Claims have now been below 400,000 -- thought to be the dividing line between growth and contraction in the labor market -- for 20 straight weeks, but the four-week average rose to a two-month high.
Orders for durable goods unexpectedly fell 1.8% in January. Economists had forecast a 1.4% gain in orders.
New-home sales fell slightly in January to an annualized rate of 1.11 million units, which was better than economists' forecast of a 1.07 million rate. December's rate was revised higher to 1.13 million units.
Overseas markets closed higher, with London's FTSE up 0.2% to 4515.90 and Germany's Xetra DAX up 0.3% to 4007.81. In Asia, Japan's Nikkei closed up 1.5% at 10,815, and Hong Kong's Hang Seng added 0.6% to finish at 13,675.
Luxury homebuilder
Toll Brothers
(TOL) - Get Toll Brothers, Inc. Report
said first-quarter earnings rose 10% from a year earlier. Toll earned $50.1 million, or 62 cents a share, compared with $45.4 million, or 61 cents a share, last year, beating the consensus forecast of 60 cents a share. Revenue rose 5% to $598 million. Its shares closed up $1.41 to $43.32.
J.C. Penney
(JCP) - Get J. C. Penney Company, Inc. Report
swung to a billion-dollar loss in the fourth quarter because of charges and writedowns in its discontinued Eckerd drugstore operation. The retailer lost $1.07 billion, or $3.42 a share, in the latest quarter, compared with earnings of $202 million, or 68 cents a share, last year. Shares closed up $1.20 cents to $30.96.
Walt Disney
(DIS) - Get Walt Disney Company Report
shares were up slightly after news late Wednesday that the California Public Employees' Retirement System -- the nation's largest public pension fund and one of Disney's 30 largest shareholders -- said it would withhold votes for CEO Michael Eisner and three other company directors at the company's shareholder meeting next week. Disney is currently resisting a hostile takeover from cable company
Comcast
(CMCSK)
. Shares closed up 43 cents to $26.73.
Dave Briggs, the head of equity trading at Federated Investors, said the market's recent slide was a seasonal phenomenon. "Every year we seem to have an air pocket in February or March, so I like the action; it feels comfortable," he said.
"We do need to consolidate some gains, and I think people have a little anxiety about how strong the economy is going to grow going forward," added Briggs. "I think everybody can see that it's going to do better and earnings are going to be better, but everybody's trying to quantify how much better in order to judge whether it's worth chasing the market now at these valuations, or whether it's better to look elsewhere and wait for a pullback."
Briggs predicts the market will continue its sideways movement until things pick up in mid-March. "I think there's enough cash coming into the market that we'll have a liquidity-fueled surge to higher prices," he said. "Then, if it's confirmed with next quarter's earnings, it might be able to generate some momentum again. But if it's not, then that surge will probably be a pretty tepid one and maybe top out in May -- another seasonal tendency as well."
Looking ahead, all eyes will be on Friday's report on fourth-quarter economic growth due out at 8:30 a.m. EST from the Commerce Department. Figures released at the end of January showed the American economy grew at a 4% annualized rate in the quarter, a decrease from the third-quarter's whopping 8.2% growth rate. Economists expect tomorrow's revised reading to shrink to 3.8%.
Then at 9 a.m. EST, revised numbers on consumer sentiment in February are due out from the University of Michigan, followed by data on the Chicago Purchasing Managers index at 10 a.m.
Also, earnings reports will be out from
Four Seasons Hotel
( FS),
Integra Life Sciences
(IART) - Get Integra LifeSciences Holdings Corporation Report
and
Payless Shoesource
(PSS)
".