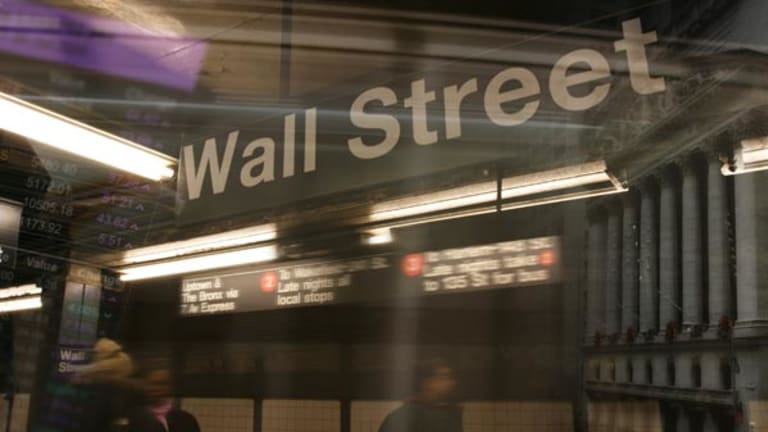 Stocks End Mixed
Investors are torn by the latest war developments and grim jobless data.
Updated from 4:04 p.m. EST
Stocks ended mixed Friday, as positive progress in the war was offset by a disappointing employment report.
The
Dow Jones Industrial Average
closed up 36 points, or 0.5%, at 8277, while the
S&P 500
gained 2 points, or 0.3%, to 878. The
Nasdaq
fell 13 points, or 1%, to 1383.
Although stocks ended on a mixed note, all three major averages ended the week higher, as investors brushed off weak economic data and focused on the coalition's move toward Bagdhad. The Dow rose 1.6% for the week, while the S&P gained 1.7% and the Nasdaq rose 1%.
"I'm pleased to see that the market is concentrating on the fact that we're making strong advances on the war front," said Louis Parks, senior managing director at Raymond James. "Investors are looking forward and are looking at this being resolved more quickly than previously thought."
On Friday, U.S. forces seized control of Baghdad's airport Friday, and 2,500 Republican Guard soldiers surrendered south of the city, according to Central Command. Still, Iraqi TV aired an address purportedly from Saddam Hussein, in which he apparently makes a reference to an incident that occurred since the war began. Footage of Hussein walking in the streets of Baghdad was also shown. In recent days, there has been much speculation about whether the Iraqi leader had survived an attack on his bunker on March 19.
"The fog of war seems to be clouding most investor reason," said analyst Phil Ruffat of Mizuho Securities. "As the march to Baghdad is echoed, almost in step, by spikes in equity futures (and mirrored in fixed-income futures), I have to wonder if, once again, we've overextended ourselves in the short term."
Ruffat said he isn't convinced that an end to the war is in sight. Iraqi information minister Mohammed Saeed al-Sahaf said Friday that Iraq won't use chemical or biological weapons against the coalition but did say that it "would commit a nonconventional act," possibly on Friday night.
The economic news, which has been dismal all week, was particularly disconcerting Friday. The Labor Department reported that another 108,000 jobs were shed in March, about three times what economists had forecast. The number of jobs lost in February was also revised up by 49,000, bringing the two-month total to 465,000. On the bright side, the unemployment rate held steady at 5.8%; it had been expected to rise to 5.9%.
U.S. stocks ended a two-day rally Thursday as economic concerns caught up with war optimism. The Dow ended down almost 45 points, or 0.5%, at 8240, while the S&P 500 lost 4 points, or 0.5%, to 876. The Nasdaq was flat at 1396, as tech and biotech stocks outperformed for a third day.
Among sectors, airline stocks rose almost 3% after Congress approved more than $3 billion in aid for the industry, which has been reeling ever since the terrorist attacks in September 2001. Chip and biotech issues declined after recent gains, while retail and bank stocks inched higher.
Altria
(MO) - Get Altria Group Inc Report
was down 4% to $28.58 after Illinois lawmakers dropped a bid to limit the size of a bond required to appeal a $10 billion verdict the company recently lost. Shares fell 4.7% to $28.30.
Alcoa
(AA) - Get Alcoa Corporation Report
became the first Dow component to report earnings, posting net income of $151 million, or 17 cents a share, compared with $218 million, or 26 cents a share, last year. Excluding special items, the company posted a profit of 23 cents per share, above the 19-cent estimate, according to Thomson First Call. Shares were up 0.6% to $20.04.
The maker of BlackBerry handhelds,
Research in Motion
(RIMM)
, raised its first-quarter revenue estimate to a range of $90 million to $100 million, above previous estimates of $85 million to $90 million. The company also reported an increase in the number of BlackBerry subscribers to 534,000 last quarter, from 463,000. Shares were up 2% to $14.88.
Defense contractor
General Dynamics
(GD) - Get General Dynamics Corporation Report
plans to sell up to $3 billion in securities to be used for general purposes, according to a filing with the Securities and Exchange Commission. Shares were down 1% to $54.49.
In the tech sector,
Peoplesoft
(PSFT)
, a maker of business software, warned that its first-quarter profit and revenue will miss analysts' estimates because of delays in corporate spending amid war fears. Peoplesoft shares were 10% lower at $15.02.
International Paper
(IP) - Get International Paper Company Report
, the largest U.S. maker of paper, could decline after its rival, Finland's UPM-Kymmene, the largest magazine paper maker, said its first-quarter earnings would be 50% lower than a year earlier. The company blamed low prices and a weak U.S. dollar. Shares were down 0.1% to $34.72.
Aquila
(ILA)
, the U.S. energy company whose shares plunged 93% last year, plans to sell its Australian assets to local partners, raising about A$950 million ($570 million) to pay down debt, Bloomberg said, citing people familiar with the transaction. Shares were down 4.7% to $2.20.
Nymex crude was down 35 cents to $28.62 a barrel. The dollar was higher against the yen and euro, and the 10-year Treasury note was down 1/4, pushing its yield up to 3.94%. Volume on the Big Board reached 1.2 billion shares, with winners beating losers by 17 to 14. On the Nasdaq, 1.3 billion shares changed hands, with declines outpacing advances by 8 to 7.
Overseas markets were higher, with the U.K's FTSE 100 index up 1.5% to 3814 and Germany's DAX up 3% to 2654. In Tokyo, the Nikkei 225 gained 0.7% to end at 8074, and Hong Kong's Hang Seng index added 2% to 8822.