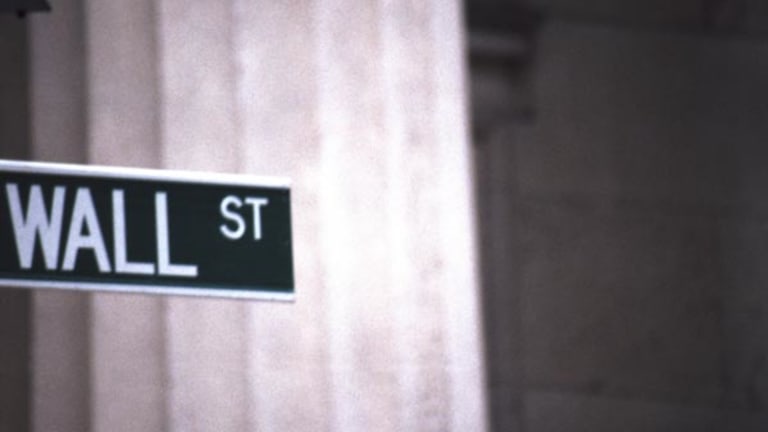 Stocks End Lower on Economy Worries
Varying economic data and the latest terror developments send mixed signals.
Updated from 4:04 p.m. EST
Stocks ended lower Monday as disappointing economic data overshadowed some brighter news on the war front.
The
Dow Jones Industrial Average
ended down 53 points, or 0.67%, to 7837, while the
Nasdaq
was down 17 points, or 1.29%, to 1320. The
S&P 500
finished down 6 points, or 0.75%, to 834.
"You've got continued worries about the international situation and people are worried about the economy," said Tom Schrader, a trader at Legg Mason.
The Institute for Supply Management said its manufacturing index came in at 50.5 in February, down from 53.9 in the previous month and below expectations for a reading of 52.
Norbert J. Ore, chair of the ISM, said while there has been some evidence of business picking up, the threat of war continues to depress business activity and higher energy prices are squeezing already thin margins.
New orders, seen as a key gauge of future production, fell sharply to 52.3 from 59.7 in January. The employment index slid to 42.8 from 47.6 in January while prices paid rose to 65.5 from 57.5 in January.
"We are now a hair away from dropping below 50. Psychologically, a return to negative growth would be perceived very, very badly by the market," said Mark Haefele, chief financial officer and chief operating officer of Sonic Capital, and a contributor to
RealMoney.com, TheStreet.com's
sister site.
Personal income and spending data was also a disappointment Monday. Consumer spending dropped by 0.1% in January while income climbed 0.3%. The consensus estimate was for a 0.1% rise in personal spending and a gain of 0.4% in incomes. Meanwhile, auto sales for February proved disappointing.
Ford Motor
(F) - Get Report
said its U.S. vehicle sales fell 0.1% in February but
General Motors
(GM) - Get Report
said February vehicle sales in the U.S. fell 19% from the same month last year.
Chrysler
( DCX) said U.S. vehicle sales fell 4.5% in February.
Not all the economic data was bad, however. Construction spending rose 1.7% in February to a record $877.9 billion annual rate, while economists were looking for a much smaller 0.5% increase.
News that al-Qaeda military leader Khalid Shaikh Mohammed was detained Saturday in Pakistan also helped put a floor under the market. The arrest is being hailed as the single-most important victory in the U.S.-led war on terrorism and a major step toward cracking al-Qaeda. Mohammed is believed to be one of the masterminds of the Sept. 11 terror attacks.
There was also some respite on the war front after Iraqi President Saddam Hussein began to comply with U.N. demands that he destroy banned al-Samoud 2 missiles. But Iraq also said it will stop destroying its arsenal of as many as 120 weapons if it remains clear the nation will be attacked soon. Another potential complication was the Turkish Parliament's rejection of a U.S. request to base soldiers there ahead of an Iraqi invasion.
Traders said billionaire investor Warren Buffett may have cast a pall over the market in afternoon trade after he said in a letter to shareholders that very few stocks "even mildly interest us."
A blowup in the credit-card sector shaped up as the day's marquee corporate news.
Capital One
(COF) - Get Report
said its chief financial officer resigned after being notified that the
SEC
planned to bring insider-trading charges against him unless he convinces them not to. The allegations follow an investigation into the events surrounding a steep drop in Capital One's shares following disclosure of a government regulatory action last July. The shares fell almost 9% to $28.25.
In other news, surgical rehabilitation provider
Healthsouth
(HRC) - Get Report
reported a big loss on restructuring charges and earnings before items that missed expectations; while handheld device maker
Palm
( PALM), which saw its shares leveled Friday, said third-quarter revenue would miss expectations. A report in the Wall Street Journal said
Procter and Gamble
(PG) - Get Report
is weighing a $5 billion to $6 billion bid for German shampoo maker Wella.
Merrill Lynch strategist Richard Bernstein said he is concerned about the market's valuation right now "because of the historically high unpredictability of earnings growth."
The firm's sell-side barometer fell to 65.7% in February from 67.8% last month. The indicator, which is based on a survey of strategists' recommended asset allocations, is currently forecasting a 10% decline in the market over the next 12 months, Bernstein said. That's better than previous expectations for a loss of 15% to 20% but "still does not suggest that the equity market is attractive." The indicator would have to fall to 50.1% or below to generate a "buy" signal.
In the chip sector, stocks fell after a report from the Semiconductor Industry Association showing that worldwide sales of semiconductors totaled $12.2 billion in January, down 2.5% from December, but up 22% from the same period a year ago when the industry was at a low.
The group said it expects "double-digit" percentage sales growth in 2003, as tech spending recovers, and as the wireless market and other new sectors such as broadband networks continue to improve.
Treasuries were higher, with the 10-year note up 1/8 to yield 3.68%. Crude oil prices for April delivery were down 72 cents $35.88 on the Iraq compliance news. The dollar fell against the Japanese yen and the euro.
The
Dow Jones Industrial Average
ended last week down 127 points, or 1.6%, at 7891. The S&P 500 shed 7 points, or 0.82%, to 841, while the
Nasdaq Composite
lost 12 points, or 0.9%, to 1337
Volume on the
Big Board
reached 1.18 billion, with advancers and decliners about even. On the Nasdaq, 1.24 billion shares changed hands, with losers outpacing winners by 17 to 13.
Overseas markets were higher, with London's FTSE 100 up 0.8% to 3684 and Germany's Xetra DAX up 0.10% to 2549. In Asia, Japan's Nikkei closed 1.52% higher at 8490, while Hong Kong's Hang Seng gained 1.60% to 9268.