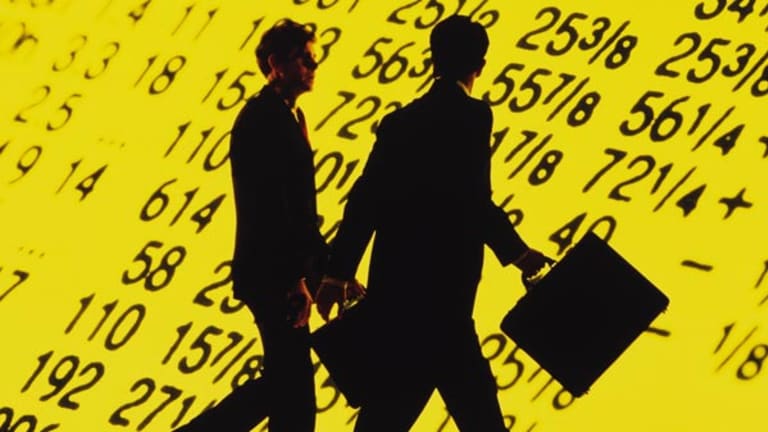 Stocks End Lower as Buyers Take a Break
Investors take profits after the recent run-up. The Nasdaq loses 2.8%.
Investors take profits after the recent run-up. The Nasdaq loses 2.8%.
Updated from 3:12 p.m. EST
Stocks closed lower Tuesday as investors took some profits after the recent run-up and moved cash to the sidelines ahead of Thanksgiving.
The
Dow Jones Industrial Average lost 75.08 points, or 0.8%, to 9901.38. The
Nasdaq was down 53.91 points, or 2.8%, to 1880.51, and the
S&P 500 dropped 8.40 points, or 0.7%, to 1142.66.
Overseas, European stocks fell on concerns about corporate earnings and continued economic woes, with Germany's Xetra DAX losing 1.7% to 5096 and London's FTSE 100 down 0.7% at 5299. In Asia, Japan's Nikkei index closed down 1.4% to 10,576, while Hong Kong's Hang Seng fell 1.2% to 11,226.
Microsoft
(MSFT) - Get Report
is reportedly prepared to settle about 100 antitrust suits that allege the company used its market presence to overcharge customers. According to
The Wall Street Journal
, the potential agreement would require the company to provide personal computers and software to more than 14,000 poor schools nationwide. Microsoft fell $1.39, or 2.1%, to $65.15.
Xerox
(XRX) - Get Report
said GE Capital will become its primary source of equipment financing. GE Capital plans to extend about $350 million to Xerox, though the deal still needs approval from the Canadian government. Xerox lost 29 cents, or 4%, to $7.01.
Royal Caribbean
(RCL) - Get Report
, which agreed to merge with P&O Princess Cruise Lines of the U.K., gained 79 cents, or 5.3%, to $15.80.
Retailers reported sales figures that were largely in line with consensus estimates.
Limited
(LTD)
lost 39 cents, or 2.8%, to $13.52, despite meeting expectations and reaffirming its fourth-quarter outlook.
Airlines were trading lower despite positive comments from Goldman Sachs.
UAL
(UAL) - Get Report
, the owner of United Airlines, dropped 90 cents, or 5.4%, to $15.82.
AMR
(AMR)
, the parent company of American Airlines and TWA, lost 91 cents, or 4.4%, to $19.86. For more corporate news, check out
TheStreet.com's
Stocks to Watch.
In Afghanistan, U.S. Special Forces are hunting terrorist leader Osama bin Laden while planes continue bombarding Taliban troops. Meanwhile, the United Nations is organizing a conference in Germany to discuss the future of the Afghan government.
Around 4 p.m. EST, the 10-year Treasury note was losing 15/32 to 101 3/32, yielding 4.86%.