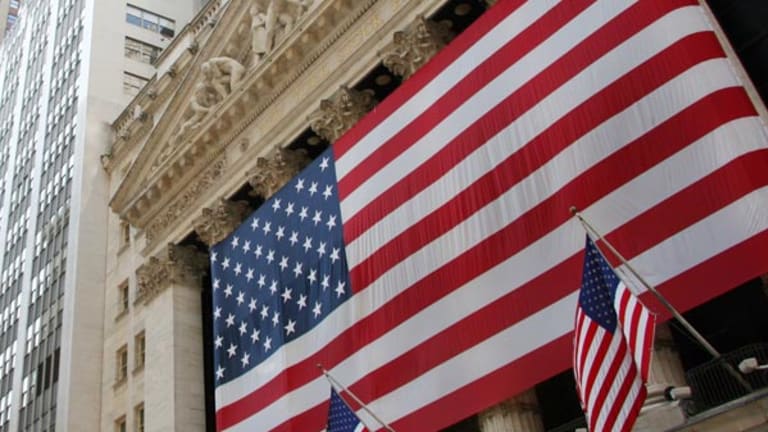 Publish date:
Stocks End Lower After Late-Day Slide
The Dow, the Nasdaq and the S&P were in positive territory for most of the trading day.
The Dow, the Nasdaq and the S&P were in positive territory for most of the trading day.
Updated from 3:36 p.m. EST
Stocks closed lower Wednesday as the major averages reversed course late in the day after remaining solidly positive for the majority of the session.
The
Dow Jones Industrial Average ended down 56.46 points, or 0.6%, to 10,094.09. The
Nasdaq lost 10.85 points, or 0.5%, to 2044.89, and the
S&P 500 dropped 5.57 points to 1155.14.
Earlier in the day, the Dow traded as high as 10,271. The Nasdaq peaked at 2099.
Merrill Lynch
(MER)
said it will record a $1.7 billion after-tax charge to account for 9,000 job cuts. The company backed fourth-quarter earnings estimates but said weak debt-trading and investment banking results will cause an 8% sequential sales decline. Subsequently, J.P. Morgan upgraded Merrill to buy from a long-term buy. Merrill's shares moved up $1.51, or 2.7%, to $57.95.
After a strong holiday season, consumer electronics retailer
Best Buy
(BBY) - Get Report
raised its fourth-quarter earnings estimates. The company now expects to earn $1.35 to $1.40 a share in the current quarter, compared with analysts' consensus estimate of $1.27. The company's shares advanced 57 cents, or 0.8%, to $75.33.
Broadcom
announced that it has reached an agreement with
Palm
(PALM)
to develop advanced Bluetooth technology for use in Palm's handheld computers. After the announcement, Prudential Securities raised its price target on the company's stock to $68 from $48. Shares of the wireless telecommunications firm jumped $2.16, or 4.4%, to $51.40.
Lehman Brothers upgraded
Aetna
(AET)
to strong buy from market outperform, citing signs of operational improvement in 2002, increased confidence in management and potential earnings growth when the economy recovers. Lehman increased its 2002 earnings estimate to 45 cents a share and raised its price target to $45. Shares of the insurance company rose $1.16, or 3.5%, to $34.32.
Intel
(INTC) - Get Report
saw its shares bounce higher following an upbeat research note issued by SG Cowen, but sellers emerged as the session wore on, and the stock closed lower. SG Cowen semiconductor analysts raised their earnings forecasts on the chipmaker because of stronger-than-expected PC sales in the fourth quarter. The firm now expects Intel to earn 51 cents a share in 2001 and 64 cents a share in 2002. The stock shed 17 cents, or 0.5%, to $35.41.
Cisco
(CSCO) - Get Report
Chief Executive John Chambers said at a technology conference Tuesday that he expects the company to gain significant market share in the second quarter. Shares of the networking giant closed lower by 14 cents at $20.81.
DuPont Photomasks
(DPMI)
raised its earnings outlook, saying it now expects to break even in the fourth quarter on revenue of $86 million. Previous guidance was for a loss of 10 cents to 40 cents a share and revenue of $70 million to $80 million. The company's shares jumped $3.58, or 7.5%, to $51.26.
Software shares were faring well after brokerage firms Thomas Weisel and Investec PMG upgraded
Oracle
(ORCL) - Get Report
to strong buy and buy, respectively. The stock gained 96 cents, or 6.1%, to $16.71.
Seibel Systems
(SEBL)
was also on the move, adding 3.1% to $34.34.(
For more corporate news, check out
TheStreet.com's
Stocks to Watch and
Market Movers columns.)
Foreign markets were mixed, with London's FTSE 100 losing 0.4% to 5229 and Germany's Xetra Dax up 1% to 5288. In Asia, Japan's Nikkei closed down 0.3% to 10,664 because of weakness in banking shares, while Hong Kong's Hang Seng fell 2.3% to 11,441.
Treasury issues, like equities, also changed direction. Government notes and bonds were gaining ground in late-afternoon action. Around 4 p.m. EST, the 10-year note was climbing 5/32 to 99 18/32, yielding 5.06%.