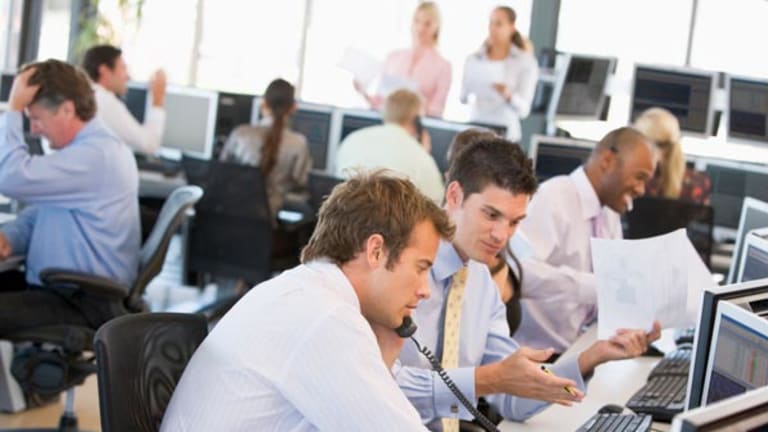 Publish date:
Stocks End Lower
Investors move to the sidelines after two days of gains.
Investors move to the sidelines after two days of gains.
Updated from 4:05 p.m. EDT
Another batch of respectable earnings failed to ignite the market Thursday, as investors took some money off the table after two days of gains.
The
Dow Jones Industrial Average
ended down 76 points at 8440, while the
Nasdaq
fell 9 points to 1457. The
S&P 500
lost 8 points to 911.
Stocks had risen over the last two days, as a slew of companies posted better-than-expected results for the first quarter. The Nasdaq and S&P 500 added about 3% in the past couple of days, while the Dow was up over 2%.
"The market's been very strong
recently, so the market's just taking a little breather," said Art Hogan, chief market analyst at Jefferies & Co. "The path of least resistance is definitely higher."
Hogan said he has been impressed with earnings so far, noting that there haven't been any major "blowups" and that guidance going forward hasn't come down significantly. "That caught us by surprise because we'd really written off the first quarter," he said.
Richard Nash, chief investment strategist at Victory Capital Management, believes the S&P 500 could test the upper end of its recent trading range, moving up to its August 2002 high of 960, "as short positions are covered and momentum players/money managers that were not positioned for this rally put money to work."
Still, Nash cautioned investors not to chase the rally, given "valuation concerns, sluggish global GDP growth and declining earnings estimates in upcoming quarters."
Although earnings were generally upbeat Thursday, the economic data were more mixed. Initial jobless claims rose to 455,000 last week, up from 447,000 in the prior week and the highest level in a year. That number was also worse than economists' expectations for jobless claims to hit just 425,000. The four-week moving average rose 13,250 to 439,250. The four-week average has remained above 400,000 for two months now.
"Overall the job market appears to be deteriorating from already bad numbers," said Merrill Lynch chief economist David Rosenberg.
Durable goods orders offered some hope, however. The Commerce Department said durable goods orders rose 2% in March after a 1.5% decline in February. The rise in the index was much better than the 0.6% fall economists were expecting.
"We detect that tech orders are surging," Rosenberg said. "We think this validates the Nasdaq's relative performance against the other averages so far this year."
Orders for computers and electronics were up 4% last month and have been up roughly 4% for three of the past four months, he noted. Separately, the Conference Board said its index of help-wanted ads for March fell two points to 38. The index stood at 45 this time last year.
Several Dow components reported earnings Thursday, including
International Paper
(IP) - Get Report
,
SBC Communications
(SBC)
and
America Express
(AXP) - Get Report
.
International Paper swung to a profit in the first quarter and beat analysts' estimates, as a charge in the year-ago period compensated for higher energy costs this year. Shares were down 0.8% at $35.42.
Telecom services provider SBC Communications also reported higher-than-expected earnings in the first quarter and affirmed its guidance for 2003. But sales dropped amid tougher competition and weak demand. SBC was up 3% at $22.53.
American Express posted a 12% jump in first-quarter earnings and beat analysts' estimates by a penny amid aggressive cost cutting. Shares were down 1% at $37.05.
Meanwhile,
AT&T
(T) - Get Report
was down 2.7% after a 23% run-up on Wednesday. Although AT&T reported better-than-expected first-quarter results Wednesday, UBS Warburg analyst John Hodulik downgraded the stock to reduce from neutral, saying the strong results in the firm's consumer business are not sustainable.
"We expect revenue losses to accelerate and margins to come under renewed pressure," he said, adding that competition from Baby Bells could hurt the firm as they "gain traction" in long-distance and other product offerings. UBS cut its 12-month price target to $12 from $18.
Elsewhere,
Nortel
(NT)
turned an unexpected profit, thanks to cost cuts and some gains in the latest period. Shares were up 1% at $2.59.
Qualcomm
(QCOM) - Get Report
reported solid results after the bell Wednesday and raised its full-year estimate for the second time. Shares were down 0.6% at $32.63.
Dow Chemical
(DOW) - Get Report
posted a lower first-quarter net income because of higher energy and raw material costs and
American International Group
(AIG) - Get Report
, the world's largest insurer, said net income fell in the first quarter due to the sale of investments at a loss.
The company said severe acute respiratory syndrome, or SARS, could have a dampening effect on sales of new policies in the second quarter, although it still expects 2003 profit to be about double of what it earned last year.
In the Internet sector,
Amazon
(AMZN) - Get Report
was down 0.6% at $25.27 ahead of its earnings due after the bell. The company posted a narrower loss for the first quarter and said revenue increased, due to strong international sales.
Separately, Federal Reserve Governor Ben Bernanke said in a speech Thursday that he believes business investment and economic growth will pick up in the second half of 2003 and in 2004. "However, even putting aside the possibility of unexpected developments on the geopolitical front or elsewhere, the state of expectations among corporate leaders is an important wild card that must always be considered when forecasting investment." Bernanke said business leaders are more pessimistic than economic conditions warrant right now, but he said this is significant because pessimism can potentially become "self-fulfilling."
Nymex crude prices fell 1 cent to $26.64 a barrel, the lowest closing price since Nov. 26, even though OPEC members agreed to cut their actual oil production by 7% to stem the decline in prices. The cartel raised it official production target, however.
Treasury prices were up, with the yield on the 10-year note down to 3.91%. The dollar was lower against the euro and the yen.
Overseas markets were mixed, with London's FTSE 100 down 1.7% at 3899 and Germany's Xetra DAX down almost 2.5% at 2898. In Asia, Japan's Nikkei gained 0.8% to end at 7854, while Hong Kong's Hang Seng shed 0.9% to 8442.
On Wednesday, the Dow ended up almost 31 points, or 0.4%, at 8515. The S&P 500 gained almost 8 points, or 0.8%, to 919, while the Nasdaq closed at 1466, a gain of 15 points, or 1%.