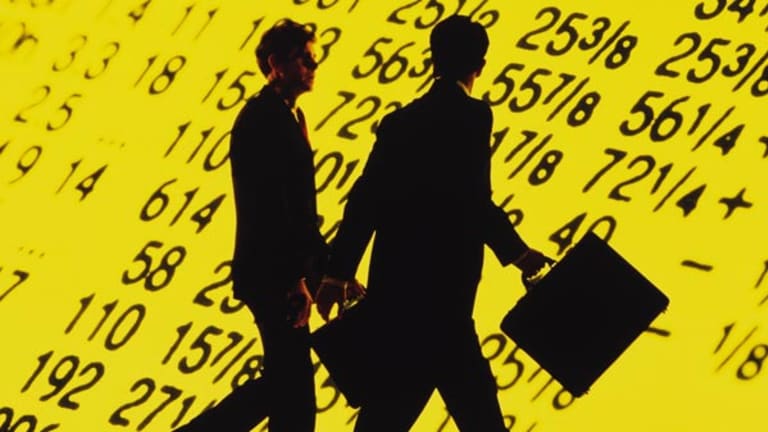 Publish date:
Stocks End in Positive Territory
The Nasdaq gains more than 2% while the Dow inches higher.
The Nasdaq gains more than 2% while the Dow inches higher.
Updated from 4:07 p.m. EST
Tech stocks turned in a solid performance and blue-chips inched higher Wednesday as investors took their cues from companies offering guidance rather than quarterly earnings.
The
Dow Jones Industrial Average ended the session up 17.16 points, or 0.2%, to 9730.96. The
Nasdaq gained 39.85 points, or 2.1%, to 1922.38, and the
S&P 500 was higher by 8.87 points, or 0.8%, at 1128.18.
Motorola
(MOT)
sang the same old tune Tuesday after the close, posting its fourth consecutive quarterly operating loss. Motorola recorded $7.3 billion in revenue and a loss of 55 cents a share, including charges. The company reported a loss before items of $90 million, or 4 cents a share, compared with earnings of $362 million, or 16 cents a share, a year ago.
Motorola expects the first quarter to be even worse as it struggles to gain market share from rivals
Nokia
(NOK) - Get Report
and
Texas Instruments
(TXN) - Get Report
. The company believes it will return to profitability in the third quarter of 2002 and expects its semiconductor business to turn a profit in the fourth quarter. Shares of Motorola finished up 3 cents to $13.56.
Merrill Lynch
(MER)
posted operating income in line with analysts' expectations but said that after a charge it had its first quarterly loss since 1998. The company posted earnings, excluding charges related to recent layoffs, of $461 million, or 48 cents a share. Revenue fell 34% to $4.75 billion in the quarter. Merrill previously announced that it would take a $1.7 billion after-tax charge to pay for 9,000 job cuts and branch closings. Shares of the full-service brokerage firm lost 13 cents, or 0.2%, at $54.88.
ExxonMobil
(XOM) - Get Report
reported a steep drop in fourth-quarter earnings amid weak demand and sharply lower oil prices. The oil titan said profits fell 49% to $2.68 million, or 39 cents a share, including items. Exxon's shares traded up 88 cents, or 2.3%, to $38.90.
Pfizer
(PFE) - Get Report
reported fourth-quarter earnings that were in line with analysts' forecasts at 34 cents a share. Revenue for the quarter came in at $9.2 billion, a 12% increase from a year ago. The drugmaker cited strong sales of its cholesterol treatment Lipitor and impotence drug Viagra, and said it remains comfortable with its 2002 profit forecast of $1.56 to $1.60 a share. The stock gained $1, or 2.5%, to $41.80.
DuPont
(DD) - Get Report
offered guidance for the upcoming quarters, saying it expects growth in 2002 despite reporting a 75% decline in fourth-quarter earnings. The company's performance has been hurt by anemic demand in its chemical business. Shares were up 83 cents, or 2.1%, to $41.27.
Emulex
(EMLX)
was one of the big winners a day after the company beat analysts' earnings expectations. J.P. Morgan issued positive comments on the company, and shares of Emulex climbed $5.53, or 14.3%, to $44.13.
Semiconductor shares regained some of yesterday's losses, as the Philadelphia Stock Exchange Semiconductor Index added 4.2%.
Novellus
(NVLS)
, a maker of semiconductor equipment, posted fourth-quarter earnings of 12 cents a share, beating analysts' estimates by a penny. But revenue for the quarter came in at $200 million, short of the $203 million analysts were predicting. The stock rose $3.42, or 9.4%, to $39.65.
Elsewhere, specialty chipmaker
Altera
(ALTR) - Get Report
hit its numbers for the fourth quarter, posting earnings, excluding charges, of $12.6 million, or 3 cents a share. Special items included $38.4 million to write down inventory and a $16.8 million restructuring charge. The company sees modest growth in the upcoming quarter.
Compuware
(CPWR)
exceeded lowered expectations for its fiscal third quarter and expects a rebound in mainframe software sales. Excluding charges related to recent acquisitions, the company earned $49.3 million, or 13 cents a share. The stock climbed $1.03, or 8.3%, to $13.50.
Dynegy
(DYN)
said it earned 41 cents a share in the fourth quarter, in line with consensus estimates, and up from 32 cents a year ago. The energy trader offered guidance of flat earnings for the first quarter and reaffirmed its 2002 outlook of $2.26 a share. Dynegy's shares rose $1.25, or 5.4%, to $24.55.
Foreign markets were mixed, with London's FTSE 100 gaining 0.6% to 5181 and Germany's Xetra Dax advancing 2.3% to 5163. In Asia, Japan's Nikkei closed down 0.1% to 10,041, while Hong Kong's Hang Seng fell 0.3% to 10,762.
Treasuries were lower. Around 4 p.m. EST, the 10-year note was down 23/32, to 99 29/32, yielding 5.01%.