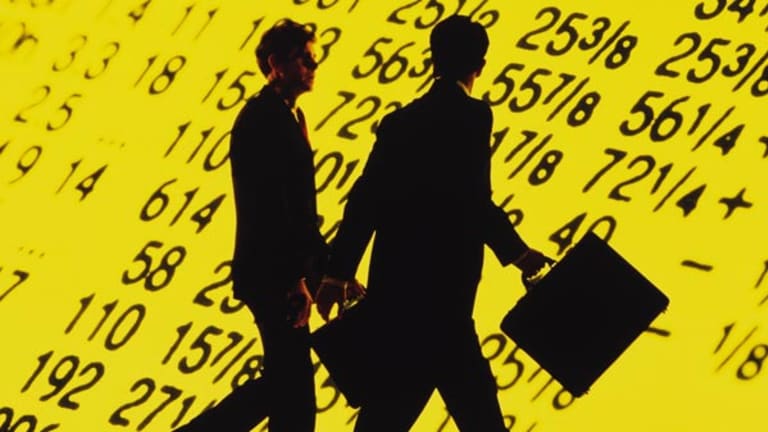 Stocks End Higher in Jittery Trading
Investors remain cautious amid war worries, mixed earnings and terror in Israel.
Updated from 4:08 p.m. EST
Blue-chips staged a small late rally amid thin volume after a mixed day of trading, as many investors remained sidelined due to concerns about a war with Iraq.
The
Dow Jones Industrial Average
ended up by 70.73 points, or 0.9%, at 7775.60, while the
Nasdaq Composite
gained 6.63 points, or 0.5%, to 1314.40. The
S&P 500
rose 7.86 points, or 1%, to 829.85.
Stepped-up saber-rattling over Iraq and North Korea kept investors nervous. Secretary of State Colin Powell said in a speech Wednesday that the U.S. is prepared to go to war without the U.N.'s backing. Also, the U.S. sent a signal of military strength to North Korea Tuesday as it began moving 24 bombers to Guam, near the Korean Peninsula. The move, officials said, had no relation to the intercept of a U.S. reconnaissance plane by four North Korean MiG jets last weekend.
Separately, a suicide bombing in a bus in the city of Haifa in Israel left at least 11 people dead and other 20 wounded. It was the first terrorist attack in Israel in two months, and it followed an explosion in a Philippine international airport Tuesday.
In economic news, the February Institute for Supplies Management index came in at 53.9%, slightly above the consensus expectation of 53.5%, but below the January reading of 54.5%. Also, the Federal Reserve released its Beige Book report on current economic indications, which showed that consumer spending was weak and business investment soft.
Meanwhile, the 10-year Treasury bond gained 5/32, lowering its yield to 3.63%, one of the lowest rates in more than two decades. Crude oil prices for April delivery rose with increased war concerns. In currency markets, the dollar fell against the yen and euro.
On Tuesday, housing stocks slid nearly 5% after Fed chief Alan Greenspan warned that the pace of refinancing would slow and the housing boom could be coming to an end. Wednesday morning, UBS Warburg defended the homebuilders, telling investors that market overreacted to the Greenspan comments and the lower-than-expected growth at both
Lennar
(LEN) - Get Report
and
Pulte Homes
(PHM) - Get Report
. In the brokerage's view, neither company has reduced earnings estimates and the current dearth of supply should keep prices stable even if demand wanes a bit.
Hovnanian Enterprises
(HOV) - Get Report
reported that February new home orders jumped 13.3% year-over-year, coming in with a total value of $284.4 million. Separately, the Mortgage Bankers Association of America said new mortgage applications rose 11% in the last week of February. Hovnanian slid 2.5% to $30.65 despite the news, while Pulte fell 1.8% to $45.98 and Lennar fell 2.3% to $49.41.
On the retail front,
Toys R Us
(TOY)
slid 0.1% to $7.90 after the company reported fourth-quarter earnings of $1.30 a share, topping consensus by 3 cents on a 2.3% year-over-year revenue increase. Going forward, the company said that the current Wall Street earnings estimate for 2003, $1.20 a share, is at the high end of its earnings guidance.
Costco
(COST) - Get Report
reported second-quarter earnings of 42 cents a share, excluding all items, on a 7.8% year-over-year revenue increase. The company excluded a 3-cent charge due to worker's compensation claims, something a company CFO warned could affect the company going forward. Shares fell 1.9% to $28.75.
Staples
(SPLS)
announced fourth-quarter earnings of 35 cents a share, beating estimates by 2 cents on $3.34 billion in revenue, up 13.9% over last year's quarter. Going forward, the office supplies chain said that first-quarter earnings will come in between 16 cents and 17 cents a share, in line with estimates, but said that 2003 earnings would grow by 20%, much better than expected. Shares rose 6.3% to $17.65.
Saks
(SKS)
, the upscale retail chain, announced fourth-quarter earnings of 58 cents a share, before charges, beating the lowered Wall Street estimate of 50 cents a share. Revenue came in at $1.84 billion, missing the $1.85 billion expected by analysts, off 3.7% from last year's quarter. Shares gained 7.9% to $7.50.
PetSmart
(PETM)
announced fourth-quarter earnings of 26 cents a share, missing estimates by a penny on revenue of $740.5 million, which was up slightly from year-ago levels, but way off from the $765 million expected by Wall Street. In the first quarter of 2003, the company said it expects earnings between 15 cents and 16 cents a share, below the consensus estimate of 20 cents. Shares fell 22.5% to $11.05.
Apple
(AAPL) - Get Report
rose 0.4% to $14.62 after the
Financial Times
reported that Steve Jobs is close to sealing a deal with all five major record labels to start an online music service.
Cray
(CRAY) - Get Report
raised revenue expectations for 2003 to at least $220 million, up from its previous target of $200 million in earnings for the year. This beats the $216 million expected by Wall Street. Shares rose 4.8% to $6.93.
On the media front,
The Wall Street Journal
reported that
Viacom
(VIA) - Get Report
was a leading candidate to snap up
Vivendi's
(V) - Get Report
television and film units. Viacom shares rose 1.9% to $35.99, while Vivendi rose 9.5% to $14.27.
Elsewhere,
AOL Time Warner
(AOL)
gained 1.7% to $11.05 after CEO Dick Parsons revealed that the company plans to sell between $2 billion and $4 billion in assets to shore up its debt situation. An initial public offering of its cable TV business could come late in the second quarter or at the end of the summer.
Oracle
(ORCL) - Get Report
shares dropped 4% to $11.17 after Lehman Brothers reported that industry sources are telling them that February was a tough month for the software maker. As a result, the brokerage said it would not be surprised if licensing revenue, a major part of Oracle's business, will miss estimates on March 18, when the company reports.
Northrop Grumman
(NOC) - Get Report
shares dropped 4% to $83.75 after the company said that interest expenses for 2003 would be up $100 million from its previous guidance of $370 million. As a result, the company said that earnings would come in between $3.65 and $4.15 a share, well below earlier guidance between $4 and $4.50 a share.
Genzyme
(GENZ)
was off 1.1% to $30.58 after the company reported fourth-quarter earnings of 34 cents a share, missing estimates by a penny, on $298 million in revenue, which also missed estimates. Company management confirmed guidance for 2003, though.
Pepsi Bottling
(PBG)
warned that business would be weaker than expected on Tuesday evening and the reaction from brokerages has not been kind. Goldman Sachs downgraded the company to in line, while UBS Warburg dropped the company's price target to $20 from $26. Shares fell 18% to $18.20.
Genesis Microsoft
(GNSS)
gained 8.5% to $13.72 despite the fact that Piper Jaffray told investors that shares are overvalued at these prices and have between $8 and $10 worth of downside. RBC defended the stock, upgrading the company to outperform, telling investors that the industry is consolidating and raised its price target to $18 from $16.
Overseas markets closed lower, with London's FTSE 100 down 1.7% to 3564 and Germany's Xetra DAX down 0.1% to 2498. In Asia, Japan's Nikkei closed 0.1% lower at 8472, while Hong Kong's Hang Seng lost 0.8% to 9109.