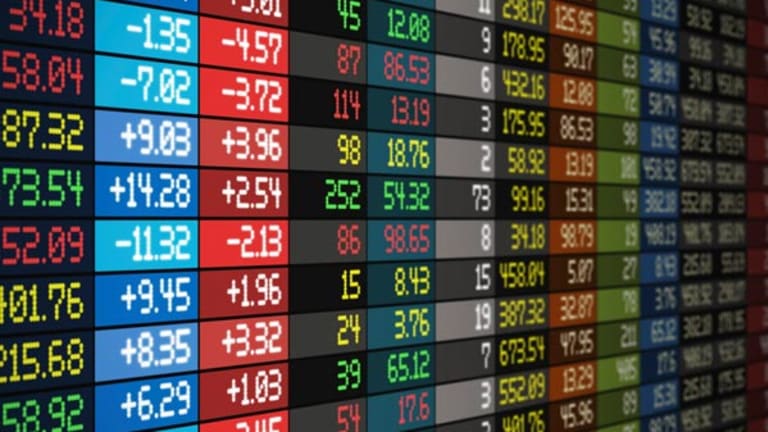 Stocks End Higher in Choppy Trading
The Dow ends up 1.1%, while the Nasdaq gains 1.3% following the Fed's decision on rates.
Updated from 4:06 p.m. EST
Stocks closed higher in volatile trading Wednesday, as investors groped for consensus about the Federal Reserve's 50 basis-point rate cut.
The
Dow Jones Industrial Average
rose 93 points, or 1.1%, to 8771. The
Nasdaq
gained 18 points, or 1.3%, to 1419, and the
S&P 500
added 8 points, or 0.9%, to 923. The Dow had traded in a roughly 120-point range since the rate cut was announced just after 2 p.m. EST.
Government bonds were mostly higher, with the 10-year note up 10/32 to yield 4.03%. The 30-year bond was up 11/32, lowering its yield to 5.05%. Short-term notes were off slightly.
The Fed voted unanimously to cut the Fed-funds target rate a half-point to 1.25%, its lowest level in 41 years, saying "an accommodative stance of monetary policy, coupled with still-robust underlying growth in productivity, is providing important ongoing support to economic activity." But the Fed maintained that geopolitical concerns and weak economic conditions are still impeding the pace of a recovery.
"With this action, the committee believes that, against the background of its long-run goals of price stability and sustainable economic growth and of the information currently available, the risks are balanced with respect to the prospects for both goals in the foreseeable future," the Fed said in a press release.
Investors also were mulling a Republican victory in the congressional elections and the resignation of SEC Chairman Harvey Pitt. For the first time since 1954, Republicans are set to take control of the House and Senate while a friendly president sits in the Oval Office. The party shocked pundits last night by rolling to majorities in both chambers of Congress.
Many on Wall Street were hoping for a Republican sweep, noting that it would end policy stagnation in Washington and increase the chances of permanent tax cuts. In addition, some believe that the GOP is less likely to enforce strict regulatory reform in the brokerage or accounting industries.
Still, some analysts said the victory is hollow because the Democrats can still filibuster any policies they want to block. Analysts also note that it was the GOP who applied steel tariffs, derailing progress in global trade.
Tobias Levkovich, equity analyst at Salomon Smith Barney, said investors must differentiate between the short-term market upside from the Republican win and the longer-term implications. He noted that "soaring deficits may not be in the best interests of the market."
That said, some sectors that are expected to be positively affected by the Republican victory rallied Wednesday. On the Dow, drug stocks and defense issues exhibited the most strength, with
Merck
(MRK) - Get Merck & Co., Inc. Report
adding 3.3% to $56 and
Boeing
(BA) - Get Boeing Company Report
climbing 6.5% to $33.58.
Oil Service stocks also gained ground, while insurance and tobacco issues advanced on hopes for tort reform. Changes to the tort laws would limit the amount of money that injured plaintiffs can seek at trial and eliminate runaway jury awards. Meanwhile, biotech and banking shares were under pressure.
Overall, market breadth was positive. Advancers outpaced decliners 2 to 1 on the New York Stock Exchange, where 1.6 billion shares traded. On the Nasdaq, winners beat the losers 5 to 3 on volume of 2.1 billion shares.
In another surprise turn of events, SEC Chairman Pitt tendered his resignation after he polls closed Tuesday night. The chairman said the controversy that dogged his 15-month tenure had recently grown debilitating and was keeping the SEC from doing its job.
"Given the recent accounting oversight board questions surrounding Mr. Pitt's judgment on the William Webster nomination, one has to see his departure as a positive development," Levkovich said.
The lack of oversight at the SEC comes at a crucial time for Wall Street, however. Until a successor is named, some market watchers believe that uncertainty could prevail.
In corporate news,
Cisco
(CSCO) - Get Cisco Systems, Inc. Report
added 2.2% to $12.97 ahead of its earnings due after the bell.
Brocade
(BRCD)
declined after being downgraded by Bear Stearns and Deutsche Bank. Bear cited possible competition in one of its network switch markets and the lack of an obvious price catalyst. The shares slipped 13.4% to $6.40.
IBM
(IBM) - Get International Business Machines Corporation Report
filed to sell 19.3 million shares for its pension trust, but shares managed to eke out a one-cent gain, closing at $81.54.
Northwest Airlines
(NWAC)
rose 3.2% to $8.60 despite saying it would record a noncash charge of more than $700 million related to its pension plan.
Cable television operator
Cablevision
(CVC)
, which also owns Madison Square Garden and the Wiz, saw its shares jump almost 20% to $15.55 after Salomon Smith Barney raised its investment rating on the stock to outperform from in line. The brokerage also downgraded rival
Cox Communications
(COX)
to in line from outperform, and its shares lost 0.3% to $29.45.
"At current prices, we believe the valuation disparity between industry leader Cox Communications and Cablevision to be excessive," analyst Niraj Gupta wrote in a note to clients.
Priceline.com
(PCLN)
fell nearly 27% after reporting a wider loss in its third quarter and missing analysts' expectations. It also plans to cut 65 jobs, or 15% of its work force.
Overseas markets with mixed, with the FTSE losing 1% to 4103, Germany's Xetra DAX down 1.9% to 3289, Japan's Nikkei up 0.2% to 8953 and Hong Kong's Hang Seng up 1.2% to 9774.