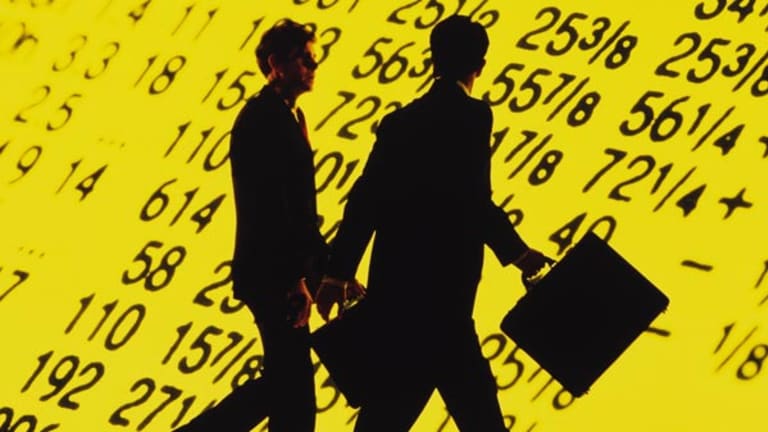 Stocks End Higher
Solid earnings news from AT&T, AOL and eBay gives shares a boost in subdued trading.
Updated from 4:06 p.m. EDT
A string of upbeat corporate reports sent stocks higher Wednesday, although trading was somewhat subdued after a strong rally Tuesday.
The
Dow Jones Industrial Average
ended up 30 points, or 0.4%, at 8515, while the
Nasdaq
closed up 15 points, or 1%, at 1466. The
S&P 500
rose 7 points, or 0.8%, to 919.
"After getting squeezed during yesterday's advance, the shorts are not being too aggressive, but the bulls are also playing it fairly close to the vest, questioning the size and scale of recent gains in the context of the current economic backdrop," said Bryan Piskorowski, market analyst at Prudential Securities.
The Federal Reserve said Wednesday that "the pace of economic activity continued to be lackluster during March and the first two weeks of April." Although the onset of war seemed to restrain spending, the Fed said it is too soon to tell just how big an impact the war had on business and consumer confidence. The Central Bank also said the deadly SARS virus has hampered international travel.
Still, investors were encouraged by positive first-quarter results from
America Online
(AOL)
and
eBay
, among others.
Some analysts also were pleased with the latest Investors Intelligence survey, which showed a surprisingly large drop in bullish sentiment over the past week as well as a sizeable increase in bearishness. The survey is a contrarian indicator and seems to refute the bearish claim that there is still too much optimism in the market.
For the Dow, shares of
AT&T
were adding support. The stock was up 23%, or $3.20, at $17 after the company said it swung to a profit in the first quarter and backed current guidance. The firm said its division that sells phone services to businesses is partially offsetting weak consumer traffic.
Eastman Kodak
(EK)
was a big drag, however, tumbling more than 5%, or $1.65, to $30 after reporting a decline of almost 70% in its first-quarter profit because of anemic demand for its products and services. The company also warned that earnings for the current quarter could fall below analysts' forecasts.
On Tuesday, the Dow and Nasdaq gained 1.9%, while the S&P 500 rose 2.2%. The S&P closed above 900 for the first time since Jan. 17, and the Nasdaq ended at its highest level since Jan. 14.
"Yesterday was an impressive day, and I think some people are trying to decide whether to chase it or wait for a pull back and then get in," said Dave Briggs, head of equity trading at Federated Investors. Briggs said he isn't yet convinced that this is the new bull market that some analysts are proclaiming, saying he would be more confident if the S&P took out its August high of 965.
In corporate news, AOL said it returned to a profit in the first quarter and predicted that it will reach targets for full-year earnings, with the help of expense cutting. The company said subscription strength at its Internet and cable units helped offset advertising weakness. Shares were up 5% at $14.
Meanwhile, eBay said its profit doubled, and the company increased its estimates for earnings and revenue for the current quarter and 2003. Shares were up 5.7% at $94.32.
Amgen
(AMGN) - Get Amgen Inc. Report
said its first-quarter income rose due to higher-than-expected drug sales, and it also raised 2003 profit and revenue estimates. Shares were up 4.6% at $63.80.
Corning
(GLW) - Get Corning Inc Report
posted a narrower-than-expected quarterly loss due to growth in businesses not related to telecommunications. The company also said it expects to reach previously set guidance for the second quarter, but the stock was down 5% at $5.88.
Shares of
PeopleSoft
(PSFT)
were also weaker after the firm said first-quarter profit fell, and it lowered its expectations for second-quarter and full-year earnings. The software maker also plans to lay off 200 workers. Shares were down 3.7% at $15.45.
Lucent Technologies
(LU)
posted a loss for the 12th straight quarter, as telephone companies spent less on equipment. But shares were up 2% at $1.72.
Xerox
(XRX) - Get Xerox Holdings Corporation Report
beat analysts' estimates for its first quarter, despite a fall in revenue and a net loss. Excluding one-time litigation costs, the company posted a strong operating profit, with the help of cost cutting. Shares were up 6.5% at $9.76.
AMR
(AMR)
reported a $1.04 billion loss, which the carrier's chief executive described as "truly dreadful." Shares were up 10.8% at $3.80.
Dow component
Boeing
(BA) - Get Boeing Company Report
posted a narrower net loss of 60 cents a share, including charges. Excluding charges, the firm reported a 42-cent profit, beating expectations by 11 cents a share. Still, the firm cut full-year estimates by 20 cents to reflect first-quarter charges. Boeing was up 1% at $28.14.
Separately, Frank Quattrone, the former
Credit Suisse First Boston
investment banker, was charged by federal prosecutors Wednesday with obstruction of justice.
The 10-year Treasury note was slightly lower, with the yield up to 3.98%. The dollar was firmer against the yen and euro. June Brent crude-oil futures fell $1.20, or 4.7%, to $24.26 a barrel in London, the lowest close since Nov. 19, after the U.S. reported the biggest inventory increase since October. OPEC's president said the global oil market is oversupplied by about 2 million barrels a day. The group will discuss production cuts Thursday.
Overseas markets were higher, with London's FTSE 100 up 1.2% at 3966 and Germany's Xetra DAX up 0.3% at 2970. In Asia, Japan's Nikkei ended practically unchanged at 7793, while Hong Kong's Hang Seng fell 1.6% to 8519.