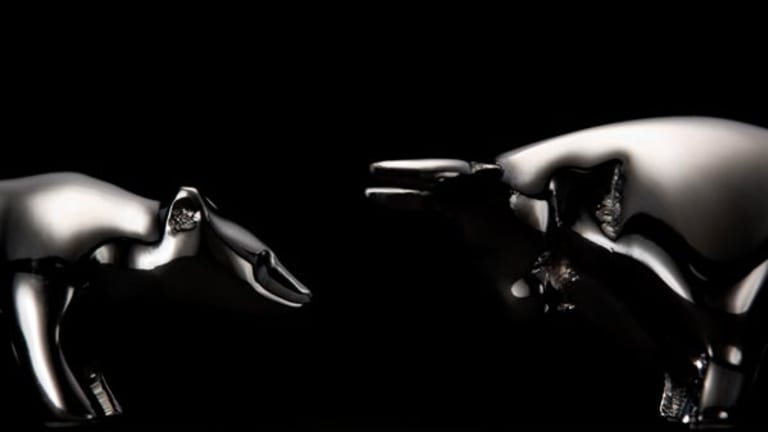 Stocks End Frantic Week With Only Modest Gains
Worries over China and its effect on U.S. equities turn out to be overblown as stocks close out the volatile week with gains.
NEW YORK (TheStreet) -- Is the week finally over?
Watching the wild swings in stock prices over the past several days has been a heartstopper.
And for all the breathtaking ups and downs, the market ended the week with only a modest gain.
The S&P 500 ended the week up 0.89%, and the Nasdaq climbed 0.32%. The Dow Jones Industrial Average added 1.1%, even after a historic 1,000-point drop earlier this week. The S&P 500 and the Dow have moved out of correction territory and are now down 6.5% and 9.1% from their May records, respectively. 
Volatility continued into the final hour of trading on Friday before stocks closed mixed. Big swings have been characteristic of this week's trading with gains or losses of more than 1% from Monday to Thursday. The market may not have seen the last of the volatility just yet, according to some economists.
"I'm not sure that we're done with the volatility," Karyn Cavanaugh, senior vice president and market strategist at Voya Investment Management, told TheStreet. "Market volatility is a normal course and investors were a little bit spoiled by not seeing any kind of correction which we normally see once a year."
But global volatility will likely not influence the Federal Reserve's game plan on interest rates, according to St. Louis Fed President James Bullard.
"The U.S. outlook still looks very good," he told Bloomberg. "The key question for the committee is how much would you want to change the outlook based on the volatility we've seen over the last 10 days. And I think the answer to that is going to be not very much."
Fed Vice Chairman Stanley Fischer kept noncommittal on when an interest rate hike could occur, but didn't rule out September.
"When the case is overwhelming, if you wait that long, you'll be waiting too long," Fischer told CNBC on the risks associated with a delayed hike."There's always uncertainty."
Fischer noted that "there was a pretty strong case" for a September hike but couldn't commit given there is still "a little over two weeks before we make a decision."
"We've got time to wait and see the incoming data and see what is going on now in the economy," he added.
Fed members are currently meeting in Jackson Hole, Wyo. for their annual meeting. Fed Chair Janet Yellen is not in attendance this year.
Crude oil prices extended gains on Friday after rocketing higher a day earlier. Prices had been boosted by hopes that a rebound on global markets could stimulate demand. Crude futures hit six-year lows earlier this week. West Texas Intermediate crude closed 10.3% higher on Thursday, its biggest one-day percentage gain since March 2009.
West Texas Intermediate crude added 6.3% to $45.22 a barrel on Friday. Crude closed with a weekly gain of 11.8%, its first in 10 weeks and best in six years.
Shell's (RDS.A) Nigerian unit declared force majeure on Bonny Light crude oil exports on Thursday after closing down two of its pipelines. The Trans Niger Pipeline and Nembe Creek Trunkline, two of Nigeria's biggest onshore pipelines, were shut down due to a leak and theft.
 Consumer sentiment slipped in August, down to 91.9 from an initial estimate of 92.9, according to the University of Michigan index. This was the first reading which took into account the market turmoil over the past week. The reading came in under estimates of an increase to 93.3. Consumer expectations fell to 83.4 from 84.1 in July.
This "will be one of the reports that the Fed will look to as they gauge the impact on U.S. confidence from the recent eruption in financial market volatility," said Cheng Chen, U.S. macro and rates strategist at TD Securities. "The souring in consumers' moods is of little surprise as Chinese stock market and domestic equity market turmoil weighed on sentiment during the second half of the month."
Personal income rose 0.4% in July for the fourth consecutive month, the Commerce Department said on Friday. Wages and salaries increased 0.5%, their biggest gain since November. Consumer spending climbed 0.3%, slightly weaker than an expected 0.4% increase. June spending was revised up to 0.3% from 0.2%.
"Consumer spending and income growth remain firmly in positive territory, although the pace of acceleration has slowed noticeably in just one year's time," said Lindsey Piegza, chief economist at Stifel. "The focus, therefore, of the latest income and consumption report is the lack of meaningful inflation. Price pressures remain subdued, exacerbating a declining trend in inflation away from the Fed's longer-term target of 2%."
Freeport-McMoRan (FCX) - Get Freeport-McMoRan, Inc. (FCX) Report climbed nearly 3% after activist investor Carl Icahn reported a new 17.6 million-share stake in a regulatory filing. Icahn said he intends to talk with management about cutting capital expenditure and reworking executive compensation plans.
Big Lots (BIG) - Get Big Lots, Inc. Report added 15.7% after reporting quarterly earnings of 40 cents a share, 6 cents above estimates. Comparable-store sales rose 2.8%, while revenue of $1.21 billion beat forecasts by $10 million.
Autodesk (ADSK) - Get Autodesk, Inc. Report slid 5% after issuing a disappointing third-quarter and full-year outlook as revenue shifts from software licenses to subscriptions. The software developer expects profit of 5 cents to 10 cents a share, more than half what analysts were expecting.
GameStop (GME) - Get GameStop Corp. Class A Report shares fell 8% despite the video game retailer reporting better-than-expected profit and sales in its second quarter. The company earned 31 cents a share, 6 cents better than forecast, while revenue climbed 1.7% to $1.76 billion.