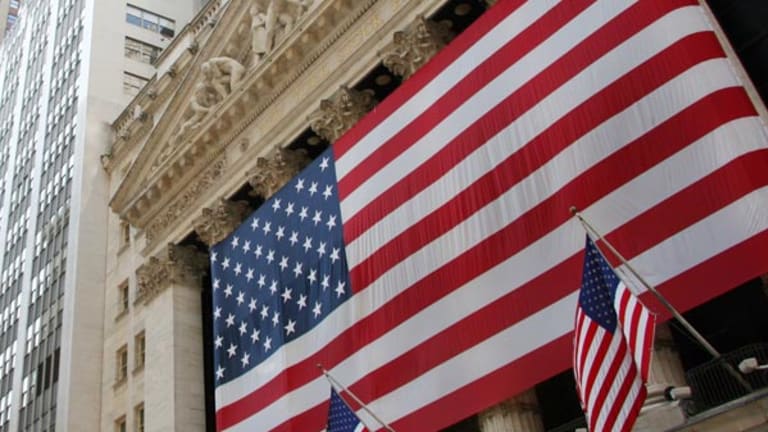 Stocks End Four-Day Slump
Bargain hunters emerge after almost a week of selling.
Updated from 5:04 p.m.
Stocks finished higher Tuesday, as investors overlooked a mixed bag of economic data and crept back into the market after four days of losses.
The
Dow Jones Industrial Average
ended up 77 points, or 0.9%, to 8069, while the
Nasdaq
finished up 7 points, or 0.5%, to 1348. The
S&P 500
was up 10 points, or 1.2%, to 858.
"Having held that 50% retracement of the pre-war rally yesterday, the short-term technicals are currently in the bull's favor," said Bryan Piskorowski, market analyst at Prudential Securities. "But the fundamental side still leaves something to be desired."
Indeed, the economic data released Tuesday was mostly negative. The Institute for Supply Management reported that its manufacturing index fell to 46.2 in March, below expectations for a reading of 49 and down from 50.5 in February. A number below 50 indicates contraction in manufacturing activity, while a number above 50 signals expansion.
Construction spending also weakened, falling 0.2% in February after rising 2% in January. Still, that was better than the 0.8% decline expected by economists. In addition, layoff announcements fell to 85,396 in March from 138, 177 in February, according to Challenger, Gray & Christmas.
Concerns about the war continue to weigh on retail activity, however. Chain store sales fell 1.4% in the week ending March 29 and were up just 0.5% year over year, according to the Bank of Tokyo-Mitsubishi and UBS Warburg. For the month, BTM expects same-store sales to be flat to down 1% compared with last year.
Meanwhile, auto sales deteriorated in March, with
General Motors
(GM) - Get General Motors Company Report
and
DaimlerChrysler
(DCX)
reporting a 3% drop in sales and
Ford
(F) - Get Ford Motor Company Report
posting a 4.8% dropoff.
Jay Suskind, head of institutional equity trading at Ryan, Beck & Co., said the market was seeing a technical bounce Tuesday.
"We're just seeing a bit of a respite after the recent selling, but there's also some optimism about the start of a new quarter and optimism about the war," he said. The S&P 500 fell almost 3% over the last four days.
A speech by Iraq's information minister that was supposed to be given by Saddam Hussein fueled speculation Tuesday that Iraqi leader may be dead. The Pentagon also said increased bombing in and around Baghdad is taking a heavy toll on the Republican Guard. And U.S. troops raided Hindiyah, a town south of Baghdad, and reportedly captured and killed dozens of Republican Guard soldiers.
Still, there was an equal amount of bad news on the war front. American soldiers shot and killed seven women and children who were in a van that failed to stop when troops waved and fired warning shots in their direction. An investigation is said to be under way.
Late Tuesday, the news turned more positive with word word that an American POW was rescued.
U.S. officials told ABC News that Pfc. Jessica Lynch, 19, a supply clerk with the Army's 507th Maintenance Company from Palestine, W.Va., was rescued by coalition forces.
Lynch was reported missing March 23, when her supply convoy was ambushed in Nasiriyah, in southern Iraq.
"We continue to believe that investors are viewing geopolitics much too narrowly," said Merrill Lynch in a research note. "Despite the consensus that the U.S. economy will be fine after the Iraq war and that the uncertainty will be quickly lifted, our feeling is that we might be entering a 10- or 15-year period of significant changes to geopolitics, and that considerable uncertainty will remain."
Still, Merrill left its recommended asset allocation and its target for the S&P 500 intact. The firm said its ideal weighting is 45% stocks, 35% bonds and 20% cash. The 12-month S&P 500 target remains at 860.
Morgan Stanley's global strategist Barton Biggs also weighed in with some comments Tuesday. Although he believes equities are "extremely oversold," he said he is inclined to take "a more cowardly wait-and-see investment posture."
"The war is not going as well as expected and the aftermath seems more dangerous," he wrote in a note to clients.
Volume on the Big Board reached 1.43 billion, with advancers beating decliners by 2 to 1. On the Nasdaq, volume hit 1.37 billion, with winners outpacing losers by 3 to 2.
May crude futures in New York were down $1.26 cents to $29.78 a barrel, while June gold was down $1.70 to $335.20 an ounce. The 10-year Treasury note was down 1/8 to yield 3.82%
Among companies, American Airlines' parent,
AMR
(AMR)
, reportedly reached agreements with its three major unions for wage and benefit cuts that will -- at least for now -- allow it to avoid bankruptcy. The firm will also lay off about 20% of its workforce over the next year. AMR shares were up 43% at $3.00.
Shares of
Best Buy
were up 1.4% to $27.35 after the company beat Wall Street estimates by 3 cents a share but warned that same-store sales could decline in the "low single digits" percentage range in the current quarter, and that earnings per share would miss the estimates.
Shares of
Cisco
(CSCO) - Get Cisco Systems, Inc. Report
were down 0.1% and
Intel
(INTC) - Get Intel Corporation Report
was up 0.7% after Lehman Brothers lowered its earnings and revenue estimate for the third and fourth quarters on Cisco, and said short-term traders should take profits in Intel ahead of the company's first-quarter report.
Aluminum maker
Alcan
(AL) - Get Air Lease Corporation Class A Report
said its first-quarter earnings may be lower than January projections of 37 cents to 47 cents a share because of higher energy and raw materials costs.
LaBranche
(LAB)
, the largest specialist firm on the New York Stock Exchange, warned that its first-quarter profit will fall short of expectations, ranging from 6 cents to 8 cents a share, compared with 43 cents a share a year earlier. Analysts had expected the company to report earnings of 25 cents a share. This is the second LaBranche warning in two months.
Another company to warn was home furnishing retailer
Pier 1 Imports
(PIR) - Get n.a. Report
. The company said its first-quarter and fiscal year profits might fall below estimates because of slower sales amid war with Iraq.
Energy trader
Dynegy
(DYN)
said late Monday that it will file an extension with securities officials to complete its annual report. The company is in the final phase of its reaudit of financial reports from 1999 to 2001.
Gemstar-TV Guide International
(GMSTE)
shares could face pressure after the publisher of TV Guide magazine widened its fourth-quarter loss and restated more than three years of results. Shares of Gemstar were down 11% to $3.20.
The
Securities and Exchange Commission
and the National Association of Securities Dealers reportedly have initiated a probe into
Morgan Stanley's
mutual fund sales practices, according to
The Wall Street Journal
. Authorities are investigating whether the firm's brokers have been recommending inappropriate mutual fund share classes to its clients, some of which may not be the best option for certain investors, according to people familiar with the matter.
Overseas markets were mostly higher, with London's FTSE 100 up 2% at 3684 and Germany's Xetra DAX up 1% at 2450. In Asia, Japan's Nikkei rose 0.2% to end at 7987, while Hong Kong's Hang Seng lost 0.4% to 8597.
Stocks tumbled Monday, with the Dow losing 154 points to 7992. The blue-chip average has now lost about half of the advance it posted in the days following the war's outbreak and is down more than 4% on the year.