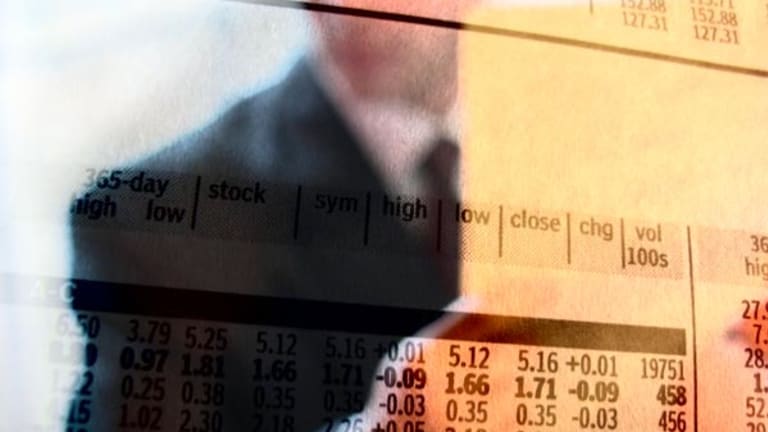 Stocks End Five-Day Winning Streak
Good economic news is overshadowed by profit-taking and a rise in bond yields.
Updated from 4:12 p.m. EDT
Stocks snapped a five-day winning streak Wednesday, as rising bond yields overshadowed some better-than-expected economic news.
The
Dow Jones Industrial Average
ended down 38 points, or 0.4%, at 9271, while the
S&P 500
was down 6 points, or 0.6%, at 984. The
Nasdaq
was down 0.4 point, or 0.02%, at 1686.
"I think we're just seeing a bit of profit-taking here," said James Park, senior vice president of equity trading at Brean Murray & Co.
Park said investors had pushed up stock prices in the days before the
Federal Reserve
meeting in anticipation of some good news. On Tuesday, the central bank said it will leave rates on hold for a "considerable period," and investors are now selling on the news, he said.
Trading was very quiet Wednesday and stocks moved in a narrow range for most of the session. Volume on the NYSE reached 1.2 billion and declines beat advances by 9 to 7. On the Nasdaq, 1.4 billion shares changed hands, with winners outpacing losers by 8 to 7.
Dave Briggs, head of stock trading at Federated Investors, said while the economic news was favorable, the broad market is tired after rallying for five straight days. He also noted that the selloff in the bond market "got people a little spooked today."
Treasuries were hit Wednesday, with the yield on the 10-year note rising to 4.57%. Although the Fed attempted to calm the bond market on Tuesday by saying it won't change rates any time soon, yields have moved higher nonetheless. Some analysts worry that the sharp increase in yields will entice investors away from stocks and possibly even stall the nascent economic recovery.
In economic news, retail sales rose 1.4% in July, the third-straight month of gains, as demand for cars remained solid. Excluding autos, sales climbed 0.8%. Economists had been looking for a 1% increase overall and a 0.6% rise excluding autos.
"July is not a flash in the pan. Figures for both May and June were revised upward by significant margins," said Bill Cheney, chief economist at John Hancock Financial Advisors. "We now have a three-month string of good numbers, suggesting not only that the third quarter is getting off to a great start, but that second-quarter GDP numbers are likely to be revised upward."
In another sign that consumer spending is holding up,
Wal-Mart
(WMT)
beat Wall Street's estimates for the second quarter and said earnings estimates for the current fiscal year would come in at the higher end of its $2 to $2.05 per-share range. The company posted an 11.3% jump in revenue as both its Wal-Mart stores and international segments recorded double-digit sales gains. Still, shares fell 73 cents, or 1%, at $58.07.
Jewelry and luxury goods seller
Tiffany
(TIF)
also topped analysts' estimates, reporting a strong increase in quarterly earnings and reaffirming its full-year profit forecast. Shares gained 3%, or $1.13, at $37.41.
In the tech group,
Applied Materials
(AMAT)
rose 3%, or 60 cents, to $19.07 despite posting a loss in the fiscal third quarter, compared to a profit in the year-ago period. The world's largest chip-equipment maker said fourth-quarter earnings will likely come in a bit lower than analysts' estimates.
Elsewhere,
Pfizer
(PFE)
was slipping 3.5%, or $1.16, to $31.56 after rival
AstraZeneca
(AZN)
won Food and Drug Administration approval for Crestor, a cholesterol-fighting medicine. Crestor will directly compete against Pfizer's blockbuster drug Lipitor. AstraZeneca shares were up 1.5%, or 60 cents, at $41.50.
Meanwhile, advertising company
Interpublic
(IPG)
reported a second-quarter loss amid charges related to job cuts and lease cancellations. The company also withdrew its previous earnings forecast for the year. Shares fell 2%, or 33 cents, at $13.37.
Among analysts' research actions, J.P. Morgan initiated coverage of software maker
Oracle
(ORCL)
with an overweight recommendation. Oracle was down 2%, or 25 cents, at $11.90.
A couple of other economic reports had little impact on the market. July import prices rose 0.5%, while export prices lost 0.1%. Also, business inventories rose 0.1% in June, above the 0.1% decline forecast by economists.
Stocks closed higher Tuesday after the Fed said it would keep rates unchanged for a "considerable period" of time. The Dow closed up almost 93 points, or 1%, at 9310, while the S&P 500 rose almost 10 points, or 1%, to 990. The Nasdaq added 25 points, or 1.5%, to 1687.
Crude oil prices for future delivery fell in New York. The dollar was higher against the yen but lower vs. the euro.
Overseas markets were mixed. London's FTSE 100 was down 0.1% at 4180, and Germany's Xetra DAX was up 0.5% at 3398. In Asia, Japan's Nikkei closed up 2% at 9752, and Hong Kong's Hang Seng gained 1.2% to 10,301.