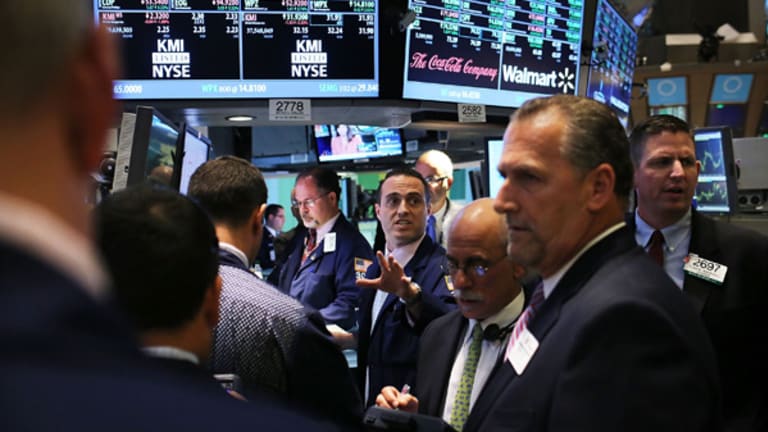 Stocks End Eventful Week With Slight Gains
From selloffs triggered by a global bond rout to rebound rallies, it's been a volatile week for the markets.
From selloffs triggered by a global bond rout to rebound rallies, it's been a volatile week for the markets.
NEW YORK (TheStreet) -- From selloffs triggered by a global bond rout to rebound rallies, it's been an eventful week for the stock market.
Equities ended the week with slight gains, though essentially went nowhere over Friday's session. Consumer sentiment and weak industrial data in April squelched any lingering optimism from Thursday's rally. 
For the week, the S&P 500 climbed 0.3%, the Dow Jones Industrial Average added 0.4%, and the Nasdaq was up 0.9%. 
But over Friday's session, the S&P 500 and Dow barely moved more than a few points from their flatline, while the Nasdaq ended the session down just 0.05%. The S&P 500 notched a record close, though a mere 2 points from the high set on Thursday. 
The latest poor data suggested a bounceback from the dismal first quarter could be more gradual than hoped for. Consumer sentiment in May fell to a preliminary reading of 88.6, a seven-month low, according to the University of Michigan's consumer survey. Economists had expected a May level of 94.5 after a final reading of 95.9 in April.
"Consumers in May became more convinced that the rebound from the economic slowdown in Q1 would be neither quick nor robust. In particular, the weak March employment report appears to have undermined confidence," said Michelle Girard, chief U.S. economist at RBS Securities.
Industrial production remained weak in April, down 0.3%, notching its fifth straight decline. Economists had expected a flat reading after the measure fell 0.6% in March.
"Industrial production in April was dragged down by a drop back in utilities output, as the earlier weather-related distortion was unwound, and a sharp decline in oil and gas drilling," said Paul Ashworth, chief U.S. economist at Capital Economics.
The Empire State manufacturing index moved into positive territory in May, but not by enough to satisfy expectations. Manufacturing conditions in New York rose to 3.1 from a negative reading of 1.2 in April, though the reading came in below estimates of 5.5.
"From the [Federal Reserve's] perspective, economic reality is once again maintaining a wide spread from the Committee's more optimistic forecast for accelerated growth," said Lindsey Piegza, chief economist at Sterne Agee. "Keep in mind, after a slow start out of the gate, the economy must now reach and sustain a +3% growth rate from here on out to meet even the Fed's new, lowered bar of expectations."
The Fed's point of view on the economy will take center stage in the week ahead with the release of the minutes from the board's April meeting. Economists expect the central bank to reiterate that weakness in the first quarter was merely transitory, an echo of the Fed's statement shortly after the April meeting concluded. 
Also on the economic calendar in the week ahead, housing starts and existing home sales for April are due on Tuesday and Thursday morning, respectively, the Philadelphia Fed Business Outlook Survey will be released Thursday, and consumer prices for April are scheduled for release on Friday morning. 
Netflix (NFLX) - Get Report will reportedly take its content to China. The streaming service is reportedly in talks with Shanghai-based BesTVNew Media and Wasu Media Holding, a company backed by a group that includes Alibaba's (BABA) - Get ReportJack Ma. Shares were up 4.5%. Click here for more.
Avon Products (AVP) - Get Report slipped as investors continue to take back gains after a rally on Thursday. The beauty company surged following a bizarre hoax in which a Securities and Exchange Commission filing said Avon received a generous buyout offer from a company that doesn't appear to exist. Click here for more.
Deere & Company (DE) - Get Report fell after receiving a downgrade to "underweight" from Morgan Stanley. Analysts said the industry was in "dire straits with the potential for a liquidity crunch for farmers into 2016."
Hertz (HTZ) - Get Report moved higher after announcing it will close around 200 locations in the U.S. as part of its cost-cutting measures. The closures will save the car rental company about $10 million a year. Hertz plans to cut about $200 million by year's end.
Dillard's (DDS) - Get Report shares fell after the department store missed analysts' estimates for earnings and revenue in the first quarter. The company earned $2.66 a share, below analysts' estimates of $2.78 a share for the quarter. Revenue grew to $1.57 billion in the first quarter from $1.55 billion in the year-ago quarter, missing analysts' estimates of $1.61 billion.
Stocks rallied back to record levels on Thursday, helped by continued weakness in the U.S. dollar and as Treasury yields stabilized. The S&P 500 closed 3 points above a previous record, while the Dow hovered within 40 points of its high.