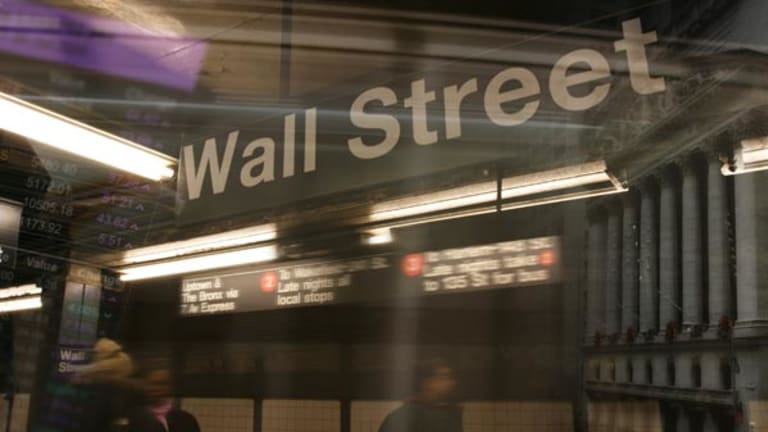 Stocks End Day Mixed, but Rise for April
The major indices in New York closed mixed on Thursday, but they locked in solid gains for the month of April.
Updated from 4:32 p.m. EDT
The major indices in New York closed mixed on Thursday after a varied bag of economic data and earnings, and a bankruptcy filing for
Chrysler
, but they locked in solid gains for the month of April.
The
Dow Jones Industrial Average
fell 17.61 points, or 0.2%, to 8168.12, while the
slipped 0.83 points, or 0.1%, to 872.81. The
Nasdaq
added 5.36 points, or 0.3%, to 1717.30.
For the month, the Dow rose 7.3%, its best April since 2001. The S&P gained 9.4%, and the Nasdaq added 12.3%, also marking the strongest April advance for those indices in years.
The Dow and S&P had rallied out of the gate, but the indices lost momentum at midsession around the time that struggling automaker
Chrysler
said it will file for Chapter 11 and that it has arrived at a deal with European automaker Fiat.
Competing U.S. automakers
General Motors
(GM)
and
Ford
(F)
rose 6.1% and 9.7%, respectively, with GM leading the Dow. GM bondholders launched a counter-offer to GM's debt exchange proposal from earlier in the week. The new proposal would involve the swap of the bondholders' $27 billion in notes for 58% of the company and would eliminate government ownership.
Elsewhere, the World Health Organization raised its alert for the swine flu to a level 5, one below a pandemic, but investors' concern appeared to be offset by some optimism in the market. Stocks overseas were largely higher, with the FTSE 100 in London and the Dax in Frankfurt gaining 1.3% and 1.4%, respectively. In Asia, the Nikkei in Japan and Hang Seng in Hong Kong rose 3.9% and 3.8%.
"What's really remarkable is that the market continues to rally higher in the face of swine flu, stress tests and automobile bankruptcy," says Jack Ablin, chief investment officer at Harris Private Bank. "It suggests to me that there's a lot of resiliency or just enthusiasm behind these moves. People want to believe, and while we still need a little more momentum, I'm getting more and more encouraged every day."
were initially stronger on a bullish report by Fidelity International. But the Financial Select Sector SPDR, which tracks the financial stocks in the
S&P 500
, ended down 1.4% for the day.
Bank of America
(BAC)
rose 2.9%, while
Citigroup
(C)
lost 2.2%, and
JP Morgan Chase
(JPM)
slipped 4.3%.
After its annual
, BofA announced that CEO Ken Lewis was voted out of his chairman position, with director Walter Massey chosen for the role. BofA and Citi are reportedly among banks in need of additional capital, according to the early results of the so-called stress tests. Lewis said the bank doesn't have enough information to decide how best to raise new capital yet.
Recent information suggests the economy is continuing to contract, but at a lesser pace, the Federal Open Market Committee said after its third meeting of 2009 on Wednesday.
The new day's data were mixed. The Labor Department said 631,000 new jobless claims were filed last week, down from 645,000 the week prior and 8,000 fewer than expected. That was a nice surprise, but personal income and spending both returned to declines in March. Income fell 0.3% and spending dropped 0.2%, both more than expected.
In corporate news,
First Solar
(FSLR)
surged 23.5% to $187.29, and
Dow Chemical
(DOW)
added 18.4% to $16 on better-than-expected earnings.
(XOM)
and
(PG)
shares lost 2.6% and 1.9%, respectively, after their earnings.
Ericsson
(ERIC)
fell 9.7% to $8.53 after it reported a more modest than expected increase in sales and a 35% decline in profit.
Among other movers, biotech
Sequenom
(SQNM)
plummeted 75.7% to $3.62 after announcing it would delay the launch of its prenatal Down syndrome test.
Longer-dated Treasuries were falling. The 10-year was losing 2/32, yielding 3.11%, while the 30-year was off 2/32, to yield 4.03%. The dollar was recently weaker vs. the yen, but stronger against the pound and euro.
Taking a look at commodities, oil rose 15 cents to settle at $51.12 a barrel, while gold lost $9.30 to $891.20 an ounce.