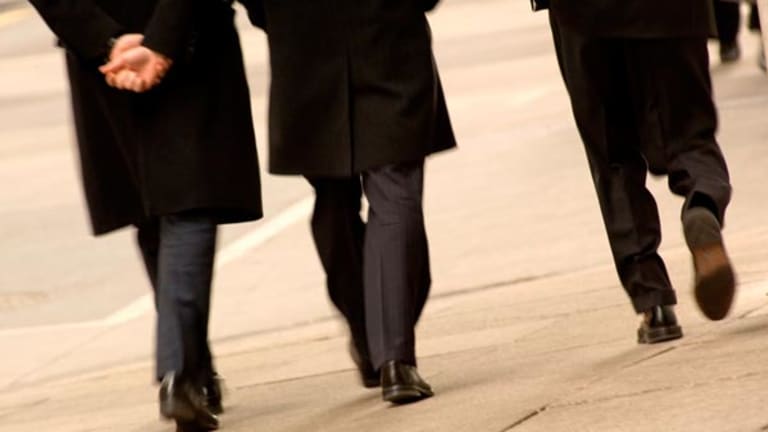 Updated from 4:05 p.m. EDT
Stocks continued to trade chaotically Tuesday, falling sharply at midday on spiking oil and mixed earnings news before erasing much of the loss by session's end.
The
Dow Jones Industrial Average
, which was down more than 50 points at one point, ended down 7.13 points, or 0.07%, to 10,377.87. The
Nasdaq
, whose loss approached 20 points at 2 p.m. EDT, ended down 6.38, or 0.3%, to 2109.45. The
S&P 500
closed down 2.84 points, or 0.24%, to 1196.54.
The action confounded bulls who hoped Monday's 170-point rally on the Dow marked the beginning of a uptrend for stocks. Instead, "people are still searching for a bottom," said Robert Pavlik, chief investment officer with Oaktree Asset Managment.
"Yesterday was another one-day wonder story without a follow-through," said Dave Briggs, head of equity trading with Federated. "We don't have enough conviction. We need to have some modest moves instead of these giant ones. Hopefully we can right ourselves and start our Santa Claus rally."
Oil, which fell in the prior session on a belief that Hurricane Wilma would sap fuel demand in the Southeast, was sharply higher Tuesday, adding $2.12 to $62.44 a barrel in Nymex floor trading. Volume was thin ahead of Wednesday's Energy Department update on U.S. crude and gasoline inventories.
On the economic front, the Conference Board said its consumer confidence index fell to 85.0 for October. Economists expected a rise to 88.0 from a reading of 87.5 in September.
"A lot of consumer confidence is still focused on oil prices, even though those prices have fallen off recently," said Paul Nolte, director of investments with Hinsdale Associates. "The discussion about inflation is making people feel squished. The consumer feels he's running as fast as he can and not moving forward."
Separately, the National Association of Realtors said existing-home sales rose 0.3% during September to an annualized rate of 7.28 million. Economists expected sales to dip slightly to an annualized rate of 7.20 million.
About 1.71 billion shares traded on the
New York Stock Exchange
, with decliners beating advancers by a 2-to-1 margin. Trading volume on the Nasdaq was 1.61 billion shares, with decliners outpacing advancers 2 to 1.
In other markets, the 10-year Treasury was down 20/32 in price to yield 4.53%, while the dollar was lower against the yen and euro.
Texas Instruments fell almost 8% after reporting a 13% jump in third-quarter earnings to $638 million, or 38 cents a share, on a 10% revenue increase to $3.59 billion. Excluding items, the chipmaker earned 42 cents a share, beating estimates by a penny. Revenue was in line with estimates, but traders sold the stock down on uninspiring guidance. TI lost $2.37 to $28.55.
Tuesday morning,
DuPont
(DD) - Get DuPont de Nemours, Inc. Report
reported a third-quarter loss of $82 million, or 42 cents a share, reflecting a charge to repatriate overseas earnings. Before the charge, DuPont earned 33 cents a share, beating estimates by 4 cents.
The chemicals company forecast fourth-quarter earnings of 20 cents to 25 cents a share, reflecting a "structural shift in input costs" spawned by hurricanes Katrina and Rita. It also set a $5 billion stock repurchase plan. DuPont added $1.18, or 3%, to $40.80.
Lexmark
(LXK)
posted third-quarter earnings of $70.2 million, or 59 cents a share, down from $156.1 million, or $1.17 a share, a year ago. Analysts expected earnings of 47 cents a share, according to Thomson First Call. Revenue fell slightly to $1.22 billion from $1.27 billion a year ago. Lexmark was down $2.77, or 6.5%, to close at $39.69.
Halliburton
(HAL) - Get Halliburton Company (HAL) Report
reported a third-quarter profit of $499 million, or 95 cents a share, reversing a year-ago loss of $44 million, or 9 cents a share. Revenue rose 6% from last year to $5.1 billion. Analysts had been forecasting earnings of 82 cents a share on sales of $5.24 billion. Shares fell $1.69, or 2.8%, to $59.40.
Energy company
BP
(BP) - Get BP p.l.c. Sponsored ADR Report
reported a third-quarter profit of $6.53 billion, or $1.26 a share, up from $4.87 billion, or $1.05 a share, from a year ago. Revenue surged to $97.73 billion from $66.73 billion. BP said its replacement-cost profit, which is used to compare results with those of competitors, rose 16% to $4.41 billion. The stock rose 77 cents, or 1.2%, to $65.42.
BP is the first major oil company to report during this earnings season. Later this week, results are also expected from
Exxon Mobil
(XOM) - Get Exxon Mobil Corporation Report
,
Marathon Oil
(MRO) - Get Marathon Oil Corporation (MRO) Report
,
ConocoPhillips
(COP) - Get ConocoPhillips Report
and
Chevron
(CVX) - Get Chevron Corporation Report
.
Ameritrade
(AMTD) - Get TD Ameritrade Holding Corporation Report
reported fiscal fourth-quarter income of $97 million, or 23 cents a share, up from $57.2 million, or 14 cents a share, a year ago. The Thomson First Call consensus was for earnings of 22 cents a share. Revenue climbed to $274.3 million from $186.8 million a year earlier. Ameritrade was down 9 cents, or 0.4%, to finish at $21.03.
International Paper
(IP) - Get International Paper Company (IP) Report
swung to a third-quarter profit of $1.04 billion, or $2.07 a share, compared with a loss of $470 million, or 91 cents a share, a year ago. Sales for the quarter totaled $6 billion, unchanged from a year earlier. After adjustments, the company earned 33 cents a share, beating the Thomson First Call consensus of 24 cents a share. The stock fell by 37 cents, or 1.3%, to $28.
Northrop Grumman
(NOC) - Get Northrop Grumman Corporation Report
reported third-quarter earnings of $288 million, or 80 cents a share, down from $291 million, or 80 cents a share, last year. Sales rose slightly to $7.45 billion from $7.41 billion a year earlier. The company said results included an impact from the hurricanes totaling 30 cents a share as well as a gain of 15 cents a share from the sale of stock in
Endwave
( ENWV). Northrop was down 98 cents, or 1.8%, to $52.92.
BellSouth
( BLS) said third-quarter earnings fell to $817 million, or 44 cents, from $852 million, or 46 cents a share, a year ago. Excluding items, the telecom company earned 46 cents a share in the quarter. Sales rose to $8.49 billion from $6.76 billion a year ago. The Thomson First Call consensus was for EPS of 46 cents a share on revenue of $8.57 billion. BellSouth gained 25 cents, or 1%, to $25.87.
After the bell Tuesday,
Amazon
posted a third-quarter profit of $30 million, or 7 cents a share, down from $54 milion, or 13 cents a share, a year ago. Excluding a $40 million legal settlement, the online retailer earned $50 million, or 12 cents a share. Sales rose 27% to $1.86 billion from a year earlier. The Thomson First Call consensus was for EPS of 10 cents on sales of $1.8 billion.
Looking ahead, Amazon expects fourth-quarter sales growth of 13% to 14% and sales in a range of $2.86 billion to $3.16 billion. Shares closed the session down 76 cents, or 1.6%, to $46.17.
On Wednesday, earnings reports are expected from
Sprint Nextel
(S) - Get SENTINELONE, INC. Report
,
Boeing
(BA) - Get Boeing Company Report
,
WellPoint
(WLP)
,
Anheuser-Busch
(BUD) - Get Anheuser-Busch InBev SA/NV Sponsored ADR Report
,
Biogen Idec
(BIIB) - Get Biogen Inc. Report
and
Cardinal Health
(CAH) - Get Cardinal Health, Inc. Report
.
Shares of
McDonald's
(MCD) - Get McDonald's Corporation (MCD) Report
closed lower after the company filed an IPO for its Chipotle Mexican Grill chain, which is expected to raise as much as $100 million. McDonald's lost 12 cents, or 0.4%, to $33.
Shares of
Research In Motion
( RIMM) also finished down after being downgraded Tuesday at Citigroup. The brokerage lowered its price target to $62 from $96, citing concerns about the BlackBerry maker's patent position. RIM fell $2.71, or 4.5%, to $57.40.
Deutsche Bank raised its rating for
Honeywell
(HON) - Get Honeywell International Inc. (HON) Report
to buy from hold, believing the stock is oversold and could possibly rally from a key support level of $33. The upgrade failed to boost Honeywell, which finished lower by 19 cents, or 0.6%, to $33.72.
Stocks rallied Monday behind strong earnings from
Merck
(MRK) - Get Merck & Co., Inc. (MRK) Report
and the nomination of Ben Bernanke to succeed Alan Greenspan at the
Federal Reserve
. The Dow Jones Industrial Average surged 170 points while the Nasdaq Composite jumped 34.
But the bullish sentiment wasn't evident in every market.
"Bonds sold off sharply," said Paul Mendelsohn, chief investment strategist with Windham Financial. "In our view, the bond market may be telling us that it does not perceive Mr. Bernanke to be as strong an inflation fighter as his predecessor."
Overseas markets were mixed with London's FTSE 100 losing 0.5% to 5182 and Germany's Xetra DAX down 0.6% to 4873. In Asia, Japan's Nikkei surged 1.3% overnight to 13,281, while Hong Kong's Hang Seng added 0.2% to 14,425.
To view Gregg Greenberg's video take on today's market, click here
.