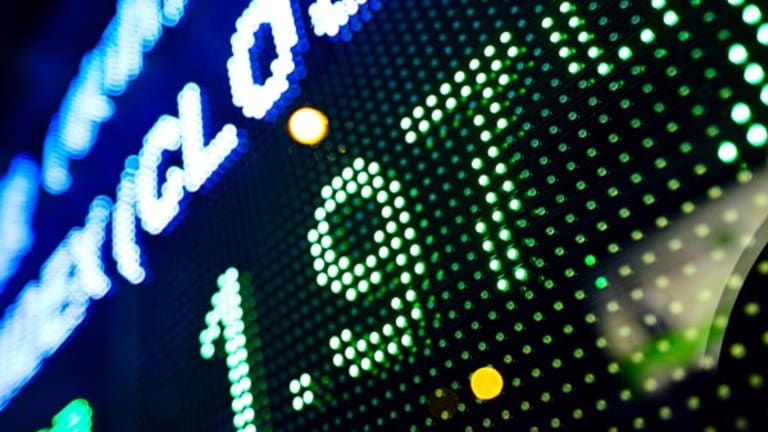 Stocks End Brutal Week as Market Nears Correction
Benchmark indexes close their worst week in nearly four years as a continued slowdown in China spooks equity and commodity traders.
NEW YORK (TheStreet) -- If this wasn't a market correction, it certainly felt like one. 
It was a brutal end to a painful week on Friday as major losses piled up in the final hour of trading. Benchmark indexes closed its worst week in nearly four years as a continued slowdown in China spooked equity and commodity traders.
The S&P 500 was down 3.2% for the day and 7.5% since its May high, near the 10% decline which would constitute a correction.
The other averages didn't do much better. The Dow Jones Industrial Average dropped 3.1% or 539 points, and down 10% from its May record, while the Nasdaq slid 3.5% and nearly 7% since Monday. 
The small-cap index Russell 2000 fell 1.2% and officially entered correction territory, dropping more than 10% since its peak on June 23. The Volatility Index, otherwise known as the 'fear index', jumped 40% to 26.81.
"This volatility is likely to remain with us, at least until the end of the year," said Nigel Green, CEO of deVere Group. "By then we will have a clearer view as to the risk of a China economic 'hard landing', and the degree to which capital markets are prepared to absorb higher U.S. interest rates."
Green remained optimistic, though. "For most long-term investors, fears of a near-term financial apocalypse are overdone," he added.
Little optimism was to be found on markets on Friday as high-momentum consumer and tech stocks were hit hard in the broad-based selloff. Netflix (NFLX) - Get Free Report moved closer to bear market territory on Friday after falling 18% since its August 6 record close of $126.45 a share. The shares will have to have fallen more than 20% from their 52-week high to constitute a bear market.
Likewise, Apple (AAPL) - Get Free Report suffered a massive decline, falling 5.7% on Friday. Shares entered bear market territory after plummeting 20% from its February 23 record close.
Worries over China continued after manufacturing activity in the country fell to a six-and-a-half-year low. The flash manufacturing PMI fell to 47.1 in August from 47.8 in July. Worries over slowing growth in the world's second-largest economy has triggered selloffs in global markets. China's Shanghai Composite fell 4.3% on Friday and 11% for the week.
"One of the most asked question about China lately has been how fast the Chinese economy is actually slowing," wrote Wei Yao, economist at SG Global Economics, in a note. "In our view, China's structural growth deceleration is only half-way through and under the weight of debt and excess capacity, weakening investment demand will remain the main culprit."
A slowdown in China's manufacturing sector pressured crude oil. West Texas Intermediate crude closed down 2.1% to $40.45 a barrel after briefly dropping below $40. Crude was down 4.8% for the week, its eighth weekly loss and its longest losing streak in 29 years.
The energy sector was the worst performer on markets as crude oil fell. Among the biggest losers, Exxon Mobil (XOM) - Get Free Report , Chevron (CVX) - Get Free Report , Schlumberger (SLB) - Get Free Report and Halliburton (HAL) - Get Free Report plummeted, while the Energy Select Sector SPDR ETF (XLE) - Get Free Report fell 3.5%.