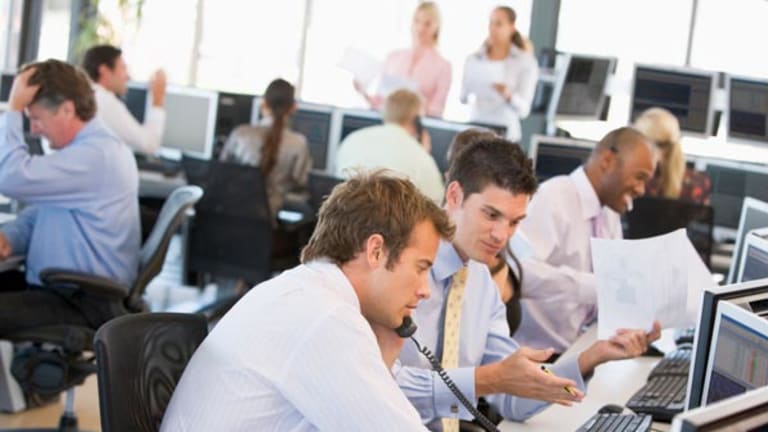 Stocks End a Volatile Session Lower
Inflation news, triple-witching, higher oil and Pfizer's Celebrex warning all hit the market.
Updated from 4:05 p.m. EST
Stocks closed lower Friday in a volatile session, as surging oil prices held back the broader market and safety concerns about
Pfizer's
(PFE) - Get Report
Celebrex drug weighed on the
Dow
and
S&P 500
.
The Dow Jones Industrial Average closed down 55.72 points, or 0.5%, to 10,649.92, undermined by declines in Pfizer and
Merck
(MRK) - Get Report
. The index briefly traded above its 2004 closing high of 10,737.70 early in the session.
The S&P 500 fell 8.99 points, or 0.75%, to 1194.22, and the
Nasdaq
shed 10.95 points, or 0.5% to 2135.20. Friday was a so-called "triple-witching" expiration day, in which options and futures on various assets and financial instruments are closed out. Such sessions often see increased volatility as traders roll out of one contract and put the money to work elsewhere.
NYSE
and Nasdaq volume topped the 2.3 billion-share mark.
The three major indices still managed to post gains for the week. The Dow led the way, rising 106 points, while the S&P 500 gained 6 points and the Nasdaq finished the week up 7 points.
In other markets, the 10-year Treasury note was down 5/32 in price to yield 4.21%, while the dollar was lower against the yen and euro. Oil rose sharply in Nymex floor trading, closing $2.10 higher at $46.28 a barrel, capping a huge surge for the week. The January contract is at its highest level of the month, amid expectations for more cold weather in the Northeast.
Pfizer said a study of its Celebrex arthritis drug showed an increase in cardiovascular risk when used to treat cancer. The drugmaker also said a separate study in long-term use showed no increased risk. Shares fell $3.18, or 11%, to $25.80, a new 52-week low, having traded as low as $23.52. More than 291 million shares had changed hands -- over nine times the daily average of about 31 million.
Celebrex is a COX-2 inhibitor drug, like Merck's Vioxx, which was withdrawn from the market in September because of concerns that users faced increased risks of heart attacks. Merck lost 20 cents, or 0.6%, to $31.59.
The Labor Department said Friday that the consumer price index rose 0.2% in November, a moderate increase compared with the 0.6% increase in October. The core CPI, which excludes volatile food and energy costs, rose 0.2% as well. Both figures met economists' expectations for the month.
"We're seeing a continuation of the selloff in the semiconductor industry from yesterday, and I think it's weighing on the Nasdaq," said Brian Williamson, an equity trader with Boston Company Asset Management. "Pfizer is, of course, hurting the Dow. Since futures are expiring today, things are getting pretty choppy out there. We saw a little bit of pressure piling on as we're getting to the closing bell. I think we can expect some more volatility."
In the day's main earnings story,
Circuit City
(CC) - Get Report
said its third-quarter loss widened from a year ago, but it easily beat analyst estimates. The company lost $5.9 million, or 3 cents a share, on sales of $2.49 billion in the quarter. Analysts had been forecasting an 8-cent loss and sales of $2.5 billion.
The electronics retailer said it was hurt by competitor discounting during the quarter and said it is "cautious" about the current period. Shares lost 56 cents, or 3.7%, to $14.72.
Investors saw an avalanche of earnings news late Thursday night, including a 47% quarterly improvement at
Nike
(NKE) - Get Report
, a 3-cent beat at
Darden Restaurants
(DRI) - Get Report
and another strong quarter from homebuilder
KB
(KBH) - Get Report
. Nike gained $5.80, or 6.8%, to $91.70. KBH fell $1.99, or 1.9%, to $103.60. Darden dipped $1.28, or 4.6%, to $26.62.
An exception to the hit parade was
palmOne
(PLMO)
, which reported a solid second quarter but talked down its outlook for the rest of the fiscal year. The device maker's profit jumped to $24.7 million, or 48 cents a share, in the most recent quarter from $2.6 million, or 7 cents a share, last year. Adjusted earnings of 53 cents a share matched expectations.
The shares fell, however, when the company put its third-quarter adjusted profit of 21 cents a share on revenue of $280 million. Analysts had been forecasting earnings of 36 cents a share on revenue of $319 million. Bear Stearns also downgraded the company to underperform on the basis of the news. palmOne dropped $9.44, or 22.2%, to $33.11.
Also under pressure was
LeapFrog Enterprises
(LF)
, which last night warned that 2004 results would badly miss its previous estimate calling for earnings of 40 cents to 60 cents a share on sales of $680 million to $710 million. The educational-game maker declined to be more specific, citing its poor track record for earnings guidance in the past. LeapFrog finished down $1.99, or 13.9%, to $12.38.
AstraZeneca
(AZN) - Get Report
fell sharply after it said its Iressa drug failed to significantly prolong survival in patients with lung cancer. Shares fell $3.11, or 7.7%, to $37.10.
Meanwhile, rivals
OSI Pharmaceutical
(OSIP)
and
Genentech
(DNA)
, which jointly market the lung cancer drug Tarceva, saw shares rise on the AstraZeneca news. OSI soared $21.28 or 45.2%, to close at $68.38 and Genentech rose $2.87, or 5.9%, to $51.36.
Overseas markets closed mostly lower, with London's FTSE 100 down 0.8% to 4696 and Germany's Xetra DAX losing 1.2% to 4182. In Asia, Japan's Nikkei rose 1.4% overnight to 11,078, while Hong Kong's Hang Seng fell 0.2% to 13,992.