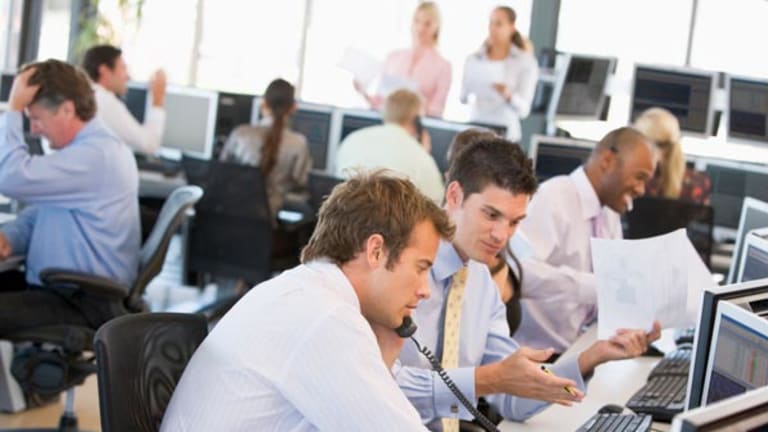 Stocks End a Busy Session Flat
The Dow and S&P 500 fall, while the Nasdaq adds 5 points.
Updated from 4:02 p.m. EST
Stocks closed little changed in extremely heavy volume Thursday, as lackluster November retail sales prevented investors from celebrating another slide in oil.
The
Dow Jones Industrial Average
lost 5.10 points, or 0.05%, to 10,585.12 and the
S&P 500
shed 1.04 points, or 0.09%, to 1190.33, after closing at a new 40-month high yesterday. The
Nasdaq
added 5.34 points, or 0.25%, to 2143.57. The tech index failed to close above its 2004 high of 2153.83 set on Jan. 27 but did touch a new intraday high of 2156.14.
Volume on the
NYSE
was 1.76 billion shares, with decliners beating advancers 5-to-3. Volume on the Nasdaq was 2.40 billion shares, with advancers narrowly beating decliners 8-to-7.
In other markets, the 10-year Treasury note lost 9/32 in price to yield 4.40%, while the dollar was lower against the yen and higher against the euro.
"The market has been trading so in lockstep with the oil that one would've expected the market to really rally similar to yesterday," said Barry Hyman, equity market strategist at Ehrenkrantz King Nussbaum. "But it shows the market is being somewhat rational, looking at the retail numbers and looking at a potential problem for the rest of the Christmas season. It exemplifies lower personal spending, putting a drag on growth."
Other analysts said the action made sense. "Asking the market to move forward dramatically again without any new stimulus is difficult," said Larry Wachtel, senior market analyst at Wachovia Securities. "Today wasn't about how much we can follow through, but instead how much we can retain. I think we were all faked out by the initial sales figures last Friday, which was confirmed today with the retail figures."
Oil futures continued to slide. The January futures contract closed $2.24 lower at $43.25 in Nymex floor trading. Prices were down almost $3 a barrel at one point in the session. The January futures contract tanked by $3.64, or 7.4%, on Wednesday, the biggest one-day drop in three years, sparking a 1.6% rally in the Dow and a 2% jump in the Nasdaq Composite. The Philadelphia Stock Exchange oil services index finished down for the second straight day, falling over 2%.
On the economic front, initial jobless claims rose 25,000 to 349,000 in the most recent week. The consensus forecast of economists was 330,000. Factory orders rose 0.5% in October, slightly more than expected, after a smaller gain in September.
"While we had some economic news that was somewhat mixed, I think the market is focusing on tomorrow's unemployment numbers," said Peter Cardillo, chief market analyst with S.W. Bach & Co. That report is expected to show an addition of 200,000 jobs to U.S. payrolls.
Counterbalancing the fall in oil were a slew of dour statements from chain stores reporting November same-store sales.
As expected,
Wal-Mart
(WMT) - Get Report
posted a modest same-store sales increase of 0.7% from a year ago, compared with the year-ago pace of 3.9%. The retailer had reiterated warnings of lower "Black Friday" sales earlier this week. Wal-Mart closed up 18 cents, or 0.3%, to $53.
Pier 1
(PIR) - Get Report
kicked off the rush by saying same-store sales fell a greater-than-expected 9.1% for the month as the result of weak promotional support. The company lowered its third-quarter earnings forecast to 21 cents to 23 cents a share. Analysts were forecasting 26 cents a share. Pier 1 was down 42 cents, or 2.2%, to $18.30.
Costco
(COST) - Get Report
said November same-store sales rose 5% from a year ago, a little less than expected. Total sales for the four weeks ended Nov. 28 rose 7% to $4.08 billion. Costco lost 44 cents, or 0.9%, to $49.19.
Starbucks
(SBUX) - Get Report
was higher after saying same-store sales shot up 13% in November from a year ago, boosted by its holiday beverage offerings. The coffee retailer said after the bell Wednesday that revenue for the four-week period ended Nov. 28 rose 26% to $486 million from $387 million a year earlier. Shares gained $1.10, or 1.9%, to $58.65.
Gap
(GPS) - Get Report
posted a 4% drop in same-store sales for November and warned of lower operating margins for the 2004 fiscal year. Shares finished down 86 cents, or 3.8%, to $21.62.
Best Buy
(BBY) - Get Report
reiterated its third-quarter earnings view and said that third-quarter same-store sales rose 3.2%. The electronics retailer also said that revenue increased 10% to $6.65 billion. The company reaffirmed its earnings estimate of 41 cents to 47 cents a share for the third quarter. Best Buy rose up 23 cents, or 0.4%, to $57.18.
Ann Taylor
(ANN)
warned that fiscal fourth-quarter and 2004 earnings would not meet previous expectations. Shares fell $1.78, or 8%, to $20.51.
Limited Brands
(LTD)
said that November same-store sales dropped 5% from a year ago, while total sales fell 2.9% to $762.7 million. Limited closed down 66 cents, or 2.7%, to $23.94.
J.C. Penney
(JCP) - Get Report
reported a 12% rise in same-store sales for November compared with last year. The retailer's shares lost 14 cents, or 0.4%, to $38.96.
Alcoa
(AA) - Get Report
slid with other stocks in the metals sector, losing 86 cents, or 2.5%, to $33.43.
Exxon
(XOM) - Get Report
shares dropped Thursday as oil prices plummeted for the second straight day. Exxon finished down 98 cents, or 1.9%, to $50.17.
After the bell Thursday,
Intel
(INTC) - Get Report
surprised investors by sharply raising its fourth-quarter revenue estimate. The microprocessor giant put revenue in the December quarter between $9.3 billion and $9.5 billion, up from its old forecast of $8.6 billion and $9.2 billion. The stock rallied 7% after hours.
The other pillar of the personal computer edifice,
Microsoft
(MSFT) - Get Report
, was part of Thursday's macro focus after paying its $32 billion one-time dividend to investors. The dividend has been the subject of speculation on Wall Street, with bulls hoping newly flush investors will plow the money back into stocks. Even after paying the dividend and buying back shares, analysts say the software company still will have about $46 billion of cash and short-term investments on its balance sheet at year-end.
Overseas stocks closed higher, with London's FTSE 100 up 0.3% at 4751 and Germany's Xetra DAX gained 0.7% to 4216. In Asia, Japan's Nikkei rose 1.8% overnight to 10,973 while Hong Kong's Hang Seng rose 0.7% to 14,262.