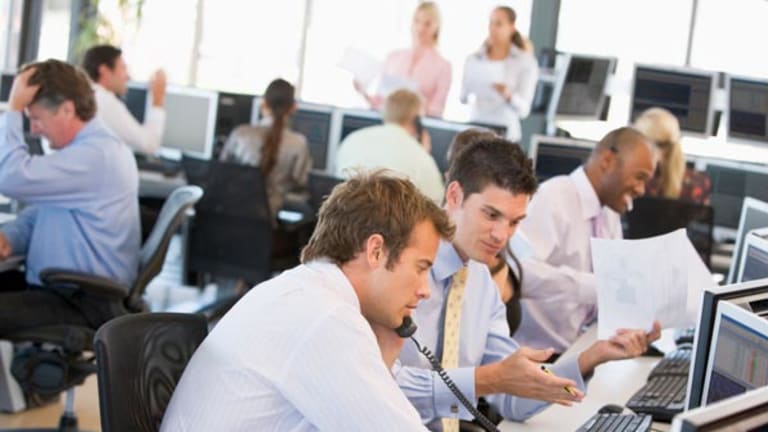 Stocks Edge Off Highs
Stocks in New York have eased off their morning highs but continue to trade in the green as international support for the financial system emboldens investors.
Updated from 9:42 a.m. EDT
U.S. stocks were jumpy but staying positive Monday morning on reports of continued international support for the financial system and additional thawing in credit markets. Traders were also looking at a heap of quarterly corporate earnings statements.
The
Dow Jones Industrial Average
was up 169 points at 9021, and the
S&P 500
added 18 points to 959. The
Nasdaq
climbed 14 points to 1725.
Over the weekend,
announced plans to convene global leaders to continue to work on solutions to the credit crunch, according to a report by
The Wall Street Journal
.
On Sunday, the Dutch government said it would buy a $13.4 billion stake in
(ING) - Get Report
to shore up the company's balance sheet, the
Associated Press
reported.
Credit markets appeared to continue to relax, as three-month dollar labor, a measure of the rate banks charge one another for large loans, dropped 36 basis points to 4.06%, while the overnight rate declined 16 basis points to 1.51%.
A downtrend in interbank lending rates remains intact, Tony Crescenzi, chief bond market strategist at Miller Tabak, wrote on his
blog. Tender offerings by the European Central Bank, the Bank of England and the Swiss National bank, which now provide an unlimited supply of dollars, has helped ease the market, he wrote. He also wrote that the
Federal Reserve's
plan to purchase commercial paper, to be implemented Monday, should provide additional support, as will additional money borrowed by the treasury to provide banks with additional capital.
Rates nonetheless remained elevated, causing wrinkles in other companies' plans. The
Journal
reported that
(GM) - Get Report
was having trouble getting funding for a purchase of fellow automaker
Chrysler
.
Testifying before the House Budget Committee in Washington,
Federal Reserve
Chairman Ben Bernanke said that calming the financial markets would not immediately resolve all the problems faced by the broader economy.
Bernanke's sentiments were highlighted by headlines that indicated the pain was far from over for several big firms.
Merrill Lynch
( MER). CEO John Thain said he foresaw job cuts numbering in the thousands for the brokerage, which is slated to be bought by
Bank of America
(BAC) - Get Report
Electronics retailer
(CC) - Get Report
may close 150 stores and slash its head count, the
Journal
said.
Looking at
,
Ericsson
(ERIC) - Get Report
announced a 28% decline in third-quarter earnings but beat analyst estimates.
Oil-services firm
(HAL) - Get Report
swung to a $21 million loss related to a cash settlement of convertible debt. Its income, however, reached a company record of $1 billion.
Swiss pharmaceutical company
Novartis
(NVS) - Get Report
said its profit climbed 12% year over year on rising sales.
The
Journal
also reported that Internet portal
(YHOO)
would probably announce layoffs, perhaps as early as Tuesday's earnings report.
Meanwhile, utility services firm
Exelon
(EXC) - Get Report
offered to
(NRG) - Get Report
for $6.2 billion in an all-stock deal.
In
, Goldman Sachs downgraded
Intel
(INTC) - Get Report
to neutral from buy, predicting a decline in profit margins.
Shifting to economic data, the Conference Board's leading indicators index for September climbed 0.3%, whereas economists had predicted a decline of 0.2%. The August reading was revised to a 0.9% drop.
As for commodities, crude oil was climbing $1.96 to $73.81 a barrel. Gold was adding $3.60 to $791.30 an ounce.
Longer-dated U.S. Treasury securities were edging higher. The 10-year was up 3/32 to yield 3.92%, and the 30-year was gaining 7/32, yielding 4.31%. The dollar was stronger vs. its major foreign competitors.
Abroad, European exchanges including the FTSE in London and the Dax in Frankfurt were trading higher. In
, Japan's Nikkei and Hong Kong's Hang Seng closed with gains.