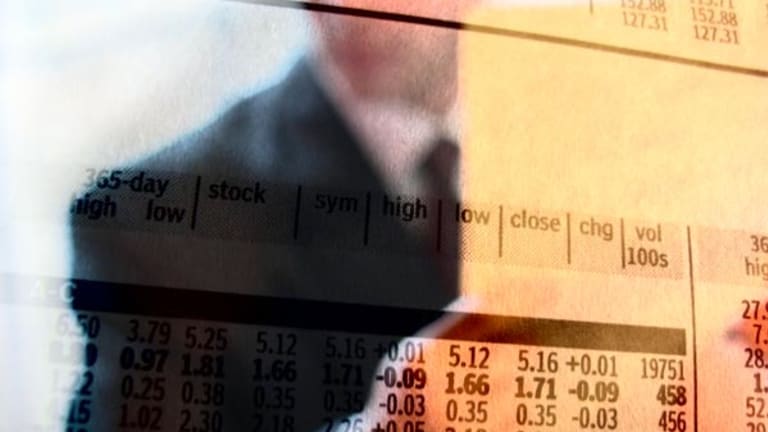 Stocks Edge Higher Ahead of Fed Meeting
After a choppy morning, stocks on Wall Street are posting gains as traders await an expected cut in the Federal Reserve's key target interest rate.
Updated from 11:31 a.m. EDT
Stocks on Wall Street were gaining ground midday Wednesday after a choppy morning, as traders combed through a bevy of corporate earnings and awaited an expected cut in the
Federal Reserve's
key target interest rate.
The
Dow Jones Industrial Average
was lately climbing 106 points to 9171, and the
was rising 9.8 points to 950. The
Nasdaq
was tacking on 20 points to 1669.
During Wednesday's session, investors were eyeing the Fed's next move regarding interest rates. Policymakers began a two-day meeting Tuesday, and around 2:15 p.m. EDT the market will know definitively if rates have been reduced again. Observers widely expect the central bank to cut the fed funds target rate 50 basis points to 1% to provide additional liquidity to dysfunctional lending markets.
"If they cut, it's for psychological reasons," said Jack Ablin, chief investment officer at Harris Private Bank. Harris said the incremental benefit from a rate cut would not be very great, and he'd prefer a rate cut by the European Central Bank. "In my view, this commercial-paper program that the Treasury initiated yesterday will do way more to fuel borrowing and lending than a lower fed funds rate."
"The real story regarding the Federal Reserve is its various liquidity operations; the federal funds rate is second fiddle," wrote Tony Crescenzi, chief bond market strategist at Miller Tabak, on his
blog. He said that household and business debts are tied to the prime rate, which in turn is pegged to the target fed funds rate. As such, a reduction in the target rate would still have an impact, he wrote.
Crescenzi also wrote that the Fed's statement accompanying its decision will be important as well. He said that the Fed should acknowledge more forcefully the current deflationary environment.
Corporate earnings were also occupying investors' attention. Electronics manufacturer
undefined
reported a 72% decline in its quarterly profit due in part to recent sharp appreciation of the yen.
In the telecommunications space, cable company
Comcast
(CMCSA)
reported rising net income. Telecom services firm
Qwest
undefined
posted declining revenue and earnings and said it would cut 1,200 jobs during the fourth quarter.
Oil refiner and gas station operator
Hess
(HES)
posted higher quarterly earnings.
Meanwhile, glass-panel manufacturer
(GLW)
reported revenue that was below expectations and reduced its fourth-quarter sales guidance.
Garmin
(GRMN)
, which makes navigational devices, fell short on its quarterly profit and warned that full-year results will also miss forecasts.
As for consumer staples,
(PG)
bested analysts' profit estimates, and packaged-food firm
undefined
said its income rose year over year on a one-time gain from its disposal of the Post cereal business.
The government's Troubled Asset Relief Program remained in focus, as
The Wall Street Journal
reported that
, a finance company jointly owned by
General Motors
(GM)
and
Cerberus Capital
, is applying for status as a bank holding company to access the Treasury Department's $700 billion capital-injection plan for banks.
For its part, GM announced Wednesday that it sold 2.1 million vehicles in the third quarter, down 11% from a year ago.
The
Journal
also reported that cell-phone maker
(MOT)
is working to cut back its phone division and refocus on using
Google's
(GOOG)
Android software for its devices.
In analyst actions, consumer-goods firm
Johnson & Johnson
(JNJ)
caught a JPMorgan downgrade to neutral from overweight.
Moving to economic data, the Census Bureau's read on September durable-goods orders showed a surprise 0.8% uptick, up from a 5.5% decline in August and better than the 1% drop expected by economists. Excluding transportation, new orders dropped 1.1%, and taking out defense, they edged down 0.6%.
The Energy Information Administration reported that crude-oil inventories rose by 500,000 barrels for the week ended Oct. 24, an increase that fell short of expectations.
Following the report, crude oil was soaring $5.12 to $67.85 a barrel. Gold was gaining $25.10 to $765.60 an ounce.
Longer-dated U.S. Treasury securities were mixed. The 10-year was down 2/32 to yield 3.85%, and the 30-year was up 2/32, yielding 4.19%. The dollar was falling vs. the euro and pound and taking minor losses against the yen.
Overseas, European exchanges, such as the FTSE in London and the DAX in Frankfurt, were trading higher. As for the
, Japan's Nikkei closed sharply higher, while Hong Kong's Hang Seng logged a modest gain.