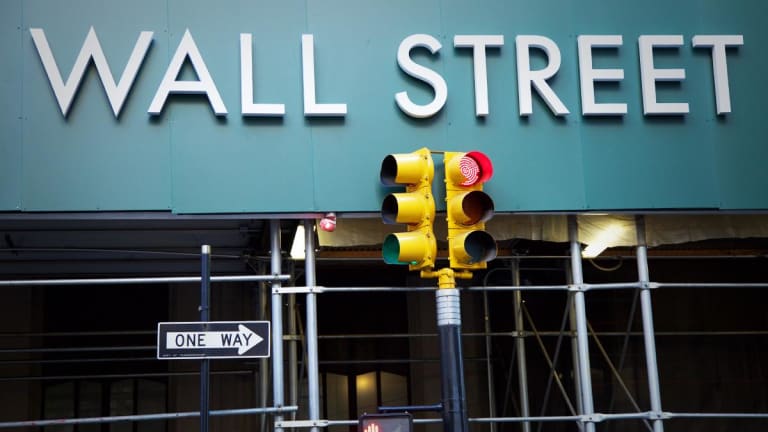 US Stocks Set for Solid Rebound but Political Risks, Earnings Questions Linger
Global stocks gained Monday, with U.S. equity futures pointing to a positive start to the trading week, amid a collection of political and economic risks that. alongside slowing U.S. corporate earnings, cloud the near-term outlook for risk markets ahead of next week's mid-term elections in the United States.
The Monday Market Minute
Global stocks edge cautiously higher as investors continue to focus on developments in the U.S. corporate earnings season and rising geo-political risks.
China stocks tumble, with the Shanghai Composite falling 2.2%, after weaker industrial profit data and further signs of slowing growth in the world's second largest economy.
European stocks book modestly gains, with HSBC shares pacing the financial sector, even as political risks in Germany, Italy and the United Kingdom continue to weigh on investor sentiment.
U.S. futures indicate a 230-point opening bell gain for the Dow ahead of an active week of earnings highlighted by updates from Facebook and Apple.
Market Snapshot
Global stocks rebounded Monday, with U.S. equity futures pointing to a positive start to the trading week, amid a collection of political and economic risks that. alongside slowing U.S. corporate earnings, cloud the near-term outlook for risk markets ahead of next week's mid-term elections in the United States.
Investors' chief concern at present appears to be the weakening outlook for U.S. corporate profits as we reach the mid-point of the third quarter earnings season in which fewer companies are beating Street forecasts for revenues and some of the biggest names across a variety of sectors -- from Caterpillar (CAT) - Get Caterpillar Inc. Report to Amazon (AMZN) - Get Amazon.com, Inc. Report -- are issuing cautious forecasts for the months ahead. That dynamic pulled domestic stocks to their lowest level since early spring last week, with both the Dow Jones Industrial Average I:DJI   and the broader S&P 500 undefined slipping into negative territory for the year, and echoed through markets all over the world into the start of trading today.
Geopolitical risks, however, are likely to take center stage in early trading as Britain prepares its annual budget statement amid speculation that finance minister Phillip Hammond will allude to economic risks associated with its withdraw from the European Union as he sets aside cash to cushion the impact of a so-called Hard Brexit. Regional elections in Germany over the weekend have also rattled investors after Angela Merkel's ruling Christian Democrats had their weakest outing in the state of Hesse -- home to the financial capital of Frankfurt -- since the Second Word War as the far right Afd party gained more than 12% support.
Investors will also be paying close attention to developments in Brazil after national elections returned a definitive victory for right-wing leader Jair Bolsonaro, a former military captain who has praised the country's former army-run dictatorship and has pledged to tackle crime, corruption and elitism in the world's fourth largest democracy.
Stocks in Asia managed to claw their way into positive territory, with the MSCI Asia ex-Japan index rising 0.19% into the final hours of trading even as markets in China remained worryingly weak amid slowing corporate profits and weakening economic growth. Japan's Nikkei 225 closed 0.16% to the downside at 21,149.80, extending the benchmark's decline past a six-month low. 
Futures contracts tied to the Dow indicate a 230-point opening bell gain while those linked to the S&P 500 suggest a 34-point bump for the broader benchmark, which fell 1.73% Friday amid steep declines for Alphabet (GOOGL) - Get Alphabet Inc. Class A Report and Amazon. Nasdaq Composite I:IXIC futures were marked 110 points to the upside.
International Business Machines (IBM) - Get International Business Machines Corporation Report  shares are likely to be active Monday after it agreeded to buy software group Red Hat Inc. (RHT) - Get Red Hat, Inc. Report in a blockbuster $34 billion deal that could jump-start Big Blue's efforts to drive sales in the rapidly-expanding market for cloud computing but will cost nearly a third of the group's equity capital. 
IBM will pay $190 each for all of the outstanding shares of Raleigh, North Carolina-based Red Hat, a 63% premium to its Friday closing price of $116.68 and will finance the $34 billion enterprise value deal with a mixture of cash and debt. Red Hat will operate as a distinct unit within IMB's hybrid cloud division, the company said, and will be run by current CEO Jim Whitehurst.
IBM shares were marked 3% lower in pre-market trading Monday, indicating an opening bell price of $121.5 each, the lowest since October 2009 and a move that would extend its year-to-date decline to 22.5% and value the Armonk, New York based group at just under $110 billion. Red Hat's market cap, based on IBM's $190 per-share bid, is $33 billion, and its shares were marked 51% higher at $176.50, suggesting investors are pricing in some execution risk into a deal that still needs to be approved by shareholders.
European stocks were also higher at the start of trading Monday, with the Stoxx 600 gaining 1.7% by mid-day in Frankfurt, led by bank and auto stocks, after slipping into correction territory last week. Britain's FTSE 100 gained 1.8% as the pound weakened to 1.2814 ahead of Hammond's budget statement later today.
Italy's FTSE MIB index, the broadest equity benchmark, gained 2.7% by mid-day in Milan following Friday's decision to Standard and Poor's to hold its BBB rating in place even as it warned that higher spending from the anti-European government in Rome could further erode financial conditions in the region's largest economy.
HSBC Plc (HSBC) - Get HSBC Holdings Plc Report shares were an early market mover of note, rising nearly 5.8% top £6.40 each after the region's biggest bank posted stronger-than-expected third quarter profits and said its cost-cutting plans were ahead of schedule as it continues is "pivot" towards Asia in order to grow profits under new CEO John Flint. Deutsche Bank (DB) - Get Deutsche Bank AG Report shares were also in focus, rising 2.14% from their all-time low last week to €8.70 each after Germany's biggest lender said it was cancelling plans to offload some of its assets in Mexico.
Global oil prices extended their declines in overnight trading, taking U.S. crude costs to the lowest levels since August, amid continued questions over the strength of worldwide demand in a slow-growth environment and the pace of American production, which has swelled stockpiles to around 422 million barrels, according to Energy Information Administration data.
Brent crude contracts for December delivery, the global benchmark, were seen 10 cents lower from their Friday close in New York and changing hands at $77.52 per barrel, extending a month-to-date decline past 9%. WTI contracts for the same month, which are more tightly liked to U.S gas prices and have fallen more than 10% over the month of October, were seen 17 cents higher at $67.42 per barrel.