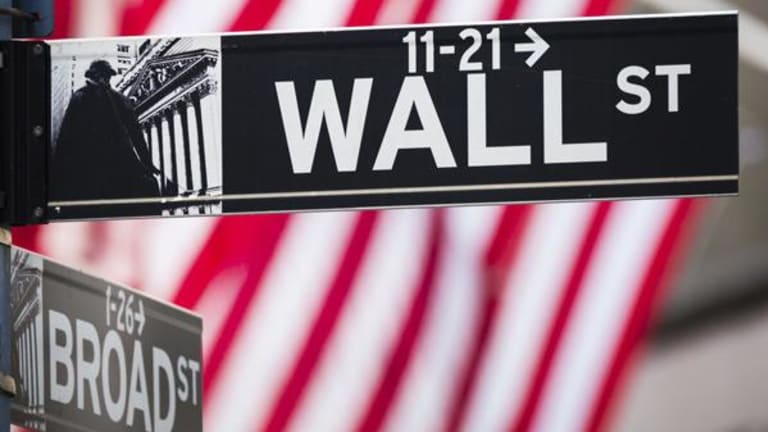 Stocks Volatile After Trade Deficit Data; Oil Inventories Rise
Stocks were mixed Thursday morning as markets adjusted to losses on Wednesday and investors received mixed economic data.
Updated from 9:44 a.m.
Stocks were volatile Thursday, turning mostly negative, as investors adjust to mixed economic data and crude inventories increased. 
The S&P 500 fell 0.06%, the Dow Jones Industrial Average dropped 0.04%, and the Nasdaq declined 0.21%.
The U.S. Energy Information Administration's weekly petroleum status report showed that last week crude oil inventories rose by 0.6 million barrels, smaller than estimated. 
West Texas Intermediate crude oil turned higher, increasing by 0.28% to $54.21 a barrel on Thursday. Brent crude, the global benchmark, traded at $56.55, up 0.59%. Crude oil prices have seen gains as investors anticipate a decrease in the production of global oil supplies based on an earlier agreement by the Organization of Petroleum Exporting Countries. 
The final jobless claims report of 2016 said that a seasonally adjusted 265,000 new unemployment claims were filed last week, a decrease of 10,000 from the prior week. In the previous week, 275,000 new unemployment claims were filed, according to the Department of Labor. This is the 95th consecutive week that new jobless claims have been fewer than 300,000, the longest such streak since 1970.
The U.S. Census Bureau said that the trade deficit increased to $65.3 billion in November, up 5.5% from the deficit of $61.9 billion in the prior month. The jump in the trade deficit is a sign that the the U.S. is importing more than it is exporting, with more U.S. money held overseas.
After the markets took a negative turn Wednesday, the Dow moved further away from the 20,000 milestone that investors have been eyeing over the last two weeks. Since the election of Donald Trump, markets have buoyed on hopes of lighter regulation and tax cuts, but the end of the post-election rally could be at hand as the year comes to a close.
"If we were to approach 20,000, but not break through it, a lot of people would look at that as a bearish sign," David Schiegoleit, U.S. Bank managing director of investments, said in a phone interview. "I think some people could interpret that as a bearish signal, that we're kind of topping out at least in the short run."
"Again the 20,000 is nothing technical, it's simply a sentimental number," Schiegoleit added.
Sprint (S) - Get Free Report shares popped after the company announced Wednesday that it was going to "create or bring back" 5,000 jobs to the U.S. in 2017. This announcement was part of an earlier plan by SoftBank, which owns more than 80% of Sprint, to create 50,000 jobs and invest $50 billion in U.S. companies. However, President-elect Trump on Wednesday made the announcement seem as if this was a new agreement with Sprint. Sprint's shares were up 1.3% to $8.82.
Nvidia's (NVDA) - Get Free Report shares fell for the second day after Citron Research wrote on Twitter Wednesday that the shares were overvalued. The company wrote that the market "is disregarding headwinds" and that "in 2017 we will see $NVDA head back to $90." The computer chipmaker's shares dropped 4.4% to $104.48, but have risen 218% this year so far.
Endologixundefined  jumped 13% to $6.03 after the aortic disorder-treatment developer said that it would resume shipments of AFX, one of its best-selling devices, after "positive testing results." This comes after the stock tumbled earlier this week, when the company said it would suspend shipments to investigate a manufacturing problem with certain sizes of the product.
Sears Holdings (SHLD)  announced Thursday that it received a "secured standby letter of credit facility," which will provide it extra liquidity of up to $300 million. Shares of Sears are up 4.3% to $8.53 following the news. 
Cempraundefined  shares plummeted more than 56% after the FDA said that it cannot approve the company's new drug applications for solithromycin, a drug used to treat community-acquired bacterial pneumonia, or CABP, in adults. 
Kate Spade (KATE)  shares turned in the opposite direction Thursday, falling 2.5% after jumping as much as 23% the previous day following a Wall Street Journal report that the apparel and accessories company is working with bankers on potentially selling the company.
Takataundefined may be close to settling the U.S. Justice Department probe into its faulty airbags scandal, The Wall Street Journal reported. Shares of the Japanese company closed up 16.5% on Thursday.