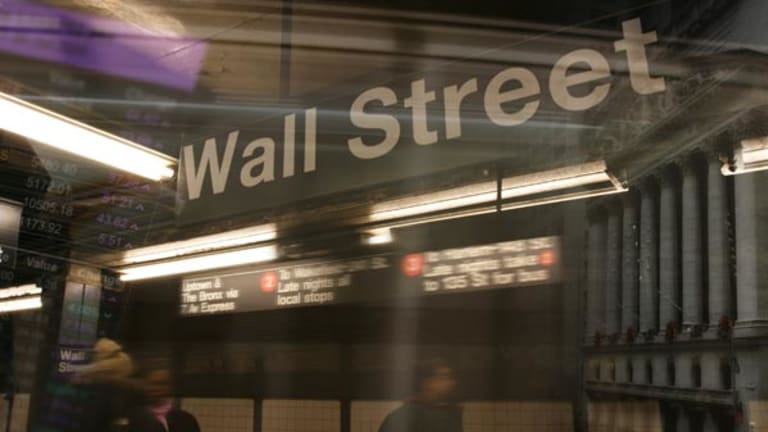 Stocks Ease in Week's Last Full Session
Sellers take charge on the last day of trading before Thanksgiving.
Sellers take charge on the last day of trading before Thanksgiving.
Updated from 3:33 p.m. EST
Stocks closed lower Thursday as Wall Street wrapped up its last full session of the week
The
Dow Jones Industrial Average lost 66.84 points, or 0.7%, to 9834.54. The
Nasdaq was down 5.53 points, or 0.3%, to 1874.98, and the
S&P 500 was off 5.64, or 0.5%, at 1137.02. The session was the last full trading day of the week. The U.S. stock markets will close at 1 p.m. EST Friday.
Overseas, European markets were mixed. London's FTSE 100 gained 0.3% to 5314. Germany's Xetra DAX was down 0.2% at 5087. In Asia, Japan's Nikkei index closed up 0.8% at 10,661, and Hong Kong's Hang Seng fell 0.5% at 11,174.
Microsoft
(MSFT) - Get Report
was among the most active stocks today, losing $1.46, or 2.2%, to $63.94. Salomon Smith Barney downgraded the software firm to neutral from outperform based on the stock's valuation.
Amgen
(AMGN) - Get Report
climbed $3.84, or 6.6%, to $61.75. The company offered bullish
earnings guidance for 2002 after the market closed Tuesday.
Chiron
(CHIR) - Get Report
dropped $4.59, or 9.2%, to $45.50 after the company said tifacogin, a treatment for sepsis, failed to meet its primary goal of reducing patient deaths in a Phase III trial. The drug is being co-developed by
Pharmacia
(PHA)
.
Triquint Semiconductor
(TQNT)
was under heavy selling pressure after forecasting fourth-quarter revenue at the low end of its previous $75 million to $80 million range. Shares of the chipmaker dropped $2.29, or 11.7%, to $17.26. For more corporate news, check out
TheStreet.com's
Stocks to Watch.
On the economic front, the Labor Department said the number of people filing initial jobless claims fell for the fourth straight week. First-time claims totaled 427,000 in the week ended Nov. 17, the lowest level since the Sept. 11 attacks. Economists, on average, were expecting 461,000 claims for the latest week.
Elsewhere, the Pentagon said it will further pressure terrorists by sending Marines into Afghanistan to join the hunt for Osama bin Laden. At home, a 94-year-old Connecticut woman tested positive for the inhaled form of anthrax. Televised reports Wednesday were indicating that she has now died as a result of the disease.
Around 4 p.m. EST, the 10-year Treasury note was losing 1 5/32 to 99 29/32, yielding 5.01%.