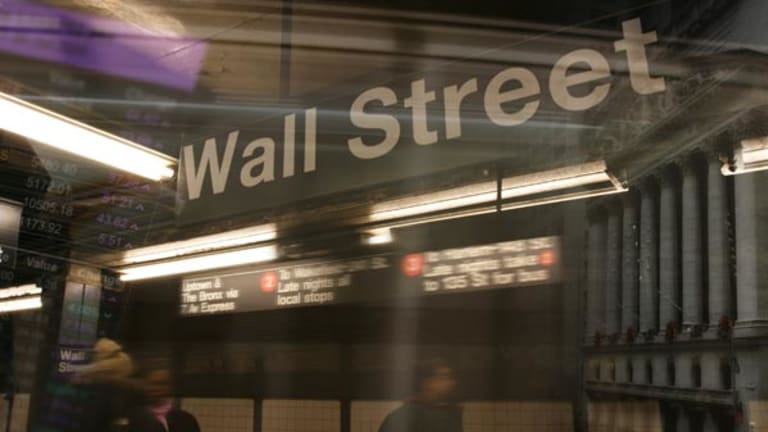 Stocks Ease as Rally Pauses
Higher oil prices and investor caution after the latest market advance rule the day.
Updated from 4:08 p.m. EST
Another runup in oil prices put a dent in the end-of-year rally Wednesday, as investors reassumed a defensive posture halfway through a usually profitable week on Wall Street.
The
Dow Jones Industrial Average
closed down 25.35 points, or 0.2%, at 10,829.19, the
S&P 500
shed 0.09 points to 1213.45, while the
Nasdaq
lost 0.19 points to 2177.00. Volume was once again lighter than usual; slightly more than 926 million shares traded on the
NYSE
, while about 1.5 billion turned over on the Nasdaq.
In other markets, the 10-year Treasury note lost 6/32 in price with the yield up to 4.32%. The dollar was up against the Japanese yen and the euro after falling to multiyear lows against the European currency earlier in the session.
Oil surged on an Energy Department report on fuel inventories showing a decline in distillates, which include heating oil, and reports of a blast in Riyadh, Saudi Arabia. Crude for February delivery closed up $1.87 to $43.64 a barrel in Nymex floor trading.
On the economic front, existing-home sales rose 2.7% in November to an annualized rate of 6.94 million homes. Analysts expected little change from October's 6.75 million rate.
Rescuers continue the gruesome task of counting the dead and trying to prevent the spread of disease in a dozen countries around the Indian Ocean Wednesday, where the death toll in Sunday's tsunami has exceeded 70,000. Among the problems in Sri Lanka, where 22,000 have been confirmed killed, is the uprooting of land mines, creating an additional hazard for aid workers trying to reach remote areas. Millions of people were left homeless in the waves' aftermath.
Analysts sizing up the disaster's economic toll continue to view the tsunami as one of the costliest in human history, creating billions of dollars in property damage and ruining commercial infrastructure. While hotel operators have so far reported remarkably minimal destruction, Wall Street speculated Tuesday that various apparel companies that depend on the region for manufacturing could have trouble rebuilding supply lines in coming months.
"The recent tragic natural disaster in Southeast Asia could pose some risk to sourcing for footwear and apparel companies that source from the region," Prudential said in a note to clients Tuesday that specifically named
Nike
(NKE) - Get Report
and
Reebok
( RBK). "Risks include shipping delays, product destruction, factory damage and the obvious risk to the workforce."
In corporate news,
PeopleSoft
(PSFT)
CEO David Duffield has resigned in the wake of the software company's $10.3 billion agreement to be acquired by
Oracle
(ORCL) - Get Report
. Duffield founded the company and returned to its helm at the height of the takeover drama.
AMR
(AMR)
said in a filing Tuesday that unit revenue will probably fall between 2% and 3% in the fourth quarter compared with last year. The airline also sees lower unit costs in the quarter and expects to end the year with about $3 billion in cash.
Genzyme
( GENZ) shares rose early Wednesday after U.S. regulators Tuesday approved its leukemia drug for children.
Overseas markets were mixed in thin volume, with London's FTSE 100 recently up 0.1% at 4802 and Germany's Xetra DAX losing 0.4% to 4245. In Asia, Japan's Nikkei fell 0.4% overnight to 11,382, while Hong Kong's Hang Seng added 0.5% to 14,266.