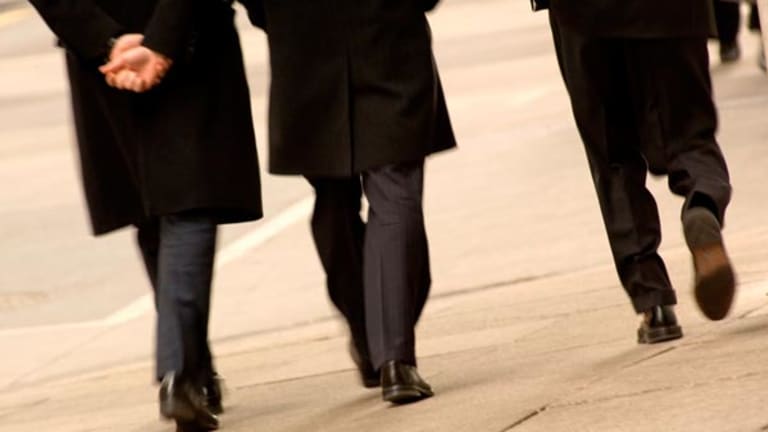 Stocks Ease Ahead of Earnings Flood
The major averages in New York lost ground after tentatively treading into the green. Wachovia declines after its quarterly loss, while a buyout offer boosts Circuit City. Frank Curzio reviews the action in The Real Story (above).
Updated from 4:07 p.m. EDT
Stocks in New York saw jittery action Monday before closing slightly lower as traders digested an unexpected first-quarter loss at
Wachovia
(WB) - Get Weibo Corporation Report
and other sobering glimpses into the rest of earnings season, which kicks into high gear this week.
After flirting with both sides of the flat line, the
Dow Jones Industrial Average
declined again as its financial components came under heavier selling pressure.
Citigroup
(C) - Get Citigroup Inc. Report
,
Bank of America
(BAC) - Get Bank of America Corporation Report
and
JPMorgan Chase
(JPM) - Get JP Morgan Chase & Co. Report
all fell 2.4% or more.
Citi and JPMorgan are due to release numbers later this week and, altogether, roughly one-third of the Dow is scheduled to disclose first-quarter numbers by Friday. BofA should report next week.
The Dow gave back 23.36 points, or 0.19%, to finish at 12,302.06, and the
S&P 500
lost 4.51 points, or 0.34%, at 1328.32. The
Nasdaq Composite
shed 14.42 points, or 0.63%, to 2275.82.
"People are being a little bit cautious going into the earnings season," said Robert Pavlik, chief investment officer with Oaktree Asset Management. He noted that investor wariness has intensified since the last session, when
General Electric
(GE) - Get General Electric Company Report
reported a rare earnings miss.
The news, together with miserable consumer-confidence numbers, on Friday yanked the Dow down more than 250 points.
"People are still getting over the GE miss," said Ryan Detrick, senior technical strategist with Schaeffer's Investment Research. "As far as earnings go, we've had a very bad first inning, so to speak. But it is early to declare the endgame, so people just want to be cautious before they see more results."
Breadth was poor for the day. Around 3.48 billion shares changed hands on the
New York Stock Exchange
, and some 1.63 billion traded on the Nasdaq, as losers outpaced winners about 3-to-2.
As for Wachovia, the bank said it swung to a shortfall of $270 million, excluding items, or 14 cents a share -- a far cry from the 40-cent profit that analysts had projected. In the wake of that, the bank is slashing its dividend, and it launched offerings for common and preferred stock worth $7 billion. The offerings are expected to raise net proceeds of $3.4 billion apiece, excluding any extra sales by underwriters in the case of strong demand.
Over the weekend,
The Wall Street Journal
had reported that the bank would get a cash injection from an investor group.
Wachovia shares slid 8.1% to $25.55 and the NYSE Financial Sector Index tumbled 1.4%.
In more woeful signs of things to come, London's
Sunday Times
reported that Citigroup and
Merrill Lynch
( MER) will likely take writedowns of $10 million and $5 billion, respectively, when they report later this week. The paper, which cited unnamed analysts, said that some believe Citi could write down as much as $12 billion.
Citi shares declined 3.6% to $22.55 as Merrill dipped 1.8% at $42.88.
Also,
Credit Suisse
(CS) - Get Credit Suisse Group American Depositary Shares Report
lost 3.2% after Swiss media reported that the bank will probably write off as much as $5 billion in bad assets in the first quarter. According to the
Journal
, Germany's
Deutsche Bank
(DB) - Get Deutsche Bank AG Report
is looking to sell as much as $20 billion in debt related to leveraged buyouts. Its shares finished down slightly at $115.10.
Meanwhile, matters continued to look bleak on a broader scale, as Friday's meeting of G7 -- finance ministers and central-bank chiefs from seven countries -- revealed concern about the recent sharp decline of the U.S. dollar and its "possible implications for economic and financial stability." The greenback has plunged by some 20% against the euro since the beginning of the year, and by more than 15% against the yen, though recently the currency was edging up against both counterparts from the prior settlements.
An analyst note from Brown Brothers Harriman remarked that, even though dramatic changes in foreign-exchange rates have finally nudged G7 into changing its statement on currency for the first time in four years, "that level of concern still falls well shy of anything resembling material intervention in the currency markets."
"In our view," the note added, "the U.S. dollar is already in the process of bottoming. It has already bottomed, we believe, against half of the non-U.S. G7 currencies and several of the major emerging market currencies. We suspect that many officials are playing for time, hoping to avert a currency crisis while the cyclical divergences narrow."
A day after the G7 meeting, Treasury Secretary Henry Paulson, who hosted the confab in Washington, D.C., warned that 2008 will be a "
more difficult year
" for the global economy compared with last year.
On the economic docket, the Commerce Department reported that retail sales, excluding cars, were up 0.1% in March, largely due to ballooning gas prices. That's narrowly better than the revised 0.1% downtick in the prior month, though economists were looking for a rise of 0.2%. Keeping in autos, retails sales rose 0.2%, a notch better than the consensus forecast and up from a revised 0.4% loss in February.
Detrick believes the report, though only faintly positive, may have had a hand in pulling stocks from the brink: "The market will take any type of good news," he remarked.
Pavlik, meanwhile, posited that investors are taking heart in
Blockbuster's
( BBI) huge bid for
Circuit City
(CC) - Get Chemours Company (The) Report
, as the proposed offer could be foretelling a pickup in M&A activity.
The electronics retailer's shares rocketed as much as 47% after Blockbuster announced that, in February, it offered to take out Circuit City for $6 to $8 a share in cash, or $1 billion to $1.3 billion. The bid represents at least a 53.8% premium on Circuit City's last closing price. Shares of the company finished up 27.4% at $4.97. Blockbuster sank 10.2% to $2.81.
In more M&A news, reports said that
Northwest
( NWA) and
Delta
(DAL) - Get Delta Air Lines Inc. Report
could ink a merger as early as Tuesday, according to people familiar with the situation. The deal could happen without an agreement with Delta's pilots -- a matter that might complicate any proposed combination, having already
the talks earlier this year. Northwest underwent choppy trading, but ultimately added 2.4%. Delta rose 4.7%.
Returning to economic data, the Commerce Department said February manufacturers' and trade inventories, as seasonally adjusted, were up an in-line 0.6% from the prior month and 5.2% year over year -- down from a sequential rise of 0.9% in January.
Elsewhere, Warren Buffet's
Berkshire Hathaway
(BRK.A) - Get Berkshire Hathaway Inc. Report
announced the
resignation of Joseph Brandon
, CEO of the firm's General Re division. The news came only days after the
Journal
reported that federal prosecutors told Buffett they wanted him out, having named Brandon an "unindicted alleged co-conspirator" in fraud. Shares of Berkshire were down 1.4% at $128,515.
Among commodities, crude oil added $1.62 to end at $111.76 a barrel, and gold futures climbed $1.70 to $928.70 an ounce.
Treasury prices were losing ground. The 10-year note slipped 8/32 to yield 3.50%, and the 30-year bond retreated 17/32 in price, yielding 4.34%.
Markets abroad were falling. The Nikkei 225 in Tokyo dropped 3.1% overnight, and Hong Kong's Hang Seng Index slid 3.5%. In Europe, London's FTSE sank 1.1% as Germany's Xetra Dax and the Paris Cac each gave up 0.7%.