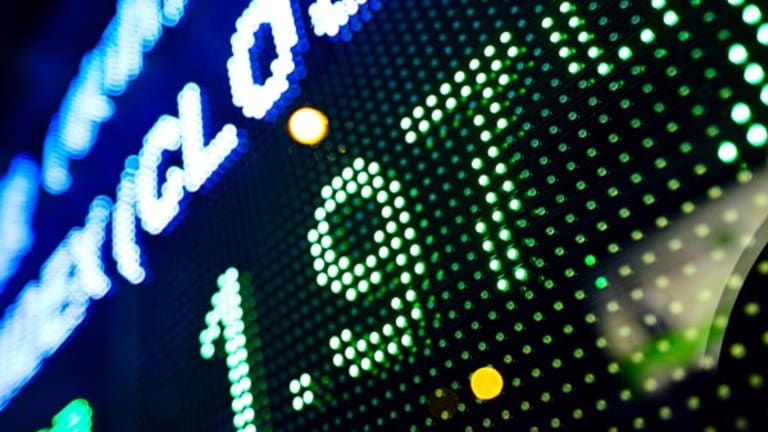 Stocks Drop on Geopolitical Concerns
The Dow ends down 1%, while the Nasdaq sheds 0.5%.
The Dow ends down 1%, while the Nasdaq sheds 0.5%.
Updated from 4:05 p.m. EST
Stocks sputtered Thursday, as a weak report on the job market and renewed geopolitical concerns overshadowed a raised outlook from
Oracle
(ORCL) - Get Report
and solid earnings from brokerages.
The
Dow Jones Industrial Average closed down 83 points, or 1%, at 8364. The
Nasdaq lost 7 points, or 0.5%, to 1354, and the
S&P 500 slipped 7 points, or 0.8%, to 884.
"Macro issues are dominating the tape," said Keith Keenan, vice president of institutional trading and a partner at brokerage Wall Street Access. "Rising crude oil and gold, erosion in German markets, Iraq, and retail weakness are negating incrementally positive news from the brokers and Oracle."
Among sectors, telecom equipment, wireless, storage networking and airline stocks were showing weakness. The Philadelphia Semiconductor Index, or SOX, was down 0.7%. Homebuilding, defense and oil services issues were stronger. Overall, market breadth was negative. Decliners outpaced advancers 6 to 5 on the
New York Stock Exchange, where 1.37 billion shares traded. On the Nasdaq, losers were beating winners nearly 6 to 5 on volume of 1.64 billion shares.
"I can't find one compelling reason to buy technology stocks," Keenan said. "Clearly, the list of negative developments has all but eliminated the odds of a positive return for the S&P 500 in December. History often repeats itself and it appears that technology bulls are repeating the same mistakes they made in the fourth quarter of 2001."
"Volume remains light as many institutions are on the sidelines. But, the overall backdrop, remains decidedly bearish," Keenan said.
News from Oracle was providing some support for technology early on, as the database software giant posted surprises on both revenue and earnings. The company said it earned $535 million, or 10 cents a share, on revenue of $2.31 billion. According to Thomson Financial/First Call, Oracle was expected to earn 8 cents per share on $2.2 billion in revenue. The shares traded up 3.4% to $11 on Nasdaq.
Tempering the enthusiasm were sharp spikes in gold and oil prices along with renewed concerns about the threat of war in the Middle East and Brazil's continued unrest. In London, Brent crude for February delivery was as high as $28.98 a barrel, up 1.7% from Wednesday. Spot gold in London jumped almost 4% to $354.25 an ounce, its highest level since early 1997.
Nerves in both markets were put on edge when U.N. weapons chief Hans Blix said Iraq has failed to disclose all of its weapons. Secretary of State Colin Powell said in a news conference Thursday afternoon that the weapons declaration Iraq submitted to the U.N. Security Council falls well short of meeting U.N. directives prevents us from moving toward a peaceful solution, calling gaps in Iraq's report a "material breach."
Some mixed economic data contributed to the market's lack of a clear direction this morning. The Conference Board's index of leading economic indicators, which forecasts economic activity in the next three to six months, came in ahead of expectations at 0.7% in November. Wall Street was looking for a 0.6% percent rise.
Separately, the Labor Department said before the opening bell that
initial jobless claims fell to 433,000 in the week ended Dec. 14, compared with 444,000 the previous week. Economists were expecting the number of first-time insurance claims to come in at 401,000 according to
Briefing.com.
Several top brokerages reported their quarterly earnings before the bell, with each coming in ahead of expectations.
Goldman Sachs
(GS) - Get Report
posted fourth-quarter net income of $505 million, or 98 cents a share, up from $497 million, or 93 cents a share. Analysts were expecting the firm to earn 96 cents a share, according Thomson Financial/First Call.
Lehman Brothers
(LEH)
said its earnings rose to $243 million, or 91 cents a share, from $130 million, or 46 cents, in the same period last year. The results were 3 cents better than analysts' forecasts.
And
Morgan Stanley
(MWD)
joined the earnings parade, posting a net profit of 81 cents a share, before charges, topping the 74-cent consensus estimate. All three firms have been aggressively cutting jobs and expenses in recent months, which has led to better-than-expected results, so it is not necessarily a case of improving fundamentals. It is likely that their solid earnings were already priced in to the market. Indeed, all three finished lower on the Big Board.
Shares of household products maker
Clorox
(CLX) - Get Report
tumbled 4.4% to $41.95 after the company said it would take a $20 million to $30 million charge in its fiscal second quarter as a result of the deterioration of its assets in Argentina. However, the company maintained its earnings outlook for the quarter, saying it still expects a profit of 43 cents to 45 cents, excluding the charge. Analysts, on average, are expecting Clorox to earn 44 cents a share.
In the retail sector, bookstore chain
Barnes & Noble
(BKS) - Get Report
plunged 18.3% at $17.46 after the company pared estimates for the fourth quarter and the full year due to weaker-than-expected sales in the holiday season. Bookstore earnings are expected to range from $1.19 to $1.31 in the fourth quarter and $1.53 to $1.65 for the full year.
Consolidated earnings for 2002, which include a previously reported impairment charge, are expected to be $1.31 a share to $1.45 a share, reflecting the impact of
GameStop's
(GME) - Get Report
lowered guidance. Analysts were looking for earnings of $1.61 for the quarter and $1.74 for the year. Gamestop's shares fell 30% to $9.32.
Elsewhere, chipmaker
Intersil
(ISIL)
saw its shares drop 7.7% to $13.39 after it lowered its revenue and earnings outlook for the fourth quarter, citing order delays for wireless networking products. Network equipment maker
Riverstone Networks
(RSTN)
plunged 31.1% to $1.86 after announcing on Wednesday that it would not provide guidance for the current quarter and the next few quarters, due to unpredictable conditions within its market.
Meanwhile, a debate raged over how well
Palm
(PALM)
did in its most recent quarter. The company put up net income of $3.5 million, or 12 cents a share, on a 9% sales decline to $265 million. But executives on a subsequent conference call noted that the period included a $5 million insurance settlement, an amount that if excluded would appear to result in a quarterly loss. Still, Palm beat estimates with either number, but shares fell 7.2% to close $15.62.
Fast-food restaurant chain
Jack-in-the-Box
(JBX)
was getting hammered, down 19.9% at $16.14, after it slashed earnings estimates to reflect the negative impact of a brutal price war with competitors.
Treasuries were higher, with the 10-year note up 22/32 to yield 3.95%. The 30-year bond was up 1/32, yielding 4.90%.
Overseas markets were mixed, with London's FTSE 100 up 0.2% to 3841 and Germany's Xetra DAX down 1.1% to 2991. In Asia, Japan's Nikkei added 0.5% to 8388, while Hong Kong's Hang Seng gained 0.1% to 9558.