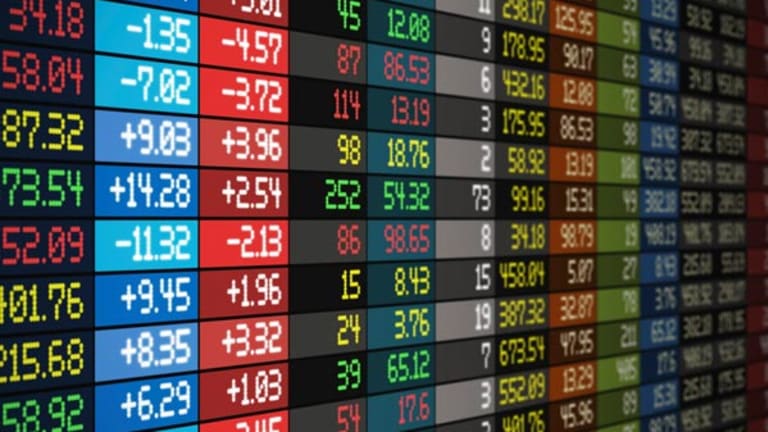 Stocks Drop in Light of Falling GDP
The indices took a dip off the open as the worst GDP data in 25 years was announced.
Stocks in New York moved lower midmorning Friday as the worst GDP number in a quarter century, although better-than-expected, still painted a grim picture of the ailing economy.
The
Dow Jones Industrial Average
was recently down 81 points at 8068, and the
S&P 500
was falling 10 points at 835. The
Nasdaq
was losing 15 points at 1493.
The market retracted Thursday, marred by a jolt of discouraging earnings and economic data, after a surge earlier in the week. Data Friday continued to show the depth of the economic downturn.
The Commerce Department reported gross domestic product, which measures total goods and services output within U.S. borders,
fell at a 3.8% annual rate in the fourth quarter of 2008, this comes after an 0.5% decline in the third quarter and marks the first consecutive declines since 1991.
On the bright side, the figure is better than expectations, which were for a 5.4% decline, but it still marks the worst output since the first quarter of 1982.
Big cuts in financial firms surge on as
Morgan Stanley
(MS) - Get Report
is reportedly considering laying off 5% of its employees after letting 7,000 go in 2008, and
Goldman
(GS) - Get Report
, which cut back 10% last year, is considering another trim as well.
Cutbacks have been across sectors and on a global basis as the economy worsens. Adding to those figures, Japanese electronics maker NEC Corp. said
it will cut more than 20,000 employees worldwide after it reported a dismal recent quarter and predicted a loss for the full year.
In an unusual move, Swiss pharmaceutical company Roche has lowered its once-rejected bid for pharmaceutical company
Genentech
(DNA)
. Roche, now offering $86.50 rather than $89, is appealing directly to shareholders in its
now-hostile pursuit of the company.
In other earnings, consumer products giant
Procter & Gamble
(PG) - Get Report
said profits rose 53% in its fiscal second quarter to $5 billion, including a substantial benefit from the sale of its Folgers coffee business.
The high prices of crude oil throughout the first legs of 2008 provided
Exxon Mobil
(XOM) - Get Report
record 2008 profit of $45.2 billion, despite plummeting fourth-quarter earnings. Oil prices have since fallen roughly 70% amid the deepening recession, but the company still managed to surpass expectations on the top and bottom lines for the recent quarter.
Crude oil was rising $1.92 to $43.36 on Friday. Gold was rising $16.90.
Longer-dated Treasuries were recently rising; the 10-year note was recently up 19.5/32 to yield 2.8%, the 30-year was adding 1 07/32, yielding 3.6%.
The dollar was recently stronger against the pound and euro, and weaker against the yen.
Stocks were mixed overseas. In Europe, the FTSE in London was marginally higher, while the DAX in Frankfurt was just under the flatline. In Asia, Japan's Nikkei ended 3% lower, while Hong Kong's Hang Seng added nearly 1%.