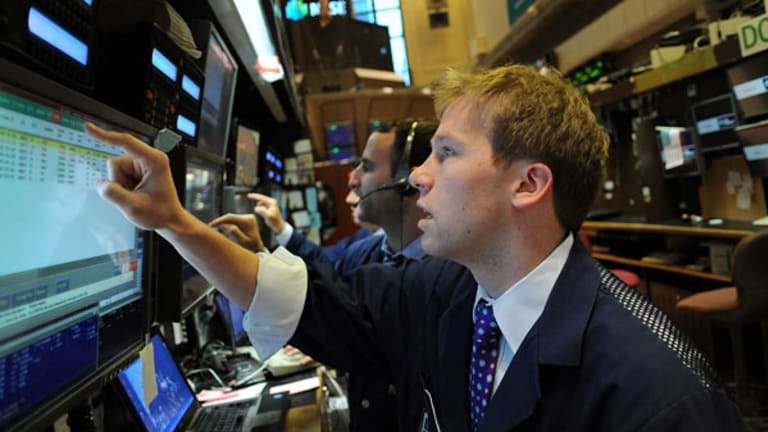 Stocks Slump as Government Nears Shutdown
Fears of a government shutdown Monday sent markets falling as investors monitor the messy game of Washington politics.
NEW YORK (
) -- U.S. stocks sank Monday on concern the government may be headed for a shutdown at a time when the Federal Reserve appears divided on the future of its stimulus program and the pace of the U.S. economic recovery remains sluggish.
The
S&P 500
declined 0.6% to 1,681.55 while the
Dow Jones Industrial Average
lost 0.9% to 15,129.67. The
Nasdaq
dropped 0.3% to 3,771.48. The S&P, Dow Jones and Nasdaq gained for the 2013 third quarter by 4.7%, 1.5% and 10.8%, respectively. 
The Democrat-led Senate voted down a Republican proposal Monday afternoon to defund the Patient Protection and Affordable Care Act, sending the legislation back to the House of Representatives. The Republican-controlled House voted over the weekend for federal funding measures tied to a one-year delay to the health care act and repeal a medical device tax.
The pullback may provide buying opportunities assuming that the two governing parties will eventually reach a compromise.
Surprisingly, markets appeared to shrug at the possibility of a government shutdown until very recently, said Randy Frederick, managing director of active trading at Charles Schwab.
"Most people seem to be expecting that there will be a government shutdown, but I think that most of us believe if that does happen it will only be a matter of a couple days," Frederick said in a phone interview. "But even a pullback like we have today is pretty insignificant when you consider that we were at record highs just two weeks ago."
Johnson Controls
(JCI) - Get Johnson Controls International plc Report
shares dropped 2.4% to $41.50 as the U.S. auto-parts maker was cut to "underweight" from "overweight" by analysts at 
Morgan Stanley,
 with the price target reduced to $40 from $45. "With execution back on track, a new CEO lobbying for change and the stock at $43, expectations into the analyst day may be too high," they wrote.
J.C. Penney (JCP) - Get J. C. Penney Company, Inc. Report shares slumped 2.7% to $8.81 as uncertainty about the direction of the company continued to concern investors.
Chipotle Mexican Grill
(CMG) - Get Chipotle Mexican Grill, Inc. Report
 popped 2.3% to $428.80. 
Morgan Stanley
 analysts have raised their view on the stock to "overweight" from "equalweight" with a $485 price target after their consumer survey indicated the restaurant chain has best in class value scores, a strong indicator of future traffic gains.
A government shutdown may provide investors an enticing entry point, said Craig Johnson, a senior technical research strategist at Piper Jaffray. Johnson referenced S&P Capital IQ, which reports that the peak-to-trough decline of the S&P 500 associated with the shutdown of the U.S. government between Dec. 16, 1995 and January 6, 1996 was 3.7%. However, once a budget agreement was reached, the S&P 500 jumped 10.5% over the following month.
<story_page_break>
Jeffrey Saut, a Florida-based chief investment strategist at Raymond James, predicts that after the markets gets past these humps, equities may mirror their performance following the "fiscal cliff" debate at the beginning of the year: the S&P 500 index rallied 100 points.
"The Republicans are no longer trying to extract major spending reductions in exchange for their budgetary votes," Saut said in a note. "Republicans are now using budget votes to advance a political cause, the abolition of Obamacare, which is purely symbolic because it offers no scope of compromise with the President and therefore no chance of enactment...this charade will be resolved over the next few weeks.'"
A weaker-than-expected increase in a Chinese manufacturing gauge from HSBC and Markit Economics also worried investors heading into what's expected to be a week of light global trading volumes as China begins its Golden Week holiday. The tense political climate in Italy wasn't helping either after the government of the eurozone's third largest economy appeared to be close to collapsing after allies of center-right leader Silvio Berlusconi threatened to resign from the cabinet. 
The September Chicago Purchasing Managers Index on Monday showed an increase to 55.7 from 53 versus the consensus estimate of 54.
-- Written by Andrea Tse and Joe Deaux in New York
>To contact the writer of this article, click here:
Andrea Tse
.>