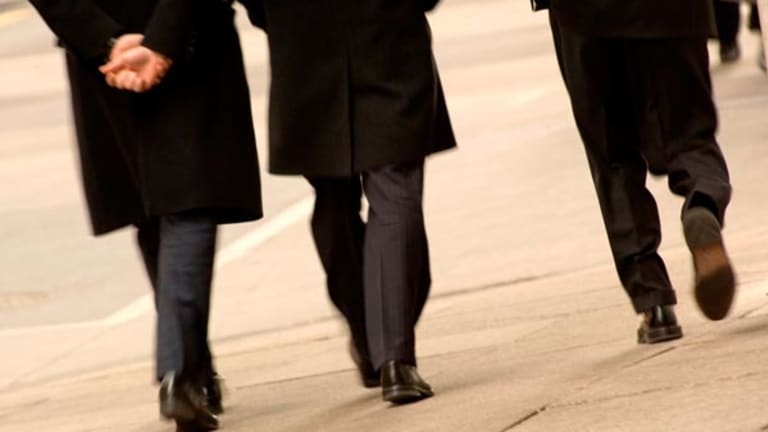 Publish date:
Stocks Slip as Focus Turns to Stagnant U.S. Wage Growth
Stocks are lower on Friday after February wage growth was weak, even as U.S. nonfarm payrolls figures blow past expectations.
Stocks are lower on Friday after February wage growth was weak, even as U.S. nonfarm payrolls figures blow past expectations.
NEW YORK (TheStreet) -- Stock markets were reacting negatively to another U.S. jobs report that showed strong jobs growth but stagnant wages.
The S&P 500 fell 0.3%, the Dow Jones Industrial Average declined 0.43%, and the Nasdaq was flat.
The number of jobs the U.S. economy added in February rose sharply to 295,000 jobs from a downwardly revised 239,000 in January, the Labor Department said Friday. Economists had expected an increase of 235,000. The unemployment rate in February ticked down to 5.5%, lower than a forecast 5.6%.
However, average hourly earnings increased just 0.1%, half the expected increase, indicating that while jobs were added they were a poorer quality of job that didn't promote salary growth. 
"Wage growth still remains tepid," said Mark Litzerman, co-head of real assets at Wells Fargo Investment Institute, in a call. "We're still waiting for more significant signs of solid increases in wage growth ... There's certainly [focus] on the types of jobs being added as opposed to just the number of jobs."
Apple (AAPL) - Get Report jumped 2% on news the company will replace AT&T (T) - Get Report on the Dow at market close March 18. The addition was prompted by Apple's stock split last June and Visa's (V) - Get Report stock split scheduled for March 19.
"As the largest corporation in the world and a leader in technology, Apple is the clear choice for the Dow Jones Industrial Average, the most recognized stock market measure," said David M. Blitzer, managing director at S&P Dow Jones Indices, in a statement.
Bank stocks were mixed, though Bank of America (BAC) - Get Report charged more than 3% higher, after the Federal Reserve cleared all 31 banks in its stress tests. The financial sector will be on watch next week as the Fed releases its CCAR results wherein it approves or disproves banks' capital return plans.
The U.S. trade deficit narrowed 8.4% in January to $41.8 billion, moving away from a two-year high hit in December. Economists had expected a narrower reading of $40.6 billion.
Germany's DAX was up 0.43% after industrial production increased at a better-than-expected rate of 0.6% in January with a mild winter giving a boost to construction. GDP growth for the eurozone region was increased to 0.9% for its fourth quarter, better than an initial estimate of 0.8%.
Life Time Fitness (LTM) - Get Report spiked more than 16% after the Wall Street Journal said the gym chain was in talks with private-equity firms to go private with bidding expected to close by the end of next week.
Staples (SPLS) was 2.9% lower as quarterly revenue slid nearly 4%, while sales in North America plummeted 6.9% on the back of store closures. International sales fell more than 11% as foreign exchange presented a challenge.
Gap (GPS) - Get Report slipped 0.8% after reporting February same-store sales down 4%. Comparable sales at Old Navy were flat and down at Gap Global and Banana Republic.
Foot Locker (FL) - Get Report added 4.1% after beating quarterly estimates on its top- and bottom-lines. Comparable-store sales in the fourth quarter rose 10.2%.
SAP (SAP) - Get Report fell 1.2% after CEO Bill McDermott announced plans to cut 2,200 jobs, or around 3% of the company's work force, as SAP transitions from licensing software to cloud computing.