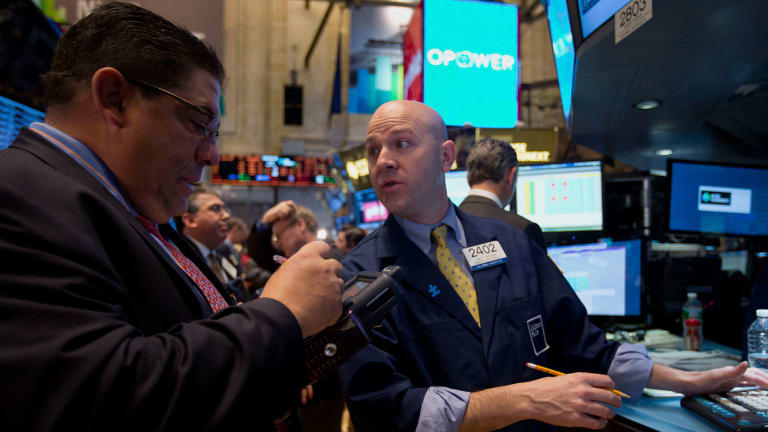 Stocks Crawl Into the Weekend as More Earnings Loom
Stocks barely make any moves on Friday as investors wait until next week for the earnings season to crank up a notch.
NEW YORK (TheStreet) -- Stocks barely made any moves Friday as investors waited for corporate earnings to crank up next week.
The Dow Jones Industrial Average managed to post its sixth consecutive winning session, the longest all year, but not without effort. 
The S&P 500 was up 0.08%, the Dow added 0.21%, and the Nasdaq rose 0.41%.
It's a full docket on the earnings calendar next week. Johnson & Johnson (JNJ) - Get Johnson & Johnson Report , eBay (EBAY) - Get eBay Inc. Report , Intel (INTC) - Get Intel Corporation Report and JPMorgan (JPM) - Get JPMorgan Chase & Co. Report will report on Tuesday; Bankof America (BAC) - Get Bank of America Corp Report , Delta (DAL) - Get Delta Air Lines, Inc. Report , Wells Fargo (WFC) - Get Wells Fargo & Company Report , and Netflix (NFLX) - Get Netflix, Inc. Report are due on Wednesday; Citigroup (C) - Get Citigroup Inc. Report , Goldman Sachs (GS) - Get Goldman Sachs Group, Inc. Report , and Mattel (MAT) - Get Mattel, Inc. Report will report on Thursday; and General Electric (GE) - Get General Electric Company Report will round out the week on Friday. 
Expectations for corporate earnings in the third quarter are low. Third-quarter earnings are expected to decline 4.2% from a year earlier, according to Thomson Reuters. Similar issues that plagued the second quarter such as a stronger U.S. dollar and lower energy prices are expected to carry over into this past quarter.
Alcoa (AA) - Get Alcoa Corporation Report unofficially kicked off the third-quarter earnings season on Thursday afternoon. Shares fell 6.8% after profit and sales missed estimates in its second quarter. Net income of 7 cents a share was half what analysts had expected, while revenue tumbled nearly 11% to $5.57 billion. The company has suffered from a sharp drop in the price of commodities.
Alcoa also said that it expects global aluminum demand to increase 6.5% this year, though warned that Chinese demand was slowing faster than projected. The metals company reduced automotive demand in the country to 1% to 2% growth, down from 5% to 8%.
Crude oil settled at $49.63 a barrel after briefly topping $50 a barrel for the first time in more than two months on Friday. Prices rallied after a weekly count of oil rigs showed the active total drop by nine to 605. West Texas Intermediate crude was up 9% for the week.
Commodities markets rallied after Glencore (GLCNF) announced it would cut annual zinc production by a third, around 500,000 tonnes, on Friday. Glencore produces around 4% of global supply of zinc. Zinc prices jumped 12%, while gold prices rose 1.1% to $1,157 an ounce and copper climbed 2.8% to $240.95 a pound.
The Fed's rate hike path will most likely be gradual, Chicago Fed President Charles Evans said in a speech on Friday. Evans noted that interest rates could still sit below 1% by the end of 2016, a level that would remain accommodative to markets.
"When thinking about the initial stages of normalization, I find it useful to focus on where I think the federal funds rate ought to be at the end of next year given my economic outlook and assessment of the risks," Evans said in Milwaukee. "Right now, regardless of the exact date for liftoff, I think it could well be appropriate for the funds rate to still be under one percent at the end of 2016."
Stocks rallied on Thursday as sentiment continued to strengthen that the Fed is unlikely to raise interest rates before March. Increased downside risks in September encouraged members to delay a rate hike last month, according to the Fed's meeting minutes. Members said it would be "prudent" to wait until risks eased before tightening monetary policy for the first time in a decade.
"Market reaction, like during the meeting, is overwhelmingly interpreting the minutes as dovish, as an extension of the dovishness," Bill Ehling, fixed income market strategist at Federated Investors, told TheStreet. However, he noted, "the market behavior over the next couple of months is really going to be contingent on the data stream and what we see in the context of the Chinese slowdown."
The prices for goods imported to the U.S. fell 0.1% in September, according to the Commerce Department. Excluding fuel, import prices dropped 0.3%. Import prices were revised in August to decline 1.6% compared to a previously reported 1.8% drop. Over the past year, import prices have declined 10.7%, the largest year-to-year decrease since October 2009. Lower fuel costs and a stronger U.S. dollar have put downward pressure on the cost of imports.
American Airlines (AAL) - Get American Airlines Group, Inc. Report was sharply higher after the carrier reported strong September traffic. Total revenue passenger miles increased 7.2%, while total capacity grew 3.7% from a year earlier to 21.9 billion. The average flight was 82.7% full, its highest level for September and up from 80% a year earlier.
Lumber Liquidators (LL) - Get LL Flooring Holdings, Inc. Report surged more than 14%, rallying for its second straight day after the company announced it would settle with the Justice Department over allegations it knowingly sourced illegal wood products. Shares were on track for their third-biggest one-day percentage gain. Since news of the settlement broke late Wednesday, shares have spiked 36%.
Ruby Tuesday (RT) tumbled more than 11% after reporting a mixed first quarter. The restaurant chain reported a surprise net loss of 3 cents a share, compared to estimates of 5 cents a share in profit. Revenue fell 0.6% to $279.48 million, due to a lower store count, though bested forecasts by $500,000.
Wal-Mart (WMT) - Get Walmart Inc. Report named Brent Briggs, chief financial officer of the retailer's international arm, as the new CFO of the business as a whole. The world's largest retailer also named Steve Bratspies as its chief merchandising officer at U.S. locations and John Furner as executive vice president of merchandising at Wal-Mart's membership discount chain Sam's Club.
Gap (GPS) - Get Gap, Inc. Report shares slumped 5.3% after the retailer reported a 1% decline in same-store sales in September. Sales at chain Banana Republic declined 10% compared to a 2% increase a year earlier. International sales improved over the year, coming in flat compared to a 3% decline in September last year. Net sales over the month fell 1% to $1.46 billion.
Volkswagen (VLKAY) shares were on watch on reports even more carmakers have implemented software that gamed diesel missions tests. Mercedes-Benz, Honda (HMC) - Get Honda Motor Co. Ltd. Report , Mazda and Mitsubishi vehicles were found to have performed differently on-road than in test conditions, according to The Guardian. Volkswagen's CEO of U.S. operations Michael Horn testified to the House Energy and Commerce subcommittee on the scandal that has plagued the automaker since late September on Thursday. Horn said it was "hard to believe" top executives weren't aware of the defeat device.
Anheuser-Busch (BUD) - Get Anheuser-Busch InBev SA/NV Report added 1.1% after it argued SABMiller's (SBMRY) rejection of its takeover offer "lacks credibility" and that it would take far longer for the beer company to reach the offer price of 42 pounds a share on its own. SABMiller did not accept the offer, noting that it "substantially undervalues" the company.