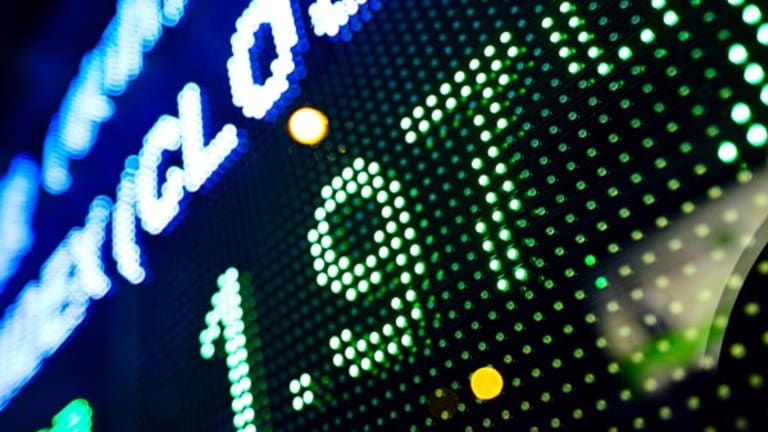 Stocks Cool Down as War Heats Up
Jumpy investors send shares lower, as Iraqi troops reportedly move in on U.S. forces.
Updated from 4:12 p.m. EST
Stocks ended lower Wednesday amid rumors of heightened terrorism threats and scattered reports of an increasingly aggressive Iraqi military.
The
Dow Jones Industrial Average
fell 50 points, or 0.6%, to 8229, while the
Nasdaq
slid 3 points, or 0.3%, to 1387.47. The
S&P 500
ended the session down 4 points, or 0.6%, at 869.95.
In a sign of the market's volatility, stocks dropped briefly at midafternoon amid a rumor that the terror alert would be raised -- but then regained ground, before turning lower again amid new headlines on Iraq.
Iraqi troops reportedly were moving south from the cities of Baghdad and Basra, with a total of more than 1,000 Iraqi military vehicles, toward U.S. forces, according to
CNN
.
"Iraq 24/7 is what people are looking at. The market wants to go up and is trying to convince itself this is like the last Gulf War, but with government officials trying to prepare us, you have to believe negative surprises will still surface," said Jim Awad, president and market analyst at Awad Asset Management.
Market breadth was negative at the New York Stock Exchange, with decliners outpacing advancers by less than a two-to-one margin, while volume was light at 1.3 billion shares traded. On the Nasdaq, 1.4 billion shares changed hands, with decliners practically tied with advancers.
"War uncertainty is the main factor causing instability. We believe shares will rally once war is over, but confidence is needed to return to the market," said Ozan Akcin, chief market strategist at EKN. "What is missing and is the long-term sustaining factor for the market is business spending."
Brent May crude was up 2.4% at $28.63 a barrel. The 10-year Treasury bond was up 3/32 to yield 3.93%, while gold was higher.
Elsewhere, one day after the Senate voted to slash President Bush's stimulus package, the White House said a lot could still happen before the tax cut is formalized. Several reports said lawmakers were moved to gut the measure in part because of a perceived delay in the president's request for $75 billion to pay for the Iraq war.
"There's not much clarity on what will go through in the tax plan. There's uncertainty as to what's going on in the war front, so investors are putting together different scenarios and rethinking what will happen in the next few weeks," said Daniel Morgan, fund manager and market analyst at Noble Financial Group. Morgan thinks that even after the U.S.-led assault in Iraq is over, the market will still have to come to grips with weak economic fundamentals.
Among economic data, the government said February durable goods orders fell 1.2%, less than the 1.5% decline economists expected. The figure had a 2.9% increase in January. The government also said February new-home sales rose to an annual rate of 857,000, much lower than the 927,000 expected, from 929,000 in January.
European markets closed higher, with the FTSE 100 up 0.83% at 3793, while Germany's Xetra DAX gained 0.13% to 2639. In Asia, Japan's Nikkei rose 1.4% to 8352, while Hong Kong's Hang Seng dropped 0.2% to 9047.
In corporate news, bankrupt telephone and data services company
WorldCom
(WCOEQ)
reported a net profit of $155 million in its January monthly operating results, compared with a net loss of $580 million the previous month. Sales fell to $2.16 billion from $2.2 billion in December.
Sears
(S) - Get Report
, the largest U.S. department store chain, said it is considering the sale of its Credit and Financial Products business, which has been hit by rising defaults. The company could raise as much as $7 billion from the sale of the unit, which has some $30 billion in credit card receivables. Shares of Sears gained 13% to end at $24.15.
Pharmaceutical giant
Merck
(MRK) - Get Report
said late Tuesday that the U.S. Food and Drug Administration had approved the use of its Cozaar drug to reduce the risk of stroke in patients with high blood pressure. Merck shares lost 1.8% to $54.48.
On the research front,
Disney
(DIS) - Get Report
was added to Credit Suisse First Boston's U.S. Focus List. Analysts cited the company is their favorite media/entertainment group for the next 12 to 18 months. Disney shares shed 0.3% at $17.63.
Manitowoc
(MTW) - Get Report
, a maker of construction cranes, said it expects to break even in the first quarter instead of posting a profit. The company cited delays in new projects resulting form a 44-day strike. Manitowoc shares slid 10.9% to $17.10.
Andarko Petroleum
(APC) - Get Report
shares were under pressure after the company's president and chief executive, John N. Seitz, resigned late Tuesday. The oil company said Chairman Robert Allison will succeed Seitz, who also resigned as director of Andarko. The company's shares closed 1.5% lower at $44.00.
Paxson Communications
(PAX)
, owner of the Pax television network, said late Tuesday that it will restate its 2002 financial results to correct higher tax expenses under new accounting rules. Paxson shares fell 7.5% to $2.22.
Red Hat
(RHAT)
fell after the company reported lower-than-expected fourth-quarter results. The shares dropped 2.2% to $5.87.