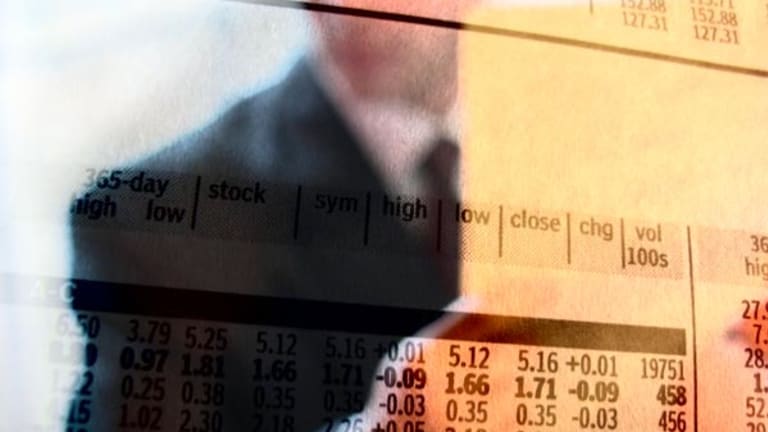 Stocks Continue Resurgence
Higher oil and Google's delay fail to dent sentiment. The Dow closes above 10,000.
Updated from 4:07 p.m. EDT
Stocks withstood another jump in oil prices Wednesday, building on a three-day upswing, driven by positive earnings and economic data.
The
Dow Jones Industrial Average
rose almost 110.32 points, or 1.11% to 10,083; The
S&P 500
rose 13.46 points to 1095.17; and the
Nasdaq
added 36.12 points, or 2%, to 1831.37. All three indices closed at their highest levels since Aug. 4. The 10-year Treasury note was down 12/32 to yield 4.24%, while the dollar was lower against the yen and euro.
This week, the Dow has added 258 points, or 2.6%, while the Nasdaq has gained 74 points, or 4.2%.
Volume was moderate on the
New York Stock Exchange
, with just under 1.3 billion shares trading and advancers beating decliners by 7 to 2. On the
Nasdaq
, volume was strong, with more than 1.5 billion shares traded. Advancers led decliners 7 to 3.
"It is a very broad-based rally" said John Hughes, equity strategist at Shields & Co. "The fact that there is no news to support it is what's significant about it, because it's not being driven by anything that is obvious to us now. I think that is very important.
"It's a situation where we're getting past the bad news, or the market has discounted some of the bad news, concerns about oil prices and whatnot," said Hughes. "The market has already factored in $50-a-barrel oil and you're just starting to get a little bit of lift off of that now," he added. "It's almost worth more because we don't have a reason for this rally."
In New York, the benchmark Nymex crude oil contract settled higher by 9 cents at $46.35, after breaking $47 a barrel earlier. Two reports showed a decline in U.S. oil inventories in the last week and there were more reports of sabotage in Iraq.
"Investors are trying to shrug off the rise in oil prices and have also reacted positively to news that the situation in Iraq may be turning a little more positive," said Michael Sheldon, chief market strategist for Spencer Clarke LLC.
"Overall, it appears that the markets are likely to head lower in the next month or so before finally staging a year-end rally. There are a lot of mixed signs in the economy right now and there are a lot of reasons to be positive but there are also just as many reasons to be cautious right now," Sheldon said. "Given that August and September, historically, have been volatile months for the market, I think investors want to be somewhat cautious here before they put their money to work at year-end."
Contributing to the upward pressure on oil was a report from OPEC predicting that world oil demand would be roughly 81.2 million barrels a day in 2004, about 300,000 barrels more than in 2003. On the supply side, the cartel said it produced about 29.6 million barrels a day in July, up about 600,000 from June.
Nevertheless, the market's ability to erase early losses in the face of higher oil prices surprised some strategists.
"The price of oil is driving the market now and it's a concern that's going to be weighing heavily on the economic conditions," said Robert Pavlik, portfolio manager at Oaktree Asset Management. "I think the market is trying to digest that and try to reallocate assets to the areas that are going to be able to withstand this rising price."
"Oil is acting, of course, as a tax to the individual and it's basically going to have a long-term play as to how companies are going to be able to profit going forward," Pavlik said. "I think people want to be a little more defensive in nature, sitting on the sidelines, a little bit more in cash, maybe in the noncyclical, defensive stocks."
A 4% rise in
Taiwan Semiconductor
(TSM) - Get Taiwan Semiconductor Manufacturing Co. Ltd. Report
helped the Philadelphia semiconductor index gain 1.5%.
LSI Logic
(LSI) - Get Life Storage, Inc. Report
rose 3% after Tuesday's gain of 3%.
Applied Materials
(AMAT) - Get Applied Materials, Inc. Report
was down 0.5% after beating second-quarter earnings estimates by a penny but offering flat guidance. The
Amex
airline index was up 3%, led by
Delta Air Lines
(DAL) - Get Delta Air Lines, Inc. Report
, up over 12%, and
Continental Airlines
(CAL) - Get Caleres, Inc. Report
, which gained 5%.
In the day's biggest corporate news story,
Google
said in an
SEC
filing that it is cutting the expected price range of its hotly anticipated IPO to $85 to $95 a share, down from $108 to $135. The filing also said selling shareholders would slash the number of shares they're offering in the deal roughly in half. All told, the actions imply an overall valuation of about $26 billion, down from $36 billion.
Among stocks, Applied Materials said late Tuesday that third-quarter profit was $441 million, or 26 cents a share, compared with a year-ago loss of $37 million, or 2 cents a share. Analysts were looking for earnings of 25 cents a share in the most recent quarter. Sales rose 104% from a year ago to $2.24 billion, ahead of the consensus estimate for $2.14 billion.
Management forecast that fourth-quarter orders will rise 5% from the third quarter, when they jumped 11%. Revenue should be flat to up 5%, implying a range of $2.24 billion to $2.35 billion. The consensus expectation falls within that range, at $2.30 billion. After rising in the after-hours session yesterday, Applied Materials' stock finished up 8 cents, or less than 1%, to $16.15.
On the geopolitical front, Shiite cleric Muqtada al-Sadr is reported to have accepted a peace plan that includes withdrawing his militia from the Iraqi holy shrine in Najaf and laying down arms, according to media reports.
The plan proposed by the Iraqi National Conference came after some members threatened to send troops into the shrine to force out the insurgent fighters using it as shelter. Details of the peace plan allegedly included amnesty for al-Sadr and his men providing that they disarm and instead form a political party to advance their views.
Elsewhere,
Brown Shoe
(BWS)
reported a 32% fall in income, beating estimates by 1 cent. The billion-dollar footwear company posted earnings of $7.8 million, or 41 cents a share, down from $11.5 million, or 62 cents, in the same period last year.
Also, off-price retailer
Ross Stores
(ROST) - Get Ross Stores, Inc. Report
posted a 40% drop in profit and fell short of analyst estimates. The company had earnings of $32.6 million, or 22 cents a share, down from $54.6 million, or 35 cents a share, in the same period last year. Shares closed down over 8% to $22.18.
Overseas markets were mixed, with London's FTSE 100 down 0.1% to 4355, while Germany's Xetra DAX was up nearly 0.6% to 3726. In Asia, Japan's Nikkei rose 0.5% to 10,774, while Hong Kong's Hang Seng fell 0.2% to 12,229.
Before Thursday's opening bell, third-quarter earnings releases are scheduled from
Navistar
(NAV) - Get Navistar International Corporation Report
, expected to report a profit of 68 cents a share, up from 26 cents in the same period last year; and
Hormel Foods
(HRL) - Get Hormel Foods Corporation Report
, expected to post profit of 34 cents a share compared with 25 cents last year.
On the economic front, the Labor Department is expected to report that initial jobless claims rose by 2,000 to 335,000 in the week ended August 13.
Also, at 10 a.m. EDT, the government is expected to report a 0.1% drop in the Index of Leading Indicators for the month of July after a drop of 0.2% in June.
Lastly, the Philadelphia Fed Index is expected to be released at 12 p.m. EDT. The index, which tracks changes in manufacturing activity, is expected to be down 5.3 points to 30.8.
After the bell Thursday, earnings are due from
Foot Locker
(FL) - Get Foot Locker, Inc. Report
,
Gap
and
Nordstrom
(JWN) - Get Nordstrom, Inc. Report
.