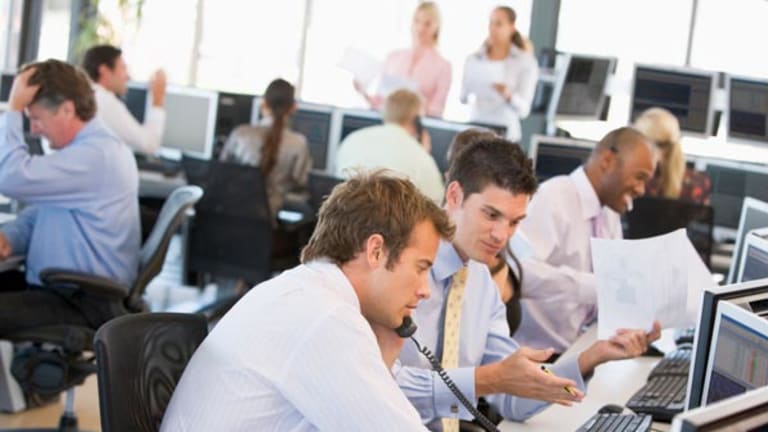 Stocks Close With Modest Gains
The Dow and the Nasdaq had an up-and-down day, but they end higher.
Updated from 4:10 p.m. EDT
Stocks were yanked around on Thursday -- rallying, pulling back, but closing the day with gains -- as a mix of rumor, positive economic news and light volume contributed to a volatile trading session.
Up more than 80 points early on, the
Dow Jones Industrial Average
gained 26.17 points, or 0.3%, to 9423.68. The
Nasdaq
added 17.01 points, or 1%, to 1777.55, while the
S&P 500
gained 2.97 points, or 0.3%, to 1003.27.
An hour before lunch in New York, the major averages saw a rapid decline wipe out a morning rally. The initial buying surge had been sparked by the reported capture of a key Iraqi military figure, improving jobless claims data and news that the index of leading economic indicators gained for a fourth straight month.
The Dow had spiked to another 14-month high of 9481 before quickly giving that back. Some traders said they were hearing rumors that the sudden drop was due to a big sell order in the futures market by a Goldman Sachs trader. Equities headed higher again after the Federal Reserve Bank of Philadelphia said its August manufacturing index rose to 22.1 from 8.3 in July, reaching the best mark in more than five years. Analysts expected a reading of 10.0.
Despite the up-and-down action, some market watchers weren't concerned, citing the anemic volume that traditionally occurs in August.
"It's a quiet week with a lot of people away, a lot of people at the beach and not a tremendous amount of liquidity," said Jim Awad, president and market analyst at Awad Asset Management. "But the basic trend line is up, based on increasing evidence that the economy is gradually getting better. U.S. corporations are in terrific shape and a little improvement in the economy will make for nice improvements in profits."
According to televised reports, the Iraqi military leader known as Chemical Ali -- the No. 5 man on the U.S. most-wanted list -- is in custody. The capture would represent a fairly high-profile win for U.S. forces in Iraq.
The index of leading economic indicators for July showed growth of 0.4%, matching economists' expectations. June's results were revised upward, as well, to 0.3% growth from 0.1% growth.
Also, initial jobless claims fell to 386,000 in the week ended Aug. 16 from a revised 403,000. Economists had expected 395,000 claims, with some warning that next week, jobless claims could climb because of the lingering effect of the recent blackout in the Northeast.
Bullish comments from
Intel
(INTC)
CEO Craig Barrett helped technology stocks Thursday. Barrett said he sees some signs of improvement in corporate personal computer sales, although he's not ready to declare a full recovery,
Dow Jones Newswires
reported. Shares recovered from early losses to gain 3 cents, or 0.1%, to $26.39.
In analyst actions,
Monsanto
(MON)
was raised to buy from neutral at Merrill Lynch after the company settled a lawsuit alleging it was responsible for contaminating a site in Alabama. Chemical maker
Solutia
(SOI)
, a former Monsanto subsidiary, and
Pfizer
(PFE)
are also part of the settlement.
The notes stirred investor interest. Monsanto rose $1.43, or 6.3%, to $24.12, while Solutia skyrocketed $3.10, or 344.4%, to $4. Pfizer, which was also downgraded by Smith Barney, dropped 95 cents, or 3.1%, to $29.79.
Among earnings reports,
Ciena
(CIEN)
narrowed its loss and improved its revenue in the fiscal third quarter, and the company disclosed plans for an acquisition, saying it must get bigger to stay competitive. However, Ciena also said revenue could fall in the fourth quarter. Shares were up 22 cents, or 3.8%, to $6.04.
Elsewhere, doughnut maker
Krispy Kreme
(KKD)
beat Wall Street's estimates in the second quarter and reiterated its expectations for the third quarter. Despite this, shares dropped $1.42, or 2.9%, to $47.50.
Now that broadline retailers have announced results for the second quarter, a wide variety of specialty stores were out with their numbers, helping the S&P Retail Index rally 0.8%.
Foot Locker
(FL)
announced second-quarter earnings that topped estimates by a penny, sending shares up 75 cents, or 4.9%, to $16.11.
Barnes & Noble
(BKS)
posted second-quarter earnings that beat Wall Street estimates by 5 cents a share, on a 10.7% year-over-year revenue increase. Despite this, shares fell 24 cents, or 0.9%, to $26.01.
Sharper Image
undefined
turned in second-quarter earnings that exceeded estimates by 2 cents a share, on a year-over-year revenue gain of nearly 25%, while raising 2004 estimates above expectations. Shares rose 34 cents, or 1.2%, to $28.85.
A pair of retailers for the junior set posted mixed results.
Wet Seal's
undefined
second-quarter losses missed expectations by a nickel a share, with revenue falling nearly 14% from the year-ago quarter.
Claire's Stores
undefined
announced second-quarter earnings that topped estimates by 2 cents a share and guided higher for 2004. Wet Seal shares fell 92 cents, or 8%, to $10.60, while Claire's rallied $2.90, or 9.2%, to $34.47.
Limited
(LTD)
shares fell 78 cents, or 4.5%, to $16.63, despite reporting second-quarter earnings that beat estimates by 3 cents a share and reaffirming guidance for the third quarter.
Williams-Sonoma
(WSM)
announced second-quarter earnings that surpassed estimates by a penny a share, and the shares gained 41 cents, or 1.4%, to $30.72.
A variety of food-related companies released earnings as well, with
Smithfield Foods
(SFD)
reporting first-quarter earnings that matched expectations. Rival
Hormel
(HRL)
announced third-quarter earnings that missed estimates by 2 cents a share, while guiding lower for the fourth quarter. Smithfield was down 41 cents, or 2.8%, to $15.49, and Hormel was off 8 cents, or 0.4%, to $21.70.
THQ
(THQI)
, the videogame maker, delayed the launch of a pair of games, while lowering estimates well below Wall Street expectations for the upcoming second quarter. That said, the company announced a publishing agreement with
Sony
for the PlayStation 2 platform. Shares sank 44 cents, or 2.8%, to $15.49.
Panera Bread
(PNRA)
said last week's blackout would hurt business, telling investors that sales will be 0.5% lower when results for much of August are announced on Sept. 18. Shares slid 13 cents, or 0.3%, to $43.15.
Defense contractor
Northrop Grumman
(NOC)
said it plans to buy back as much as $700 million of its stock. Separately, the company said it will pay $80 million to settle lawsuits related to improper billing of the U.S. Navy. Northrop gained $2.94, or 3.1%, to $97.16.
Treasuries were lower, with the yield on the 10-year note at 4.51%. Crude oil prices rose in London. The dollar was weaker against the Japanese yen but stronger vs. the euro.
Overseas markets were higher. London's FTSE 100 closed up 0.1% to 4224, and Germany's Xetra DAX rose 1.8% to 3565. In Asia, Japan's Nikkei closed 0.7% higher at 10,362, hitting a 52-week-high, while Hong Kong's Hang Seng rose 1.6% to 10,643.
Thursday's session follows a day of losses for the market. On Wednesday, the Dow closed down 31 points, or 0.3%, at 9397. The S&P 500 fell 2 points, or 0.2%, to 1000, while the Nasdaq was practically unchanged at 1760.