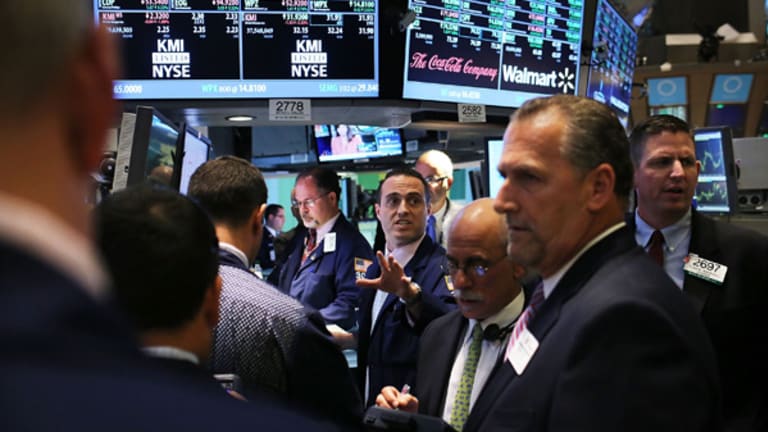 Stocks Close Wild Day in Mixed Fashion
A final-hour push by the bulls pulls the Dow and S&P into positive territory, but the Nasdaq can't shake the negativity of the volatile day. Frank Curzio discusses the session in The Real Story (video above).
Updated from 4:10 p.m. EDT
U.S. stocks capped off a day of jumbled trading and wild swings with a mixed finish Thursday afternoon, as blue-chips logged decent gains and technology shares tumbled.
The
Dow Jones Industrial Average
, which traded down as much as 275 points in the session, finished up 172.04 points, or 2%, at 8691.25. The
S&P 500
tacked on 11.34 points, or 1.3%, to 908.12. The
Nasdaq
, however, ended down 11.84 points, or 0.7%, at 1603.91.
The upswing in blue-chip stocks was led in part by the energy sector. Integrated oil firms
Chevron
(CVX) - Get Report
and
ExxonMobil
(XOM) - Get Report
were among the Dow's leaders. Chevron added 8.2% to $66.77, and ExxonMobil gained 9% to $70.39.
Crude oil futures gained $1.09 to settle at $67.84 a barrel.
"Right now it looks like we're seeing a bit of a reaction to yesterday's selloff," said Darin Newsom, senior commodities analyst at DTN. He said that the move higher for oil futures and energy stocks may be short-covering ahead of an OPEC meeting on Friday, during which the cartel is expected to cut production.
However, the larger issue is demand, said Newsom. "There's something like 20 countries listed in a recessionary category at this time. ... It's going to take more to turn the oil industry, oil futures, oil stocks around in the long term," he said.
On Wednesday, stocks sold off steadily as many companies, citing an impending economic downturn, cautioned investors not to expect much in coming months.
The new day's economic data lent support to U.S. companies' cautious prognostications. The Department of Labor's jobless numbers for the week ended Oct. 18 unexpectedly rose by 15,000 to 478,000. Economists were expecting 468,000 unemployment claims for the week.
In addition, home foreclosures were up 71% year over year to 766,000 for the third quarter as home prices declined, according to
. Separately, the Federal Housing and Finance Agency said its home price index slipped 0.6% from July to August and fell 5.9% year over year.
News from large U.S. firms was corroborating the economic pessimism. The
Journal
reported that
(GS) - Get Report
is planning on cutting its workforce by 10% as it copes with the credit crunch. Shares dropped 5.3% to $108.58.
General Motors
(GM) - Get Report
announced it would also
more workers and temporarily cut employee benefits in an effort to cut costs. The stock fell 1.5% to $6.10. Fellow automaker
Chrysler
said it would close a plant in Newark, Del., and eliminate a shift at a plant in Ohio as it sheds 1,800 workers.
As the economic outlook worsened, the government looked ready to aid homeowners. The Bush administration is mulling a $40 billion program to prevent
, according to a report in
The Wall Street Journal
.
In further evidence of government intervention, Federal Deposit Insurance Corp. head Sheila Bair said before the Senate Banking Committee that her agency and the Treasury were working in concert to help people keep their homes. The initiative would be undertaken by power granted the Treasury under the Emergency Economic Stabilization Act, which authorized a $700 billion package to alleviate the financial crisis.
As for the ongoing credit crisis, an auction of credit-default swaps tied to bankrupt bank
Washington Mutual
resulted in sellers having to pay 43 cents on the dollar on the derivatives.
Meanwhile, insurer
AIG
(AIG) - Get Report
, which has borrowed more than $122 billion from the government to remain solvent, may need additional support, CEO Edward Liddy said today. Shares slipped 0.5% to $2.10.
Congressional investigation into the lackluster state of the financial markets yielded statements from former
Federal Reserve
Chairman
Alan Greenspan
. Greenspan told the House Committee of Government Oversight and Reform that the financial crisis was a once-in-a-century event and admitted that his oversight of financial markets had been flawed.
Another day filled with earnings statements produced a mixed bag of quarterly results.
Following Wednesday's close, online retailer
(AMZN) - Get Report
beat estimates, but the company lowered its forecast for the fourth quarter. Shares ticked up 0.7% to $50.32.
In the biotech arena,
(AMGN) - Get Report
announced solid earnings and lifted its forward guidance. The stock rocketed 12% to $55.55.
Ahead of the new session, fellow biotech firm
Celgene
(CELG) - Get Report
announced a 251% increase in profit, trumping Wall Street's expectations. Pharmaceutical company
Eli Lilly
(LLY) - Get Report
swung to a loss on charges related to a government probe into its Zyprexa drug. Celgene added 8.9% to $58.05, and Lilly gained 4.3% to $33.48.
Copy-machine maker
Xerox
(XRX) - Get Report
said that its profit rose for the fourth quarter but announced that it would let 3,000 employees go over the next six months. Shares slipped 3.4% to $7.71.
Among chemicals companies,
Dow Chemical
(DOW) - Get Report
said third-quarter earnings rose as sales jumped 13%. Fertilizer concern
Potash
(POT)
likewise saw earnings surge in its most recent quarter. Dow Chemical shares rocketed 10% to $24.43, and Potash was better by 2.1% to $68.49.
Electronics maker
(SNE) - Get Report
slashed its fiscal 2009 outlook in half in part because a strengthening yen would hurt currency conversions from overseas sales. Sony lost 8.2% to $21.46.
Shipping concern
UPS
(UPS) - Get Report
, meanwhile, reported earnings that beat analysts' estimates but warned of challenges in coming quarters. The stock added 3.8% to $48.13.
Cigarette maker
Altria
(MO) - Get Report
said that its profit declined 67% year over year, but on an adjusted basis the company beat estimates. Shares climbed 1.5% to $19.58.
During this week of earnings season, stocks typically trade in sectors on a single company's earnings, said Marc Pado, U.S. market strategist at Cantor Fitzgerald. He said that as additional reports roll out next week, stocks will begin trading more in line with their individual results.
Pado also said companies often strive to lower investor expectations during the third quarter so that they can end the fourth quarter on a high note. "You're seeing, across the board, all these companies are really setting the bar low."
Although the market doesn't look to spend much time below the lows achieved earlier this month, "we could very well be in for a year-long consolidation," said Pado.
Longer-dated U.S. Treasury securities were rising in price. The 10-year was up 14/32 to yield 3.54%, and the 30-year was up 1-16/32, yielding 3.97%. The dollar was gaining on the pound and euro but softening vs. the yen. Gold was down $20.50 to close at $714.70 an ounce.
Overseas, European exchanges were mixed, as the FTSE in London worked higher while the Dax in Frankfurt was taking losses. In
, Japan's Nikkei and Hong Kong's Hang Seng closed on the downside.