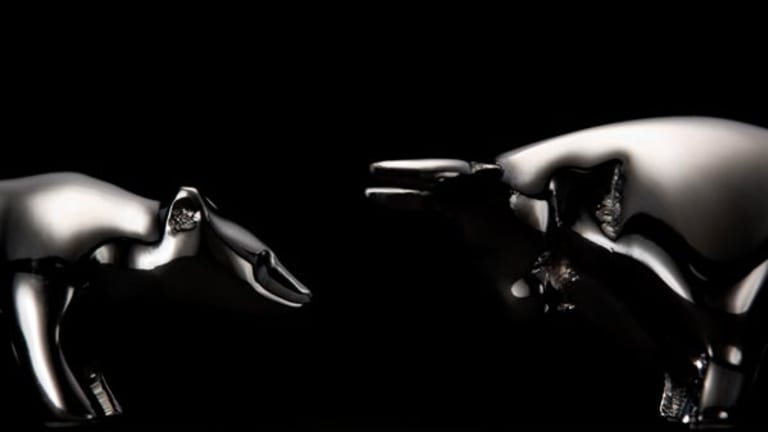 Stocks Close Week Strong
Falling oil and big numbers from Texas Instruments attract buyers.
Updated from 4:05 p.m. EDT
Stocks closed another solid weeks with gains Friday, as falling oil and upbeat comments from
Texas Instruments
(TXN)
coaxed buyers back into semiconductor, retail and energy shares
The
Dow Jones Industrial Average
rose 82.63 points, or 0.78%, to 10,678.56, while the
S&P 500
added 9.81 points, or 0.8%, to 1241.48. The
Nasdaq Composite
gained 9.48 points, or 0.44%, to 2175.51. The 10-year Treasury was up 7/32 in price to yield 4.12%, while the dollar was lower against the yen and euro.
For the week, the Dow gained 2.2%, the S&P 500 rose 1.9% and the Nasdaq added 1.6%. All three indices notched their second-straight week of gains following Hurricane Katrina.
"I'm struck by the market's reaction today with everything surrounding the
Fed's
meeting in two weeks," said Paul Nolte, director of investments with Hinsdale Associates. "The initial reaction may be the wrong reaction. Today also showed that we've gotten much more positive on tech."
About 1.47 billion shares changed hands on the
New York Stock Exchange
, with advancers beating decliners by a 2-to-1 margin. Trading volume on the Nasdaq was 1.64 billion shares, with advancers outpacing decliners 3 to 2.
After rising modestly earlier, stocks got a second wind at midday when oil turned lower. October crude, which added 12 cents Thursday after bottoming out around $63, finished down 41 cents to $64.08 a barrel. Gasoline futures were down 7 cents at $1.96 a gallon.
Oil companies nevertheless rose, with
BP
(BP)
adding 2.4%,
Exxon Mobil
(XOM)
adding 3.1%,
Chevron
(CVX)
adding 2.8%; and
Royal Dutch
undefined
adding 1.1%.
"Investors seem to be focusing on three main items now," noted Michael Sheldon, chief market strategist with Spencer Clarke. "First, we have the upcoming earnings updates from companies. Second, the question of what will the
Fed
do at their next meeting. Third, how weak is the economy likely to be, and will inflation move higher after soaring energy prices."
The Philadelphia Semiconductor Index added 0.7% Friday, while the S&P Retail Index added 0.6%.
"Looking ahead, we have a lot of economic news next week," Sheldon said. "It's going to take a lot of time to get a clearer picture of how much the economy has weakened."
In the last economic report of the week, the Labor Department said that import prices for August rose 1.3% and export prices fell 0.1% in the same month.
Intel
(INTC)
investors were upset a day after the company said third-quarter sales should be between $9.8 billion and $10 billion, in line with Wall Street estimates of $9.92 billion. The forecast represents a narrowing of the chip giant's previous guidance for sales of $9.6 billion to $10.2 billion. Intel was lower by 84 cents, or 3.2%, to close $25.25.
Meanwhile, shares of
Texas Instruments
(TXN)
reached a three-year high before settling lower after the company put third-quarter operating earnings at 39 cents to 41 cents a share, well above the 35-cent Wall Street consensus. Texas Instruments lost a penny, or 0.03%, to $33.74.
Thursday night's updates were some of the first company-specific events to capture Wall Street's attention since Katrina blew through the Gulf Coast nearly two weeks ago. Still, San Francisco
Federal Reserve
President Janet Yellen said the storm remains the economy's biggest threat.
"The size of these impacts depends in part on how quickly the vast energy infrastructure in the region can be brought back to operating condition," Yellen said, adding that the Fed is "still at an early stage in the process of assessing the effects of the hurricane."
Treasury Secretary John Snow, in a
CNBC
interview Friday morning, expressed more confidence in the economy's ability to recover.
"Clearly, it's devastating to the region and to the people that lost their jobs. It'll have a ripple effect on the economy as a whole," Snow said. "While the effects in the short term will be notable, they'll be temporary. We'll see the economy come back. GDP growth will continue to be positive."
Elsewhere,
McDonald's
(MCD)
said that August same-store sales rose 3.4% as global systemwide increased 5.7%. U.S. same-store sales were up 3.2% and Europe sales rose 3.6%. McDonald's shares rose 77 cents, or 2.3%, to $34.14.
An advisory panel of the Food and Drug Administration recommended the approval of
Pfizer's
(PFE)
inhaled insulin drug, Exubera. Developed along with
Nektar Therapeutics
(NKTR)
and
Sanofi-Aventis
(SNY)
, Exubera would be the first inhaled insulin drug to reach the market.
Pfizer shares lost 18 cents, or 0.7%, to $26.33. Nektar added 45 cents, or 2.4%, to finish at $19.59. Sanofi-Aventis climbed 31 cents, or 0.8%, to $41.68.
Biogen Idec
(BIIB)
said it will lay off 650 employees in an attempt to cut annual expenses. The layoffs, which represent 17% of the company's workforce, are expected to reduce expenses by $200 million to $300 million. Citigroup downgraded Biogen to hold to reflect continued uncertainty surrounding the drugmaker. Biogen shares fell 58 cents, or 1.4%, to $41.86.
Late Thursday,
Delphi
undefined
announced it will no longer pay a dividend of 1.5 cents a share on its common stocks for the rest of 2005. The move, which comes during a tumultuous time for the auto-parts maker, is expected to save $8.4 million a quarter. Delphi was down 25 cents, or 5.6%, to close at $4.24.
In M&A activity,
PalmSource
undefined
agreed to be acquired by Japan-based
Access
for $324.3 million, or $18.50 a share. PalmSource shares surged $7.89, or 78.2%, to $17.98.
Yellow Roadway
(YELL)
cut its third-quarter earnings outlook to $1.40 to $1.45 a share from $1.60 to $1.65 a share, blaming the effects of Hurricane Katrina. The Thomson First Call consensus remains at $1.62 a share. The stock was down $3.20, or 7%, to $42.81.
Other transportation companies traded lower in sympathy.
Swift Transportation
undefined
was off 4%,
JB Hunt
(JBHT)
fell 2.2%,
Covenant Transport
(CVTI)
was lower by 1.6%, and
Marten Transport
(MRTN)
lost 1%.
Overseas stocks were narrowly mixed, with London's FTSE 100 up 0.3% to 5355 while Germany's Xetra DAX was higher by 0.2% at 5004. In Asia, Japan's Nikkei rose 1.3% overnight to 12,692, while Hong Kong's Hang Seng fell fractionally to 15,166.
To view Gregg Greenberg's video take on today's market, click here
.