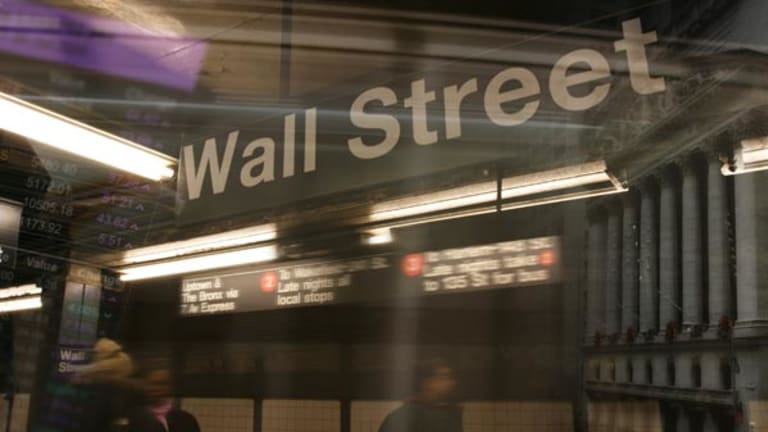 Publish date:
Stocks Close Up on Exxon, Dubai News
Stocks closed higher on Monday, buoyed by Exxon Mobil's dealmaking and relaxing anxiety about Dubai's credit. Gregg Greenberg has The Real Story.
Stocks closed higher on Monday, buoyed by Exxon Mobil's dealmaking and relaxing anxiety about Dubai's credit. Gregg Greenberg has The Real Story.
NEW YORK (
) -- Stocks closed higher on Monday, buoyed by
Exxon Mobil's
(XOM) - Get Report
dealmaking and relaxing anxiety about Dubai's credit.
The
Dow Jones Industrial Average
closed up 30 points, or 0.3%, to 10,501. The
S&P 500
added 8 points, or 0.7%, to 1114 and the
Nasdaq
rose by 22 points, or 1%, at 2212.
XTO Energy's
(XTO)
stock traded over 15% higher on news that
Exxon Mobil will buy the natural gas producer in an all-stock deal valued at $41 billion, which includes $10 billion of debt.
> >Cramer Book Excerpt: Diversified Dividend Portfolio
"Exxon Mobil has been signaling that they've wanted to make a move into natural gas -- that they think natural gas will be a big part of their energy future -- so this acquisition seems to make sense," said Phil Flynn, energy analyst at Alaron Trading. "I think this opens the door to more mergers and acquisitions."
"I think Exxon Mobil looked at oil vs. gas and felt that this country, with our energy policy, will be forced to move into gas because we have all of this newfound supply and Exxon Mobil will be a part of it," added Flynn. "And I think it'll leave the door open for more deals."
The big integrated oil company's bet on natural gas
strengthened prices on the commodity, as did reports for colder weather. The January natural gas contract on the Nymex settled 17 cents higher at $5.33 per million BTUs, jumping to an 11-month high. The news also lifted shares of other possible takeover targets, including
Chesapeake Energy
(CHK) - Get Report
. Its stock climbed 5.8%.
Natural gas shares broadly soared, with the NYSE Arca Natural Gas Index rising 4.5%. The telecom sector, however, was weaker than the rest, with the Nasdaq Telecom Index rising just 0.1% and the
Telecom HOLDRs
(TTH)
ETF sliding 0.2%.
Shares of
Ciena
(CIEN) - Get Report
,
Dynegy
(DYN)
and
MBIA
(MBI) - Get Report
declined by 4.4%, 4.6% and 7.6% after Standard and Poor's announced Friday that the companies would be replaced on the S&P 500. Dynegy also announced plans to buy back some $830 million in senior unsecured notes today. Shares of
Visa
(V) - Get Report
, which will replace Ciena on the S&P 500 after the close on Dec. 18, were bid higher by 4.2% today.
Abu Dhabi eased concerns about Dubai World's debt by offering
$10 billion in emergency funds.
Though the market had already recovered from the initial selloff when the Dubai news first broke around Thanksgiving, Gary Flam, portfolio manager at Bel Air Investment Advisors, noted that the bigger takeaway today was that "capital is out there."
"You do have Abu Dhabi stepping up and all these markets with ready capital to be invested whether it's in country specific, commodities specific, or stocks," added Flam. "The Exxon news with the Dubai news is further reinforcing that viewpoint that there is capital to be deployed and that will support markets."
Also lifting shares Monday was
Citigroup's
(C) - Get Report
announcement regarding its
bailout repayment plan. Citi's stock shed 6.3%.
A day after a frustrated President Obama appeared on
60 Minutes
calling Wall Street executives "fat-cat bankers," he
met with leaders from some of the nation's largest banks Monday to discuss regulations and drum up support to increase lending to small businesses. The CEOs of
American Express
(AXP) - Get Report
,
JPMorgan Chase
(JPM) - Get Report
and
Wells Fargo
(WFC) - Get Report
, among others, were in attendance.
"So my main message in today's meeting was very simple," Obama said in a statement. "That America's banks received extraordinary assistance from American taxpayers to rebuild their industry -- and now that they're back on their feet, we expect an extraordinary commitment from them to help rebuild our economy."
Terra Industries
(TRA)
declined another offer from
CF Industries
(CF) - Get Report
. CF has been sweetening its bid for the fertilizer company, but Terra maintains that the deal doesn't adequately reflect the growth potential of the sector. Terra shares fell 2%, and CF's stock went lower by 0.3%.
Shares of
Charles Schwab
(SCHW) - Get Report
slumped 3.7% as the online broker said sluggish client trading volumes would weaken its fourth-quarter results.
The dollar weakened Monday as the dollar index fell 0.3%. The February
gold contract gained $3.90 to settle at $1,123.80 an ounce, after losing 0.6% to settle at $1,119.90 an ounce on Friday.
Oil lost ground on Monday due in part to continuing weak demand. Crude for January delivery settled at $69.51 a barrel after losing 36 cents. The contract finished last week at $69.87 a barrel, after losing nearly 1% on Friday.
Overseas, Hong Kong's Hang Seng rose 0.8%, and Japan's Nikkei dipped 0.02%. The FTSE in London added 1%, and the Dax in Frankfurt climbed 0.8%.
-- Written by Melinda Peer and Sung Moss in New York
.