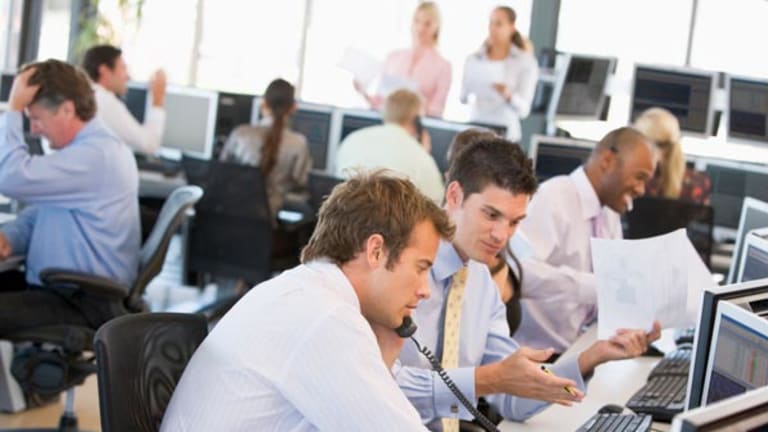 Stocks Close Uneven Day With Losses
The Fed and Treasury heads testify before Congress regard the proposed the $700 billion, financial-firm rescue plan.
Updated from 3:16 p.m. EDT
Stocks on Wall Street had a seesaw session Tuesday before closing lower as traders followed testimony from
Chairman Ben Bernanke and Treasury Secretary Henry Paulson on the government's historic bailout of the U.S. financial markets.
The major averages weakened late. The
Dow Jones Industrial Average
finished down 161.52 points, or 1.5%, to 10,854.17, and the
lost 18.87 points, or 1.6%, at 1188.22. The
Nasdaq
gave back 25.64 points, or 1.2%, to 2153.34.
On Monday, stocks suffered as traders attempted to assess the impact of Paulson's sweeping bailout of financial firms. Paulson's $700 billion plan would create a government institution to buy from banks the bad debt at the core of the credit crisis.
Although the plan is a welcome boon to many investment firms with hard-to-value securities on their balance sheets, fear remains that the massive government-spending increase will drive up interest rates and weaken the dollar as new government debt floods the market.
Speaking before the
Tuesday, Paulson emphasized the fragility of the financial system and said that last week's market turmoil spread into other segments of the economy. He also said that regulatory reform is needed, but that providing an immediate response to the financial crisis is critical. Bernanke agreed that swiftly dealing with the current crisis should take priority.
Bernanke also said that failure to get a bailout package through Congress raises the chances of a recession. He said that without the bailout, businesses would stagnate, unemployment would rise, and the auto and housing markets would continue to suffer.
"If the deal gets passed, the stock market is going to react well because they believe that the plan can return liquidity to the markets," said Chip Hanlon, president of Delta Global Advisors. However, he said that the plan has inflationary implications, and commodities will also increase in price as a result of the plan.
Hanlon said that the government could have offered financial firms a large boost, at no cost to taxpayers, by getting rid of mark-to-market accounting rules. Although much of the debt that's hurting institutions will have some value at maturity, firms currently have to mark those securities down to what they would sell for today. Because investors are so afraid of these securities, they are valued at next to nothing, which "completely wrecks their balance sheets," said Hanlon.
"
The stock market has a lot more to deal with than just the bailout plan but until this issue gets resolved we'll likely keep seeing the market grind slightly lower," Robert Pavlik, chief investment officer at Oaktree Asset Management, wrote in an email. He wrote that even with the bailout plan, the market remains weak and discretionary income will continue to decline as unemployment, inflation and consumer debt rise.
Also testifying before Congress,
Securities and Exchange Commission
Chairman Christopher Cox said that the government should regulate the credit default swaps market. Some are concerned that these swaps have helped bring down stocks in financial companies, and the SEC is requesting disclosure of hedge funds' and brokerages' CDS trading.
Meanwhile, investment banks
Goldman Sachs
(GS) - Get Free Report
and
Morgan Stanley
(MS) - Get Free Report
over the weekend agreed to
. Many have speculated about whether the big brokerages, following their transformation, will buy small regional banks to build a base of retail deposits. Goldman finished the day up 3.5% to $125.05, and Morgan Stanley added 3.4% to $28.
Following an $85 billion emergency loan from the Federal Reserve,
(AIG) - Get Free Report
said it was preparing a list of properties it would sell as part of its effort to repay the government. Shares climbed 5.9% to $5.
Japanese securities company
Nomura Holdings
said it would buy European banking and investment banking businesses of bankrupt brokerage
Lehman Brothers
. Such a purchase would result in the preservation of 2,500 former Lehman employees, Nomura said.
Oppenheimer analyst Meredith Whitney's reduced earnings outlook was providing drag on the financial sector. Whitney cut her view for
Bank of America
(BAC) - Get Free Report
,
JPMorgan
(JPM) - Get Free Report
and
Wells Fargo
(WFC) - Get Free Report
. She also predicted quarterly losses from
Citigroup
(C) - Get Free Report
and
Wachovia
(WB) - Get Free Report
.
BofA shares slipped 2.5% to $33.30, and JPMorgan edged down 0.6% to $40.56. Wells Fargo took a 2.9% hit to $34.17, and Citi slipped 0.1% to $19.99. Wachovia tumbled 11% at $14.75.
As for corporate earnings,
(LEN) - Get Free Report
reported a fiscal third-quarter loss that narrowed year over year on sharply declining revenue. The stock lost 7.5% to $12.71.
On the merger front,
Bristol-Myers Squibb
(BMY) - Get Free Report
raised its buyout offer for
ImClone
(IMCL)
to $62 a share from $60 a share. Bristol-Myers fell 1.8% to $20.26, and ImClone jumped 6.9% to $63.51.
In the technology arena, T-Mobile, a unit of
Deutsche Telekom
( DT), released its
, which uses Android software from Internet search company
Google
(GOOG) - Get Free Report
. Deutsche Telekom shares eased 1.2% to $15.36, and Google ticked down 0.2% to $429.27.
Over in commodities, the price of crude oil for November delivery was off $3.84 to settle at $106.61. Gold was down $17.80 at $891.20.
The price of longer-term U.S. Treasury securities was somewhat lower. The 10-year note was losing 4/32 to yield 3.85%, and the 30-year was giving back 8/32 to yield 4.44%. The dollar was higher vs. the euro, yen and pound.
Overseas, European markets were taking some knocks, while Asian exchanges ended mixed. The FTSE in London and the DAX in Frankfurt were lower. The Hang Seng in Hong Kong finished with a loss. Japanese markets were closed Tuesday.