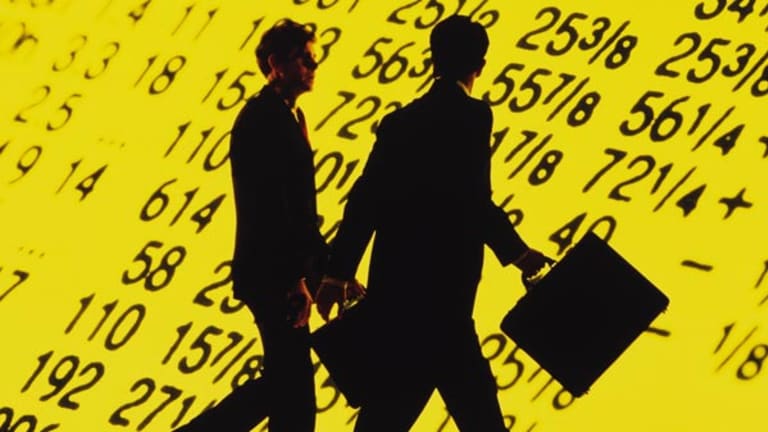 Stocks Close Session With Modest Gains
The averages reverse ground and level off after plunging in the morning.
Updated from 4:01 p.m. EDT
After revisiting the levels they reached in the wake of the terrorist attacks last September, bargain hunters emerged midway through the session, and stocks closed Monday with modest gains.
The
Dow Jones Industrial Average gained 28.03 points, or 0.3%, to 9281.82. The
Nasdaq was up 19.38 points, or 1.3%, to 1460.34, and the
S&P 500 added 3.58 points, or 0.4%, to 992.72.
Earlier in the day, the Dow lost almost 180 points, while the Nasdaq dropped as low as 1415. The indices have lost ground for five straight weeks, and in the first half of Monday's session, sellers were in command. But just after midday, buyers took control and the turnaround began.
A weakening dollar and the news coming out of the corporate world again had investors on edge, at least in the morning part of the trading session. Merrill Lynch on Friday placed Martha Stewart's broker, Peter Bacanovic, on leave while it investigates reportedly conflicting accounts surrounding Stewart's sale of
ImClone Systems
(IMCL)
stock in December.
An assistant to Bacanovic reportedly made statements to Merrill that conflicted with his supervisor's regarding the nature of Stewart's sales and whether they were in fact stop-loss orders, according to
The Wall Street Journal
. ImClone's shares closed up 2.5% at $8.92 in recent trading. Stewart's company,
Martha Stewart Living Omnimedia
(MSO)
, saw its shares drop 21% to $12.55.
Meanwhile, 11 insurance firms alleged that
J.P. Morgan
(JPM) - Get Free Report
conspired to make
Enron's
financial situation look better than it really was in an effort to cover the investment bank's exposure to the energy trader.
Liberty Mutual
,
Safeco
(SAFC)
and
Citigroup's
(C) - Get Free Report
Travelers unit are among the insurers making the claim.
In the biotech sector,
ImmunoGen
(IMGN) - Get Free Report
suffered a major setback when
GlaxoSmithKline
(GSK) - Get Free Report
dropped development of its experimental cancer drug.
ImmunoGen plans to renegotiate its contract with Glaxo, but if an agreement can't be reached, the rights to the drug will be returned to ImmunoGen. The company's shares lost 46% to $2.15.
Gemstar-TV Guide
undefined
joined ImmunoGen as one of the day's biggest losers, falling 39% to $5 after a federal court issued a patent ruling against the company. Several Wall Street firms downgraded the stock in light of the ruling.
The big news from the research front came from Goldman Sachs, which trimmed its estimates on
IBM
(IBM) - Get Free Report
, citing the negative effects of the IT spending slowdown. IBM ended the day higher by 1.4% to $69.70. Goldman also lowered its estimates on
Siebel Systems
undefined
, but the software maker rose 4% to $13.99.
Beleaguered energy trader
Dynegy
(DYN)
announced the details of a major restructuring plan, saying it will take a pretax charge of at least $450 million in the second quarter in an effort to clean up its balance sheet and pay off existing debt.
The company also said it will cut its quarterly dividend by 50%, sell or seek a partnership for its stake in Northern Natural Gas and Dynegy Storage, and spin off its Dynegy Energy Partners unit. The stock fell 2% to $7.40.
ESS Technology
(ESST)
, a maker of memory chips for computers and DVD players, raised its third-quarter outlook thanks to increased demand for video entertainment products. The company now expects to earn 35 cents to 38 cents a share on revenue of $86 million to $90 million. The previous estimates called for a profit of 25 cents to 30 cents a share and a top line of $82 million to $87 million. Shares rose 2.4% to $17.24.
Qwest Communications
undefined
postponed the final bidding deadline for its telephone directory business allowing potential buyers more time to develop proposals that would acquire the unit in parts, sources said. The deadline has now been extended to July 12. Qwest dropped almost 4% to $4.42.
U.S. Treasury issues were weaker around 4 p.m. EDT. The 10-year note was down 15/32 to 100 11/32, yielding 4.83%. The long bond was the weakest maturity.
Overseas markets were mainly lower. London's FTSE 100 lost 1.5% at 4542, and Germany's Xetra DAX was down 2.5% at 4127. Japan's Nikkei 225 rose 1.1% to 10,471, while the Hang Seng closed up 0.6% to 10,657.