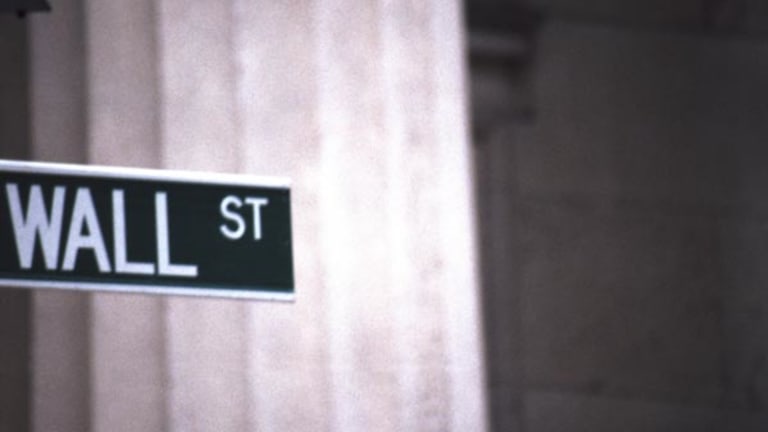 Stocks Close Near Flat Line
The major averages meander all day, as two of the three finish slightly lower. The Nasdaq shows some bright spots, and the Senate OKs tougher measures on credit card issuers. Frank Curzio reviews the day in The Real Story video (above).
Updated from 4:23 p.m. EDT
The
Nasdaq Composite
finished higher, but the other major indices in New York did not hang onto gains Tuesday. The housing and banking sectors made news, while the president set national auto emissions standards and the Senate passed a crackdown on credit card issuer practices.
The
Dow Jones Industrial Average
lost 29.23 points, or 0.3%, to 8474.85, while the
S&P 500
gave up 1.58 points, or 0.2%, to 908.13. The Nasdaq closed higher by 2.18 points, or 0.1%, to 1734.54.
Tech names were among the better performers:
Nokia
rose 4%, and
Sprint Nextel
(S) - Get SentinelOne, Inc. Class A Report
tacked on 3.4% after announcing its plans to start selling the Palm Pre on June 6.
Dell
(DELL) - Get Dell Technologies Inc Class C Report
added 2.2%, and
Hewlett Packard
rose 2.4% ahead of its earnings.
Financial stocks underperformed, however, after the Senate approved a bill
to make it more difficult for credit card companies
to raise fees and rates starting early next year. The House is expected to endorse the bill later this week before it heads to President Obama.
Among the bill's provisions, it would require lenders to say how much time it would take and how much money in interest would be paid if only minimum monthly payments are made on a credit card balance.
It also would require that gift cards remain valid for five years and ban "pay-to-pay" fees, which are charged when someone pays the bill by phone or on the Internet.
Bank stocks found little relief in
reports
on the government's plans for the growing number of financial institutions looking to repay TARP funds.
The KBW Bank Index fell 3.4%, and the Financial Selects Sector SPDR, which tracks the financial stocks in the S&P 500, fell 2%.
Citigroup
(C) - Get Citigroup Inc. Report
rose 3.6% to lead the financial stocks on the Dow.
But
Bank of America
(BAC) - Get Bank of America Corp Report
and
JPMorgan Chase
(JPM) - Get JPMorgan Chase & Co. Report
lost 4.1% and 3.9%, respectively, and
American Express
(AXP) - Get American Express Company Report
gave up 5.1%.
Shares of
General Motors
(GM) - Get General Motors Company Report
were up 7.6%, while
Ford
(F) - Get Ford Motor Company Report
rose 2.4% after the president announced the first-ever
for vehicles and a fuel-efficiency standard of 35.5 mpg.
The president said the move will save 1.8 billion barrels of oil over the lifetime of the vehicles sold in the next five years, or the projected equivalent of taking 58 million cars off the road for a year. In addition, while the price to buy vehicles will rise, consumers will save a projected $2,800 over the life of a car by getting better gas mileage.
Meanwhile, shares of
Home Depot
(HD) - Get Home Depot, Inc. Report
gave back about 5.3% after a 6.6% increase Monday. The nation's largest home-improvement company said
rose 44%, and it stuck with its profit forecast for the year.
The Department of Commerce reported that building permits fell to 494,000 in April from a downwardly revised 511,000 in March, and housing starts went to 458,000 from an upwardly revised 525,000. Expectations were for 530,000 permits and 527,000 new starts.
Futures sagged after that news, but it was likely just an excuse for some quick profit-taking after Monday's rally, says Peter Cardillo, chief market economist at Avalon Partners. However, some of the details in the report are actually consistent with the idea that the housing market has found a bottom, he says.
Permits and starts for single-family homes both increased month over month, he noted.
Lowe's
(LOW) - Get Lowe's Companies, Inc. Report
results helped to boost stocks at the start of the week as the market recovered slightly from last week's selloff. An improvement in the National Association of Home Builders (NAHB)/Wells Fargo index didn't hurt, either. Also,
State Street
(STT) - Get State Street Corporation Report
and
AIG
(AIG) - Get American International Group, Inc. Report
announced steps to prepare themselves to pay off some of their government loans.
Late Monday, American Express said it would cut around
, and
Goldman Sachs
(GS) - Get Goldman Sachs Group, Inc. Report
and
Morgan Stanley
(MS) - Get Morgan Stanley Report
have formally asked permission to repay a combined $20 billion in federal bailout money,
.
Stocks overseas were higher. In Europe, the FTSE 100 in London and Dax in Frankfurt finished up 0.8% and 2.2%, respectively. In Asia, Japan's Nikkei and the Hang Seng in Hong Kong added 2.8% and 3.1%, respectively.
The dollar was recently weaker against the pound, but stronger vs. the euro and yen. Longer-dated Treasuries were mixed, with the 10-year losing 2/32 to yield 3.24%, and the 30-year was flat, yielding 4.20%.
Crude oil rose 62 cents to settle at $59.62 a barrel, while gold rose $5 to $926.70 an ounce.