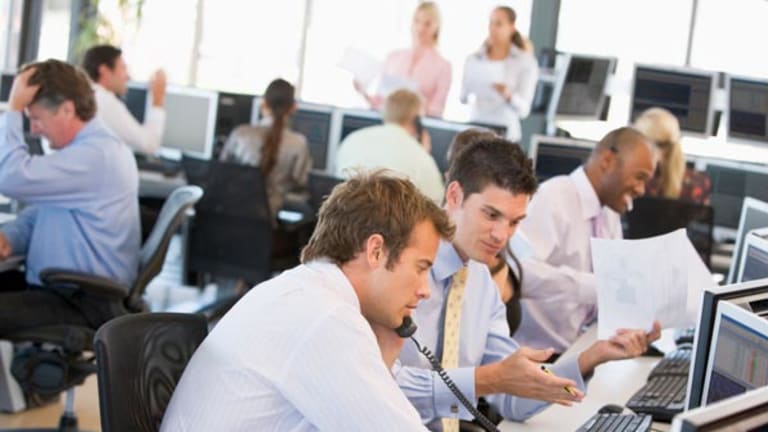 Stocks Close Mostly Lower
Priceline's guidance and the wait for Cisco's earnings keep traders hamstrung.
Updated from 4:11 p.m. EST
Stocks closed mixed Wednesday but improved from session lows late in the trading day.
Equities spent most of the day struggling to advance after achieving multimonth highs earlier in the week. Some modestly upbeat economic data failed to inspire buyers, as many traders were looking ahead to
Cisco's
(CSCO) - Get Free Report
earnings after the close and Friday's employment report.
The
Dow Jones Industrial Average
closed down 18.00 points, or 0.2%, to 9820.83, while the
fell 1.43 points, or 0.1%, to 1051.81, and the
Nasdaq Composite
finished close to unchanged, rising slightly by 1.41 points, or 0.1%, to 1959.37.
About 1.36 billion shares traded hands on the
, and 2.00 billion shares traded on the
Nasdaq
. Advancers and decliners were close to even on both exchanges.
Richard Nash, chief market strategist at Victory Capital Management, believes that after recent strong performances, "the market is in the midst of a couple of days' pause, and some doubt may have crept in, heading into Friday's employment report, following the large jump in October layoffs." Although he added that economists do not generally put much stock into the Challenger report, given that it is not seasonally adjusted.
Echoing a similar sentiment, Ken Tower, chief market strategist at CyberTrader, believes that "stocks are a little top-heavy at current levels, given that option buyers bought a lot of calls despite the down market yesterday."
In economic news, the Institute for Supply Management's nonmanufacturing report improved to 64.7 for October from 63.3 last month, beating the consensus estimate of 63.4. Anything above 50 indicates an expansion. Factory orders for September grew by 0.5%, slightly below expectations, but August's decline was revised to 0.3% from 0.8% originally.
In addition, the Mortgage Bankers Association's Composite Index of mortgage loan applications increased 5.5% last week. Applications for new purchases rose 11% to its highest levels of the year, while refinance activity increased by just 0.3% and remains off some 75% from its May peak.
The 10-year Treasury bond fell 13/32 to yield 4.35%. Position-taking is likely to be light in the bond market heading towards Friday's labor report. The dollar was slightly stronger against both the euro and yen, at 1.14 and 109.99 respectively.
Laggards included shares of
Priceline.com
undefined
and
InterActiveCorp
(IACI)
following disappointing earnings news from both companies.
On the other hand, homebuilders outperformed on the back of last week's jump in mortgage loan applications. The S&P Homebuilders index was up by 2.76% on the day.
Priceline.com's weak earnings outlook was announced after the bell Tuesday. The online reservations company posted third-quarter earnings that matched estimates, but it guided lower for the current quarter, and shares finished down $7.49, or 25.6%, to $21.76.
InterActiveCorp posted a profit of 2 cents per share in the third quarter after losing 8 cents per share in the year-earlier period. The shares fell $3.23, or 8.7%, to $33.77 because one of its many earnings measures, adjusted net income, came in a penny shy of estimates and the company guided down for the full year.
Shares of
Esperion Therapeutics
(ESPR) - Get Free Report
surged by $5.21, or 29.8%, to $22.71. The company announced that a new study shows that one of their investigational products reduces plaque in the arteries and reverses atherosclerosis.
After the close, Cisco said it earned 17 cents per share in the third quarter, beating analyst estimates of 15 cents. The network-equipment maker's shares hit a 52-week high of $21.85 Tuesday ahead of the report. On Wednesday, Cisco shares finished up 13 cents, or 0.6%, to $21.71.
Elsewhere,
National Semiconductor
(NSM)
raised second-quarter revenue guidance to $454 million to $467 million from $442 million to $455 million, citing strong orders. National Semi shares climbed by $1.34, or 3.2%, to $43.75.
Apparel manufacturer
Tommy Hilfiger
( TOM) reported third-quarter earnings of 71 cents per share, beating expectations of 58 cents. Tommy shares rose $1.85, or 12.9%, to $16.23.
In addition,
Polo Ralph Lauren's
(RL) - Get Free Report
earnings rose to 54 cents per share in the third quarter from 52 cents in the same quarter last year. Polo moved higher by 74 cents, or 2.5%, to $30.79.
Overseas markets finished lower on Wednesday, with London's FTSE 100 closing down 0.6% to 4303 and Germany's Xetra DAX finishing down 0.6% to 3718. In Asia, Japan's Nikkei closed down 0.1% at 10,838 while Hong Kong's Hang Seng was roughly unchanged at 12,439.
Tomorrow's economic releases include initial unemployment claims for the week of Nov. 1 and productivity growth for the third quarter. Economists expect initial claims to fall to 380,000 from 386,000 and productivity to improve to 8.5% from 6.8%. Productivity growth should be particularly interesting given that it has proved to be a double-edged sword recently, helping to keep inflation low and the
on hold, but at the same time working to slow the pace of job growth.
Market action is likely to be quiet tomorrow ahead of Friday's labor report. Economists expect the unemployment rate to hold steady in October at 6.1%, and expect nonfarm payrolls to rise by 65,000 after climbing by 57,000 last month.
Looking ahead, CyberTrader's Tower points out that, "the long-term upward trend remains intact, but some pullback is likely in the near term."