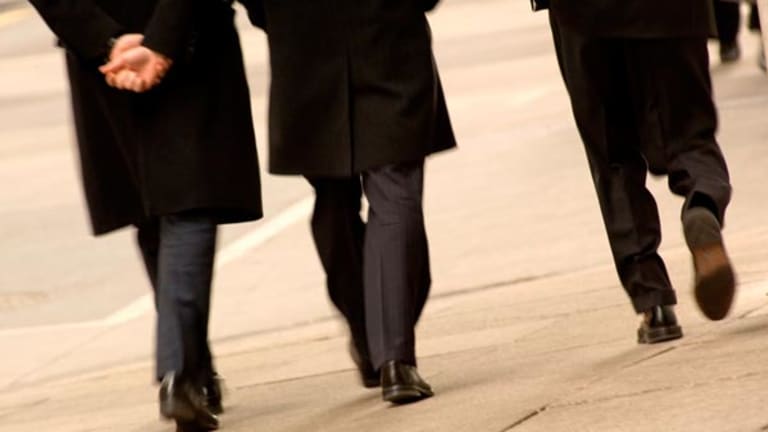 Correction: Notes General Motors will pay a $900 million to settle in the 15th paragraph.
NEW YORK (TheStreet) -- Investors couldn't decide what to make of the Federal Reserve's decision to stand pat on rates. 
First benchmark indexes dipped into negative territory. Then they soared to above 1%. And then they were back to the flatline before tumbling to session lows in the closing minutes.
The S&P 500 dipped 0.26%, the Dow Jones Industrial Average fell 0.38%, and the Nasdaq gained 0.1%. The VolatilityS&P 500I:VIX fell 5.2% to 20.24.
"It's basically just a knee-jerk reaction," Mike Meyer, vice president at EverBank World Markets, told TheStreet on market reaction. "We still have the uncertainty as to whether or not the Fed is going to raise rates this year."
The central bank left the Fed funds rate near zero, a level it has held since 2008, citing "global economic and financial developments." The Fed was likely influenced by recent market volatility tied to China's slowdown. Fed members voted to keep the Fed funds rate between zero and 0.25% by a nine-to-one vote.
However, a rate hike this year is still likely. The Fed's dot plot forecast showed that Fed members expect interest rates to close out the year at 0.40%, meaning a hike in October or December is probably. A majority of Fed members expect to raise rates this year, Fed Chair Janet Yellen said in a press conference.
"The situation abroad bears close watching," Yellen said. However, "the U.S. economy is performing well" and members expect it to continue to improve.
This Fed meeting was one of the most analyzed and anticipated in many years as economists with conflicting arguments debated whether it was the right or wrong time for the central bank to move off of crisis-level rates.
"The question still remains as to whether or not we'll see one by the end of the year," Meyer added. "Whenever the Fed does decide to do it (whether it's October or December of this year or it moves into sometime in 2016), ... it looks to be more of a one-and-done as opposed to a series of rate hikes."
In economic news on Thursday, the Philadelphia Fed manufacturing index showed a surprise drop into negative territory in September, joining the Empire State manufacturing index in a contraction. The measure fell to negative 6 from positive 8.3 in August. Economists had expected a reading of 5. 
Weekly jobless claims fell 11,000 to 264,000 in the week ended Sept. 12, the latest sign the U.S. labor market is tightening. Economists had expected the number of new applications for unemployment benefits to remain flat at 275,000. The new reading is the lowest level since mid-July and the second-lowest level since September 1974.
Housing starts fell 3% to 1.13 million units in August, according to the latest data on construction in the housing market. Economists had expected the measure to drop to 1.16 million.
Oracle (ORCL) - Get Oracle Corporation Report shares were down 4% after the enterprise-software company reported a mixed quarter. Oracle earned 53 cents a share in its recent quarter, a penny more than estimates, while revenue slipped 1.7% to $8.45 billion and fell short of expectations. The revenue miss was attributed to currency exchange.
French cable company Altice agreed to buy Cablevision (CVC) for almost $18 billion as it pushes to become one of the largest telecom and cable companies in the U.S. The deal would create the fourth-largest cable operator in the country. The deal for $34.90 a share is a 22% premium to Cablevision's closing price on Wednesday.
General Motors (GM) - Get General Motors Company (GM) Report has agreed to pay $900 million to settle a criminal investigation into a defect of its ignition switch that was tied to 124 deaths, according to Reuters. The automaker will see the charges dismissed if it complies with the terms of the agreement.
Expedia (EXPE) - Get Expedia Group, Inc. Report moved higher after it won approval from U.S. regulators to proceed with its acquisition of competitor Orbitz (OWW) . The approval did not require Expedia to unload any of its assets.
Rite Aid (RAD) - Get Rite Aid Corporation Report dropped more than 5% after a mixed quarter. The pharmacy chain earned 2 cents a share, 2 cents below estimates, while revenue jumped 18% to $7.66 billion and beat forecasts by $90 million. Same-store sales rose 2.1%.
Under Armour (UA) - Get Under Armour, Inc. Class C Report has extended its sponsorship deal with NBA MVP Stephen Curry through to 2024. The clothing company also announced that it has granted Curry an equity stake. The company has set a $7.5 billion revenue target for 2018, more than double full-year sales in fiscal 2014.