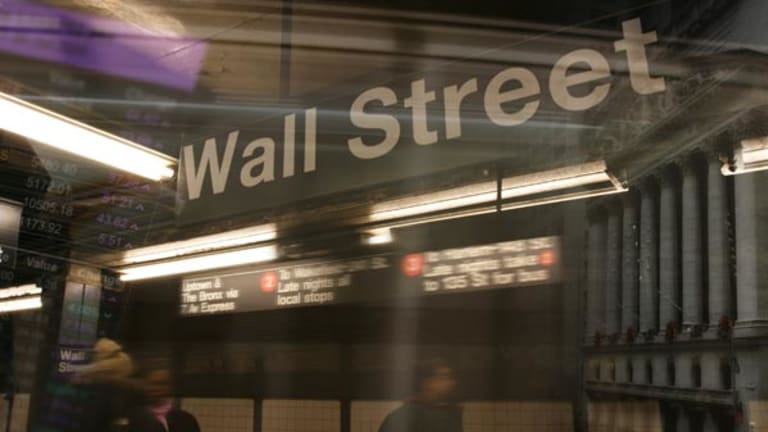 Stocks Close Mixed in Light Trading
Stocks close mixed Friday, as global growth concerns hit indices, but a tech rally leads the Nasdaq into the green. Gregg Greenberg has The Real Story.
NEW YORK (
) -- Stocks closed mixed Friday, after a choppy day of light trading in the wake of China's move to tighten bank lending and persistent worries about European sovereign debt.
China's central bank once again has raised
banks' reserve requirements in hopes of cooling the country's swift economic growth. Investors fear that reining in China will severely compromise global growth.
The stock market reacted negatively. The
Dow Jones Industrial Average
closed down 45 points, or 0.4%, to 10,099 and the
S&P 500
shed 3 points, or 0.3%, to 1076. But the
Nasdaq
added by 6 points, or 0.3%, at 2184.
>>Bull or Bear? Vote in Our Poll
But after paring losses on Friday afternoon, the major averages finished higher for the week. The Dow and the S&P 500 added 0.9% since last Friday, while the Nasdaq gained 2%.
"China doesn't want to see bubbles and crashes, it just wants a smooth and steady rise," said Richard Kang, chief investment officer and director of research at Emerging Global Advisors, which is introducing a China Infrastructure ETF next week.
Kang said that although China's growth story is still in the early stages of a 25-year cycle based on demographics and urbanization, the country's resolve in tempering rampant growth poses a risk to global companies that have counted on soaring emerging-market growth to drive sales. Furthermore, China's resolve to keep currencies grounded, encourages the Chinese to buy domestically produced goods.
"Chinese tightening should be a concern for every multinational company in terms of global strategy," Kang said.
Peter Tuz, president of Chase Investment Counsel, also noted the caution in the market. "It's a Friday, which means that there are a lot of fears being driven by what might happen somewhere over the weekend, and a lot people are taking money off the table," he said.
Global companies like
Alcoa
(AA) - Get Alcoa Corporation Report
,
Boeing
(BA) - Get Boeing Company Report
and
United Tech
(UTX) - Get n.a. Report
were among the Dow's worst performers.
Meanwhile, the
European economy grew just 0.1% in the fourth quarter, according to official figures released Friday.
The euro fell to the worst level against the
dollar since May 2009 after
Greece's gross domestic product fell by 0.8%, building on its 0.5% contraction in the third-quarter, disappointing economists' expectations. Although the worsening performance wasn't likely to build confidence among euro-zone countries coming to the debt-swamped country's aid, the International Monetary Fund recently signaled it would also support Greece.
Retail sales came in slightly better than expected in January, but the news had little impact on stocks. Overall sales rose 0.5%, as expected, but retail sales excluding autos increased 0.6%. Economists had been looking for a 0.5% uptick.
Stuart Hoffman, PNC chief economist, believes three factors will yield moderate improvements in consumer spending: higher real disposable income for four straight months, an unemployment rate that has been holding at 10% and gradually improving consumer confidence.
The University of Michigan's preliminary reading on February consumer sentiment, however, threatened the view that consumer sentiment is on an upward path. The reading came in at 73.7, which missed economists' expectations of 75 and slipped from the prior month's 74.4 reading. The January figure had been the highest level in two years.
"But even with ongoing moderate gains to real consumer spending, we expect first-quarter 2010 real GDP growth to retreat from the fourth-quarter 2009's blowout 5.7%," Hoffman said. "A smaller push from inventories, the ongoing meltdown in commercial real estate, and weak government spending are likely to hold first-quarter 2010 real GDP growth closer to a moderate 3%; somewhat weaker than a V-shaped recovery."
The Commerce Department's December business inventories report, which was also delayed from Thursday, showed a 0.02% dip -- sliding from the prior month's 0.4% uptick and disappointing economists' projections for a 0.2% increase.
Light trading volumes contributed to volatility as U.S. markets are closed on Monday for Presidents Day, and Chinese markets are closed next week for the new year holiday.
The Dow's volume was 296.4 million compared with an average volume of 200 million and the
New York Stock Exchange
had a listed volume of nearly 4.2 billion with
Citigroup
(C) - Get Citigroup Inc. Report
,
Bank of America
(BAC) - Get Bank of America Corp Report
and
Motorola
(MOT)
seeing the heaviest volume.
Motorola's stock was one of the few to trade in positive territory, after announcing it will split into two entities. The new structure pairs the mobile phone division with the cable box business and network infrastructure operations are merged with the company's business mobility division. Shares gained 7.5% to $7.15.
3M
was also one of the Dow's worst performers, as shares lost 1.4% on a downgrade to underperform from neutral from BofA/Merrill.
Shares of
Ingersoll Rand
(IR) - Get Ingersoll Rand Inc. Report
shed 7.8%, or $2.65, to $31.26 after the company missed analysts' earnings estimates and said it still sees weakness is several key markets.
Intel
(INTC) - Get Intel Corporation Report
was the Dow's best performer with shares up 1.8%. Also helping the Dow were
Travelers
(TRV) - Get Travelers Companies, Inc. Report
,
American Express
(AXP) - Get American Express Company Report
,
Merck
(MRK) - Get Merck & Co., Inc. Report
and
IBM
(IBM) - Get International Business Machines Corporation Report
.
The greenback rose against a basket of currencies, with the dollar index up by 0.5%.
A stronger U.S. dollar pressured commodity prices. The most actively traded April
gold contract lost $4.70 to settle at $1,089.50 an ounce.
Oil prices were also pressured by a higher-than-expected build in oil inventories as the Energy Information Administration said crude supplies gained 2.42 million barrels in the week ended Feb. 5. The increase was better than the 7.2 million barrel-build reported by the American Petroleum Institute late Tuesday but were still higher than the 2 million barrel gain expected by analysts polled by Platts. Crude oil for March delivery shed $1.15, to settle at $74.13 a barrel.
Natural gas for March delivery, meanwhile, gained 7 cents, to settle at $5.45 per million British thermal units after the EIA reported a withdrawal of 191 billion cubic feet during the week ended Feb. 5. Analysts polled by Platts had been looking for a withdrawal of 177 to 181 billion cubic feet.
Both EIA inventory reports had been delayed from earlier in the week as a result of inclement weather in Washington, DC.
The benchmark 10-year Treasury note strengthened 9/32, diluting the yield to 3.689%.
Overseas, Hong Kong's Hang Seng was lower by 0.1%, and Japan's Nikkei was up by 1.3%. The FTSE in London was 0.4% lower, and the DAX in Frankfurt was down 0.1%.
-- Written by Melinda Peer and Sung Moss in New York
.