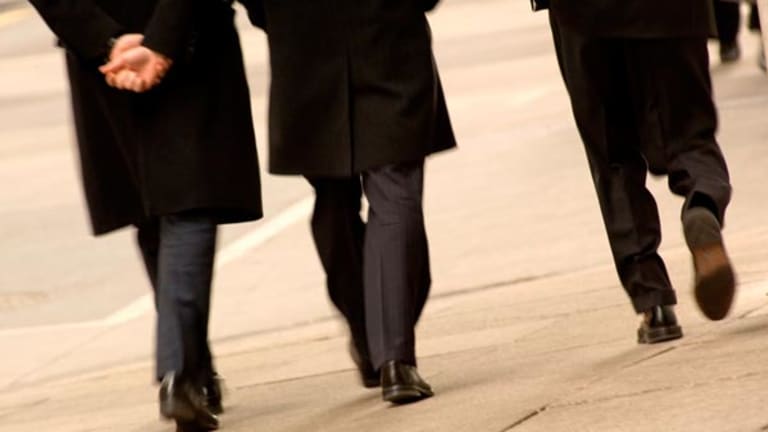 Stocks Close Mixed; Banks, GM Fall
U.S. stock indices finished mixed after a choppy session as investors booked profits in technology and financial stocks, while drugmakers and consumer goods names finished higher.
Updated from 3:07 p.m. EDT
U.S. stock indices finished mixed after a choppy session as investors booked profits in technology and financial stocks, while drugmakers and consumer goods names finished higher.
The
Dow Jones Industrial Average
ended the day up 50.34 points, or 0.6%, at 8469.11, while the
S&P 500
gave back only 0.89 point, or 0.1%, to 908.35. The
Nasdaq Composite
, however, finished down 15.32 points, or 0.9%, to 1715.92.
Both the S&P and the Dow were in the red for much of the session, and the Nasdaq had been in worse shape earlier.
Drugmakers were among the best performers of the day, with
Pfizer
(PFE) - Get Pfizer Inc. Report
and
Merck
(MRK) - Get Merck & Co., Inc. Report
among the top gainers on the Dow. Other winners on the Dow included
Johnson & Johnson
(JNJ) - Get Johnson & Johnson Report
,
Kraft
(KFT)
and
Procter & Gamble
(PG) - Get Procter & Gamble Company Report
Among the biggest decliners,
General Motors
(GM) - Get General Motors Company Report
slid 20.1% to $1.15 after top executives used a window of opportunity to sell off their personal stakes of the automakers, which totaled
. The stock has not closed below $1.20 since 1933, according to
CNBC
.
Apple
(AAPL) - Get Apple Inc. Report
was one of the weakest performers on the Nasdaq, down 4%.
Dish Network
(DISH) - Get DISH Network Corporation Class A Report
retraced some of its gains from Monday's session, while
Liberty Media
(LINTA)
dropped nearly 11%.
Market analysts say that the rally in stocks may have come too far too fast, and that selling in different sectors over the last two sessions should have been expected as investors locked in profits.
"From its crisis low on March 9, the S&P 500 has risen by more than 35% -- a rally whose size and speed leave a dizzy feeling of something too good to last," James Paulsen, chief investment strategist with Wells Capital Management, said in an email.
Paulsen said that the market surge since March could "still fade and simply prove yet another sucker's rally," but he also drew comparisons to a similar market recovery in 1982, adding that "new bull markets often start when 'Main Street' issues still seem overwhelming and bleak."
Art Hogan, chief market strategist with Jefferies, argued that "it's hard to be comfortable with any rally without a little backing and filling. Everyone has been questioning the foundation of the run higher. Intuitively, it makes sense, but it's encouraging that the majority of people are convinced."
The fluctuation in equities Tuesday "makes sense," Hogan said, as we've left the "catalyst-rich environment that included earnings, the jobs report, and the government's stress test results" to a quieter week in terms of earnings and economic news.
Hogan added that even a flat day for equities is "a huge home run."
Before the open, stock futures were indicated higher, but optimism was dampened by Nobel Prize-winning economist Paul Krugman, who told a forum in Shanghai that the swift economic recovery that equities have priced in may not come as quickly as some expect.
"It looks to me now as if the markets are now pricing in a rapid recovery, that they're pricing in a V-shaped recession, which I consider extremely unlikely," Krugman said, according to a
Bloomberg
report. "The market seems to be looking as if this is going to be an average recession, but it's not."
On Monday, the financial and commodity sectors pressured the market in New York. The Dow finished down 155.88 points, or 1.8%, to 8418.77. The S&P 500 slid 19.99 points, or 2.2%, to 909.24, and the Nasdaq dipped 7.76 points, or 0.5%, to 1731.24.
"My concern is that investors are getting a bit complacent about these one-day pullbacks," said Marc Pado, U.S. market strategist with Cantor Fitzgerald, in an email. "As soon as we start to expect it, it will develop into something more."
Traders were also dealing with another round of capital-raising measures, this time headlined by
Bank of America
(BAC) - Get Bank of America Corp Report
and
Microsoft
(MSFT) - Get Microsoft Corporation Report
.
BofA is raising $7.3 billion from the sale of its stake in
China Construction Bank
, according to reports. A consortium that includes Temasek Holdings, Hopu Investment Management and China Life Insurance
purchased the shares for a discount
,
The Wall Street Journal
and
Bloomberg
reported, citing people familiar with the matter.
After opening higher, BofA shares slid 5.3% to close at $12.26.
Meanwhile,
Citigroup
(C) - Get Citigroup Inc. Report
said that the $45 billion in government capital it has borrowed has been used to make nearly that much in new loans. Shares declined 5.2% to $3.66.
Bank of New York Mellon
(BK) - Get Bank of New York Mellon Corporation Report
became the latest bank to announce a common stock offering in order to repay funds borrowed from the Troubled Asset Relief Program. The bank raised $1.2 billion after pricing 42 million shares at $28.75. The dilutive effect pressured shares, which ended down 3.8% to $28.43.
On Monday,
U.S. Bancorp
(USB) - Get U.S. Bancorp Report
,
KeyCorp
,
Capital One Financial
(COF) - Get Capital One Financial Corporation Report
and
BB&T
(BBT) - Get BB&T Corporation Report
each announced stock sales.
Banks aren't the only companies issuing new shares.
Ford
(F) - Get Ford Motor Company Report
said late Monday that it
will offer 300 million new shares
in order to raise $2 billion to help fund its retiree health care trust. The automaker dropped 17.6% to close at $5.01.
Elsewhere, Microsoft announced its first bond sale as the tech giant looked to raise $3.75 billion, which will be used for general corporate purposes, including possible acquisitions and stock buybacks. Shares finished up 3% to $19.89.
On the earnings front,
MBIA
shares gave back early gains even after the company reported earnings late Monday that handily beat expectations. Shares tumbled 11.8% to close at $6.14.
Nissan
(NSANY)
reported a
narrower-than-expected loss for the fiscal year
ended March 31. The automaker lost 233.7 billion yen ($2.4 billion) and said losses will continue as it expects next year to remain "challenging."
In the lone economic report out before Tuesday's open, the trade deficit rose to $27.6 billion in March from $26.1 billion in February. March's read is less than economists' forecasts of $29 billion.
As for Treasuries, the 10-year note was unchanged in price to yield 3.17%, and the 30-year bond gained 14/32 to lower the yield to 4.16%. The dollar fell against the euro and was essentially flat against the yen.
Commodities were higher across the board after trading lower Monday. Oil pared early gains, but was still higher by 35 cents to close at $58.85 a barrel. Natural gas was up 14 cents to $4.44 per million British thermal units. Gold climbed $10.40 to $923.90 an ounce.